The whole point of buying stocks is to participate in a corporation's success. And most of the time, a stock's gain fairly reflects the underlying company's sales and earnings results.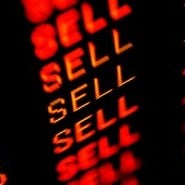 But every now and again, a stock's price can disconnect from a company's performance and race dangerously far ahead. It can happen for any number of reasons: Overexcitement about new developments, or a solid string of earnings reports can cause stocks to race beyond reasonable values. But whatever the reason, it's best to sell stocks once they get that far ahead of themselves.
Here are five such stocks of admittedly-solid companies that investors may want to be wary of owning at their current values.
Yahoo (YHOO)

With a 95% gain for the stock this year so far, it's pretty clear that Yahoo (YHOO) investors have continued to give new(ish) CEO Marissa Mayer the benefit of the doubt. That runup may have been a serious error in judgment, however.
After a year and a half at the helm, Mayer's Yahoo is only expected to grow the bottom line by about 14% next year. That hardly justifies the forward-looking P/E of 23.4. The market may soon begin to acknowledge that the Mayer-driven turnaround might not happen after all, causing YHOO stock to deflate.
Celgene (CELG)

Ironically, Celgene (CELG) is a victim of its own success. The biotech company is working on its tenth straight year of revenue growth, and a similarly-impressive string of earnings growth. It's not chump-change income growth, either. Celgene has managed to pump up its bottom line by an average of 44% per year for the past five years. It is, almost needless to say, the kind of thing investors love to buy into.
The heat has been turned up even more this year, thanks to the euphoria surrounding apremilast. Though the psoriatic arthritis drug has yet to be approved, most observers expect apremilast to get the FDA green light early next year and begin its journey to annual sales of as much as $2 billion. The market is falling in love with the idea — and the company — too. UBS upgraded CELG stock this week, and it has become a favorite momentum play among trader this year; CELG stock is up 109% year-to-date.
So what's the problem? All of the upside to the drug's approval, and then some, has been priced in. With a trailing P/E of 47.2, there's no more room for price appreciation. And with the forward-looking multiple of 22.7, there's not any room for an FDA or sales misstep either.
The TJX Companies (TJX)

Congratulations to anyone who stepped into The TJX Companies (TJX) before the end of last year — your trade in the apparel retailer is now up 47%.
It may be time to head for the exit, however. While the in-store experience is all about value, at 19.1 times the company's forward-looking income, the price of TJX stock is anything but a bargain. Yes, the company has posted seven earnings beats in the past ten quarters. However, as tough as the holiday shopping season has been thus far, the current quarter's results could fall short.
There's no need to face that risk. Sell TJX stock while it's still pricey.
Pharmacyclics (PCYC)

To put it in simplest terms, Pharmacyclics (PCYC) flipped its revenue switch to the "on" position. The biopharma company won the FDA's approval for its cancer drug Imbruvica in the middle of November, shortly after the mantle cell lymphoma treatment was approved in Europe.
Those green lights prompted a total $110 million worth of milestone payments from its partner, Janssen — a subsidiary of Johnson & Johnson (JNJ). Most believe the FDA will approve the drug as a therapy for chronic lymphocytic lymphoma as well, and if that happens, the drug could produce annual sales as high as $9 billion, according to some analysts. Pharmacyclics' cut is half the revenue generated.
It's all wonderful news, so why would PCYC stock be a sell in the shadow of such an exciting announcement? Two reasons: Biotech stocks tend to suffer the most from the "buy the rumor, sell the news" phenomenon, and with Pharmacyclics shares up 127% year-to-date, there's been plenty of buying before this news. The second reason to sell PCYC stock: While Imbruvica may well be a $9 billion blockbuster in the making, it's not going to reach those sales levels right out of the gate. Investors have priced it as if thousands of patients are lining up at the company's doors with checks in hand, but that's not usually how drug sales go.
Disappointment could pull the rug out from underneath PCYC stock in a hurry.
Under Armour (UA)

Every year, there are two or three new consumer fads that end up driving a particular stock higher, sometimes for a couple of years.
Apple (AAPL) was the big investment story for early 2012 when iPhones and iPads were all the rage, and between 2009 and 2011, high-end workout-wear maker LuleLemon (LULU) saw its stock soar side-by-side with the popularity of it clothing.
Sports apparel name Under Armour (UA) had its day in the sun in 2009, and the red hot rally was renewed in 2013; shares of UA stock are up 69% this year so far. But here's the problem: At a trailing P/E of 60.0 and a projected P/E of 46.0, it's unlikely the market's going to keep bidding up UA stock when earnings growth is expected to slow from 31% this year to 24% next year.
Sell UA stock before it goes out of style.
Read More
As of this writing, James Brumley did not hold a position in any of the aforementioned securities.