Even as the market continues to bump up against new highs, there remains a general sense of unease in the market.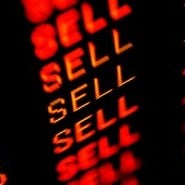 And as we enter yet another earnings season with muted expectations, we could finally see the S&P 500 crack with its much-anticipated correction in the weeks ahead.
According to FactSet earnings research, 84 companies have issued negative EPS guidance for Q2 while only 27 companies have issued positive EPS guidance. That's not a good sign.
If you're wondering about whether to go long or get defensive, however, it often depends on the individual stock that you're looking at. There remain some decent opportunities out there trading for a fair price, and which may chug higher on strong results this earnings season.
But if you're holding one of the following five stocks, don't count on a pleasant summer for your portfolio.
Here are five big-name stocks to remove from your portfolio ASAP.
Stocks to Sell: Twitter (TWTR)

I'll admit, I personally love Twitter (TWTR) as a communication tool … hit me up at @JeffReevesIP anytime!
However, there are serious challenges facing this social media company when it comes to investment potential. For starters, there have been serious concerns lately that Twitter's user base is growing more slowly and that engagement of those users is also flattening out.
It takes a big leap of faith to presume the company is going to not only right those trends but find enough future growth to justify the extreme forward P/E ratio of about 145 right now.
The company is smaller than Facebook (FB), so it doesn't have the scale some advertisers want, TWTR is mostly mobile so it doesn't have as much screen space to serve ads, and unless there is some mammoth product revamp coming down the pike there doesn't seem to be any clear path to higher monetization rates anytime soon beyond the same old game of "sponsored posts" in your Twitter feed.
In the short term, momentum is decidedly not on Twitter's side. Shares are off 40% this year and are threatening to cross under the 50-day moving average of about $36 for TWTR stock.
It all adds up to a highly speculative play that I would steer clear of for the next several months.
Stocks to Sell: Coach (COH)


Coach (COH) is the worst-performing stock in the S&P 500 this year, with a gut-wrenching loss of almost 40%. But don't go bargain hunting just yet in this stock, which is cheap for a reason.
Coach has been plunging on poor results lately, including a Q1 earnings report that showed a huge 21% decline in same-store sales in the U.S. Increased competition, the resulting in a race to the bottom on price and the declining appeal of the fashion brand with consumers are the culprits — though, of course, COH would like you to believe it was all the weather's fault.
Many analysts continue to be bearish on the stock going forward because of the overreliance on outlet stores for sales — meaning lower price points and lower profits as a result. The luxury appeal of Coach that resulted in big growth and profits in previous years seems to be gone, and that means a painful transformation ahead.
Sure, Coach is trying to turn around — including closing 70 underperforming stores to get back on the right track. There is also a plan to revamp existing stores and build a brand presence in department stores to connect with more customers. However, there is a long way to go, and I wouldn't bank on a comeback just yet.

Stocks to Sell: Peabody Energy (BTU)


Peabody Energy (BTU) has taken a lot of heat in recent years, and with good reason. Shares are off almost 80% from their 2011 highs, including an 18% drop since January 1 alone.
The sheer beating taken by Peabody occasionally gets the contrarians to raise an eyebrow, waxing about how coal is a cheap energy source and China still needs lots of it … but don't fall into this trap. Coal is on the decline big time at home, and demand for Peabody coal will soon flatline and decline abroad as well.
President Obama's "War on Coal" at home is not letting up, resulting in draconian regulations that should push power generation increasingly away from coal at home. Overseas the story is different, with China still hungering for coal; however, Beijing recently approved 15 new large coal mining operations in the face of pollution concerns. So even if China doesn't pull back on its coal consumption, it will certainly pull back on coal imports from Peabody and other foreign suppliers as it invests heavily in home-grown supplies.
Peabody is unprofitable, has a huge regulatory headwind and has seen investor sentiment go from bad to worse.
What's left to like about this stock?
Stocks to Sell: Yahoo (YHOO)


Yahoo (YHOO) was one of Wall Street's darlings in 2013 as hype about the Alibaba IPO reached a fever pitch and investors salivated over the potential payout from a big offering of Yahoo's stake in the Asian internet giant.
However, in 2014 YHOO stock is down almost 15% as enthusiasm has waned. Part of the reason is doubt over the bubble-like valuations thrown around for Alibaba and fears the highly anticipated IPO may not go off like planned, but the other big reason is that, beyond Alibaba, there isn't much attractive at all about Yahoo's core advertising business.
In fact, when you back out the 24% stake in Alibaba and, the value of a stake in Yahoo Japan … investors are literally putting a value of zero on the domestic internet ad business of YHOO.
Online advertising remains very challenged at Yahoo, and that's unlikely to change anytime soon. Investors who bought in last year hoping for an Alibaba payday may want to stick around in the hopes of a big special dividend if and when the IPO hits in the coming months … but new money should steer clear. And if you bought with a cost basis of $30 or more, you may want to cut and run before the momentum continues to push YHOO lower in 2014.
Barnes & Noble (BKS)

Barnes & Noble (BKS) has soared 50% this year, in part thanks to plans to separate its brick-and-mortar bookstore business from its Nook e-reader operations.
Unfortunately, this is just moving the deck chairs around on a sinking ship. As Jonathan Berr wrote a few weeks ago for InvestorPlace, creating two bad companies out of one bad company doesn't fix things at all for investors.
The 700 or so BKS bookstores that remain have seen same-store sales have slumped for six straight quarters, and the company hasn't turned a profit since fiscal 2010. And on the e-reader front, the Nook division continues to struggle to make any money despite an influx of cash from Microsoft (MSFT) in 2012 — and with a race to the bottom in tablet prices, it's hard to imagine margins improving any time soon even if volume was to pick up against all odds.
The problem is that, between Amazon (AMZN) destroying margins on physical books and the low-end tablet market flooded with cheap devices running Google (GOOG) Android, there's simply no place for BKS to go.
The short squeeze and snap-back in Barnes & Noble is a nice short-term trend, but is not a durable one. I'd use this rise in BKS stock to get out of your position while the getting is good.
Jeff Reeves is the editor of InvestorPlace.com and the author of The Frugal Investor's Guide to Finding Great Stocks. As of this writing, he did not hold a position in any of the aforementioned securities. Write him at editor@investorplace.com or follow him on Twitter via @JeffReevesIP.