Novavax, Inc. (NASDAQ:NVAX) is up 8% out of the gate, after moving a massive 15% in premarket trading during one heck of a rollercoaster week. Since I wrote about the company on Aug. 10, NVAX stock has plummeted 72%, even after the past two days' gains.
But if you stopped your chart at Sept. 15, you'd see that, since Aug. 10, NVAX shares had gained 10%, only to fall a grueling 74% since. The reason for the sharp selloff? The tremendous failure of its Resolve drug.
Resolve, a treatment for respiratory syncytial virus, failed to prove efficacy in a phase 3 trial.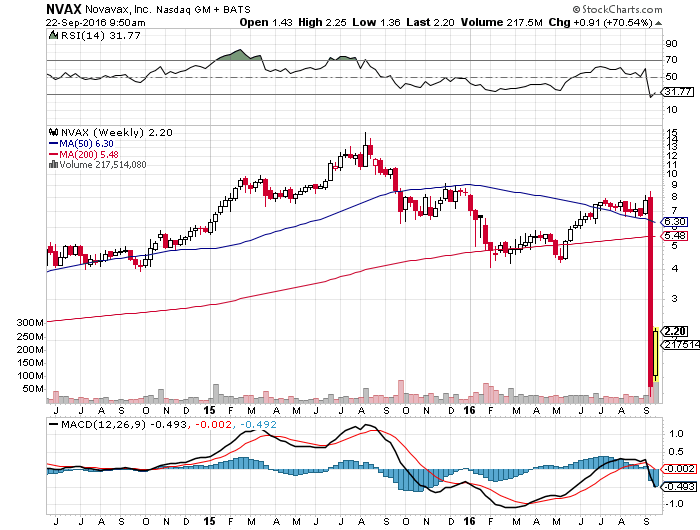 Click to Enlarge The NVAX stock price tells the rest of the story — from $8-plus a share to near penny stock levels.
The fallout spread quickly, with Chardan Capital slashing its price target on NVAX stock from $5.75 a share to $1.50.
Since Wednesday, however, a glimmer of hope cracked through Novavax's molten shell, as shares are up 50%, no doubt thanks in part to a Federal Reserve "no hike" rally.
NVAX Stock Is In for a Ride
Hold onto your hats.
Novavax director Gail Boudreaux recently loaded up on 100,000 shares of her company's stock — bought at $1.45 per share. Her stockpile is now some 200,000 shares. That's a healthy bet on a company whose future is lined with question marks.
In fact, no one really knows what to do with NVAX — even the analysts are wildly split on this stock. The low price target of a dollar means Novavax could be halved from here, while the high price target of $17 means about 700% upside!
Zacks, though, seems pretty sure about Novavax stock: The research firm just upgraded NVAX from "sell" to "hold" today, and slapped the company with a one-year price target of $10.77.
Surely more analysts are pricking up their ears, ready to revise their price targets, but with the breakneck twists and turns of NVAX stock, analysts will have to keep their red pens handy.
As of this writing, John Kilhefner did not hold a position in any of the aforementioned securities.
More From InvestorPlace