U.S. equities are pushing higher on Wednesday, once again putting the 20,000 threshold on the Dow Jones Industrial Average in play.
Familiar themes are in play: Financials are leading the way higher on new interest margin hopes as long-term interest rates drift up.
But a smattering of well-known consumer-focused stocks are perking up as well, as investors round back to areas of the market that have lagged the historic post-election uptrend.
Here are three names that are on the move:
Consumer Stocks to Buy: Tesla Motors (TSLA)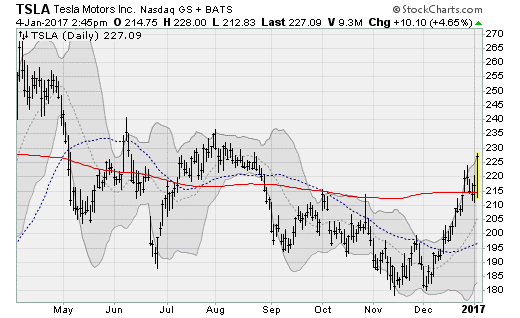 Tesla Motors Inc (NASDAQ:TSLA) shares have surged up and over their 200-day moving average to close in on highs not seen since last summer after reporting weaker-than-expected production numbers. Investors focused on indications of very strong demand.
The rise comes despite some cautious comments from Barclays analysts, who see a high probability that the company will announce a delay to the eagerly anticipated Model 3 along with a $1.5 billion equity raise that will dilute existing shareholders.
The company next reports results on Feb. 8 after the close. Analysts are looking for a per-share earnings loss of 10 cents on revenues of $2.3 billion.
Consumer Stocks to Buy: Weight Watchers (WTW)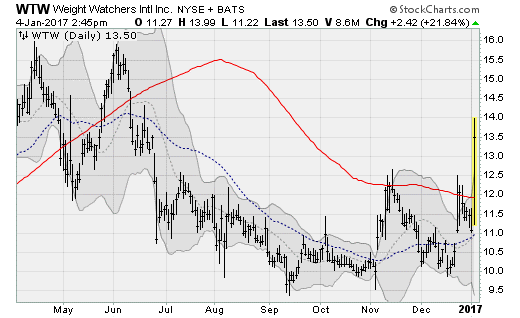 Weight Watchers International, Inc. (NYSE:WTW) is surging above its 200-day moving average, up nearly 22% in trading on Wednesday, thanks to an upgrade by analysts at Sidoti focusing on a refreshed marketing campaign featuring Oprah as a brand evangelist.
In late December, Oprah announced she had lost 40 pounds using Weight Watchers, adding she believes the program was the easiest she'd ever been on and that it didn't feel like being on a diet.
In late 2015, the company announced it had struck a partnership with Oprah, which included a 10% equity stake and a seat on the board.
The company will next report earnings on Feb. 23 after the close. Analysts are looking for earnings of 19 cents per share on revenues of $275 million.
Consumer Stocks to Buy: Lululemon (LULU)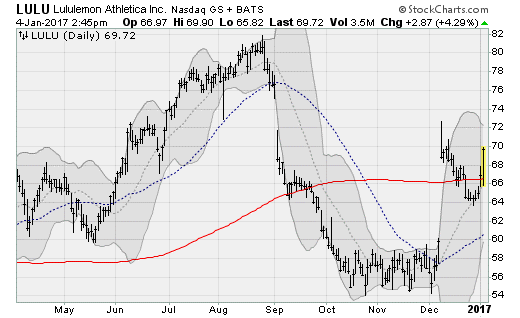 Yoga pants maker Lululemon Athletica inc. (NASDAQ:LULU) is perking up and over its 200-day moving average in what looks like a bid to close the gapped selloff from early September.
Back in December, FBR analysts upgraded the stock on solid third-quarter same-store sales and margins driven by the ability to raise prices on stronger product mix.
The company will next report results on March 30 after the bell. Analysts are looking for earnings of $1 per share on revenues of $782 million.
Anthony Mirhaydari is founder of the Edge and Edge Pro investment advisory newsletters. A two-week and four-week free trial offer has been extended to InvestorPlace readers.