U.S. equities finished mixed on Thursday in relatively quiet trading. Large-caps spent most of the session in the green before an end-of-session swoon took the major averages below the unchanged line.
In the end, the Dow Jones Industrial Average lost 0.1%, the S&P 500 lost 0.1%, the Nasdaq Composite gained a fraction and the Russell 2000 gained 0.4%. What's more, Treasury bonds were stronger again, boosting the ProShares Ultra Treasury Bond (NYSEARCA:UBT) to a gain of 10.6% since recommended to Edge subscribers on Jan. 5.
The dollar was lower, gold gained 0.3% and oil managed a meager 0.5% rise after closing down in five of the last six sessions.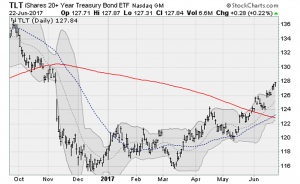 Click to Enlarge
Breadth on the NYSE was positive, with 1.4 advancers for every declining issue with volume at 91% of the 30-day average.
Healthcare stocks led the way with a 1.1% gain on optimism surrounding the release of the Senate GOP's Obamacare repeal/replace legislation; well, optimism the bill won't go anywhere with a number of key GOP senators announcing they won't support the bill as it stands now. The details were largely as expected, with a repeal of the individual mandate and most of the taxes. Consumer staples were the laggards, down 0.7%.
Oracle Corporation (NYSE:ORCL) surged 8.6% on a strong Q4 fiscal showing as the company continues to enjoy momentum in its shift to cloud-based services. Barnes & Noble, Inc. (NYSE:BKS) gained 7.7% on strong quarterly results, a rare spot of good news in the brick-and-mortar retail sector. And Staples, Inc. (NASDAQ:SPLS) gained 6.2% on reports Sycamore Partners could take the company private in a $6 billion deal.
Conclusion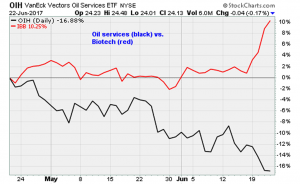 Click to Enlarge
The chart above pretty much summarizes the current situation, with crude oil weakness (amid persistent oversupply, weak gasoline demand, bloated inventories, and doubts about OPEC's supply freeze deal) offset by powerful strength in biotech (as "Trumpcare" loses momentum in Congress and a drug price executive action appears to be delayed).
The major averages continue to hold near recent highs as the summertime doldrums set in. Seasonality, sentiment, and central bank tightening all suggest weakness lies just ahead. But for now, investors seem content with aggressive sector rotation dynamics, ditching "FAANG" big tech stocks, big banks, and energy shares in favor of biotech and healthcare.
Yet the persistent strength in Treasury bonds relative to stocks overall (shown above), amid the worst economic data disappointment since 2011, suggests we're still on the cusp of a healthy pullback. Remain cautious.
Check out Serge Berger's Trade of the Day for June 23.
Today's Trading Landscape
To see a list of the companies reporting earnings today, click here.
For a list of this week's economic reports due out, click here.
Tell us what you think about this article! Drop us an email at editor@investorplace.com, chat with us on Twitter at @InvestorPlace or comment on the post on Facebook. Read more about our comments policy here.
Anthony Mirhaydari is founder of the Edge (ETFs) and Edge Pro (Options) investment advisory newsletters. A two-week and four-week free trial offer has been extended to Investorplace readers.