Stocks are indicating that the open will take things higher as some earnings reports are adding to the positive tone for the open. While the open will give the bulls something to chew on, we're still far from being out of the woods from a selling perspective. Despite that, we have to follow the rule that "there's always a bull market somewhere". From our experience, the charts always tell us exactly where that is normally.
Today's three big stock charts look at the bullish technical trader for Adobe Systems Incorporated (NASDAQ:ADBE), Caterpillar Inc. (NYSE:CAT) and Zoe's Kitchen Inc (NYSE:ZOES) as all three are indicating the potential for a volatility rally higher over the short-term.
Adobe Systems Incorporated (ADBE)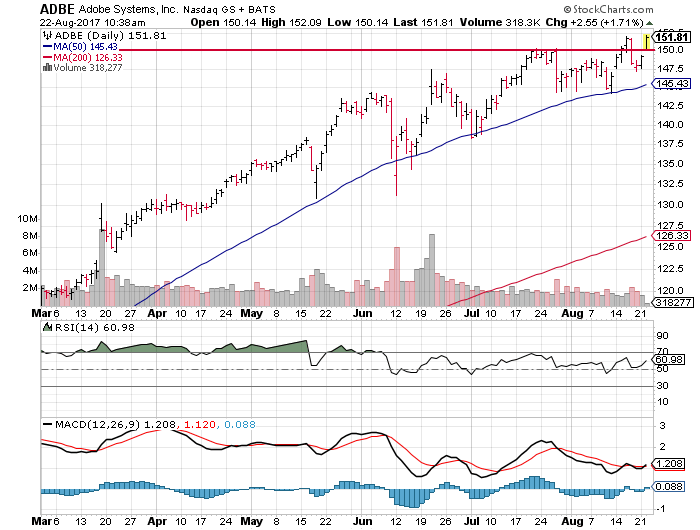 Adobe Systems is one of those companies that announces their earnings results in the middle of the quieter period of the quarter, so earnings trades don't apply here. ADBE stock is on a run lately, nonetheless, as traders have been looking for those individual names that are moving higher.
Adobe shares are breaking through to new highs more than a month ahead of their earnings announcement. In the past, this has triggered "buy the rumor" rallies in the stock that have been in the 5-10% magnitude.
Today's price activity is nudging Adobe Systems stock above its Bollinger Band, which indicates that the stock is on the cusp of a volatility rally. The last time that we saw a similar move was met by a 5.6% rally.
ADBE scores another bullish point for traders as the stock is breaking above chart resistance at $150. This will attract more momentum buyers that have been looking for the stock to make moves to new highs during this volatile market.
Caterpillar Inc. (CAT)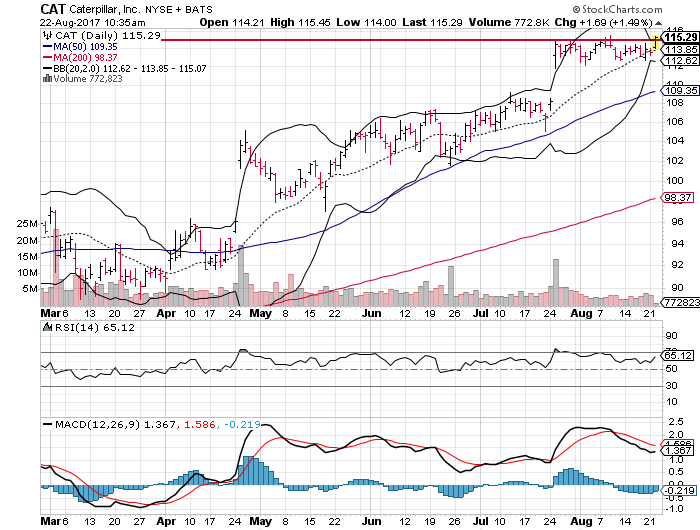 The headlines and pundits have been hammering the simplicity of the White House's fix for the current situation of uncertainty by saying that they need to focus back on the topic of infrastructure spending, fast.
The charts of Caterpillar are saying that this is likely to happen as the heavy machinery manufacturer continues to break higher. The rally's not over yet according to our charts.
CAT shares have been trading in a wide range since their post-earnings surge. The stock has been a relative strength leader during this period, but it looks ready to make another move higher now.
The consolidation of Caterpillar stock has tightened the Bollinger Bands on the stock, forcing what we would refer to as a technical squeeze as the stock is now ripe to return to more normal volatility readings. The break above the top Bollinger Band today indicates this volatility will be in the form of a rally.
In addition to the Bollinger Band break, CAT shares are breaking above $115, which has been a glass ceiling for the stock from a chart perspective. This move, similar to Adobe Systems, will attract momentum traders to Caterpillar as buyers, pushing shares higher.