Self-driving car stocks make very compelling investing opportunities right now. The driverless car market is expected to be worth $42 billion by 2025, according to Boston Consulting Group. And while Tesla Inc (NASDAQ:TSLA) may be making the loudest noise, it isn't the only company benefiting from this huge influx of investment.
Indeed, if you want to bet on the autonomous car industry there are much safer stocks out there than Tesla. For example, Tesla has a "hold" analyst consensus rating on TipRanks. And the risky nature of this stock is highlighted by the fact that the $312 average analyst price target stands at a downside of -14% from the current share price.
In contrast, all the stocks below have "strong buy" analyst consensus ratings and huge upside potential. Using a stock screener, I identified the top analysts on Wall Street and found which driverless car stocks they like the most.
So here are best-performing analysts' three favorite self-driving car stocks — and yes, none of them are Tesla.
Self-Driving Car Stocks to Buy: Delphi Automotive (DLPH)
U.K.-based Delphi Automotive PLC (NYSE:DLPH) has one of the highest top analyst consensus ratings in the industrial goods sector. This isn't surprising when you see that Delphi has received seven back-to-back "buy" ratings from analysts in the past three months. Even better, these analysts are predicting upside for DLPH over the next 12 months of 12.65%.
The reason for this bullish outlook is largely due to the confidence of the market in driverless car technology. Since spinning off its powertrain business, Delphi is one of very few stocks representing a pure driverless car play. Delphi supplies multiple automakers with the tech required to integrate and install autonomous car systems.
Back in May, Delphi announced that it is joining the all-star team of BMW (OTCMKTS:BMWYY) and Intel Corporation (NASDAQ:INTC) (plus Intel's recent acquisition Mobileye). The trio intend to have a fleet of 40 pilot self-drivingcars on the road by the end of the year. They also plan to launch a driverless car platform that can be adopted by other automakers — and expect the platform to be ready to install by 2021.
"We recognize how complex these systems are, and when you're talking about automated driving where the vehicle is in control, you have to have the most robust, best technology at every link in the chain of that platform," says Delphi CTO Glen De Vos. "You're going to see a number of companies that are trying to do everything on their own or in a very closed system are going to really struggle."



Click to Enlarge
Self-Driving Car Stocks to Buy: Baidu (BIDU)
Chinese search giant
Baidu Inc (ADR)
(NASDAQ:
BIDU
), often called "the Google of China," is seriously investing in the autonomous space. We can see this "strong buy" stock has three back-to-back "buy" ratings from top analysts in the previous three months. Add in two upgrades from Nomura and Macquarie sixteen days ago and the picture is looking decidedly positive.
Share prices soared recently from $180 to $230, but analysts are confident BIDU stock is poised for further growth. According to TipRanks, the average analyst price target is $241, which translates into almost 8% upside from the current share price.
BIDU is developing its own driverless car and hopes to begin mass production by 2021 with trial cars on the road next year. China has the potential to be the world's largest autonomous car market and Baidu already has a head start. Baidu Maps — one of the most popular mapping apps in China- already has fully photographed 3D surroundings of every street and lane in every Chinese city. Baidu can plug this huge databank into its driverless car system.
In the meantime, Baidu is challenging Google and Tesla with its own Apollo driverless car project. The project opens up Baidu's driverless tech for group collaboration. And what a group! Apollo has over 50 partners including Microsoft Corporation (NASDAQ:MSFT) and large Chinese automakers like Robert Bosch GmbH and Continental AG.
Through Apollo, the car will become more than just a machine says Baidu: "Autonomous driving is not a mechanical operation, but intelligent companionship," says Xu Yongming, general manager of Baidu Telematics. "Relying on big data and deep learning technology, it will let the car know you better."
This means anything from knowing when you are tired to using facial recognition technology to play your favorite music.



Click to Enlarge
Self-Driving Car Stocks to Buy: Alphabet (GOOGL)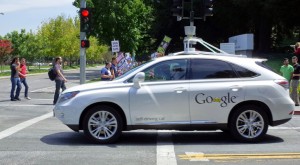 Last but not least we have tech giant
Alphabet Inc
(NASDAQ:
GOOGL
). This top stock has one of the most bullish outlooks from the Street. Over the past three months, 30 analysts have published "buy" ratings on GOOGL with just three "hold" ratings. Meanwhile the $1,094 average analyst price target stands at an impressive 17% upside from the current share price.
Alphabet's self-driving unit Waymo was spun off from Google back in December 2016. "We're now an independent company within the Alphabet umbrella," Waymo CEO John Krafcik said at the time. Waymo is responsible for the "first fully driverless ride" on public roads. Steve Mahan, a legally blind friend of Waymo's principal engineer, was the driver. He rode alone in a car with no steering wheel or pedals.
Now Waymo is generating more headlines with its latest innovation — a flexible car that can soften before crashing into pedestrians. A patent has been granted to Waymo for technology that gives the car flexibility depending on the situation. In a car crash, the vehicle can remain rigid. But if humans are involved a sensor is triggered which releases tension cables attached to the car's surface, reducing the force of the collision.
Which stocks are the top 25 analysts recommending right now? Find out here.



Click to Enlarge
TipRanks offers investors the latest insight into eight different sectors by tracking the activity of 4,500 analysts, 5,000 financial bloggers and even 37,000 corporate insiders. As of this writing, Harriet Lefton did not hold a position in any of the aforementioned securities.