The broader markets finished lower for a second straight week and are showing sure signs of their age after a raging eight-year bull run. With large-cap biotech stocks just emerging from bear market corrections, however, immunizing your portfolio just got a bit easier.
A month ago, I made the technical case for buying a few biotech giants. Each stock in this article is trading down since then, and our expectation of breakouts and relative strength against the backdrop of a long-in-the-tooth bull market has proven to misplaced optimism.
The good news? Our limited-risk strategies have proven a superior investment relative to buying any of these three large cap biotech stocks — or most any biotech stock for that matter — over the past month.
The better news? If you still see the biotech space as a spot where value exists and the potential for a bullish sector rotation, the past couple weeks of losses in the following biotech stocks are all the more attractive, both on and off the price chart.
That said, let's take a look a closer look at each of these biotech stocks to see which options strategies align with our technical expectations while minimizing risk in the event the market continues to have alternative plans.
Large Cap Biotech Stock #1: Regeneron (REGN)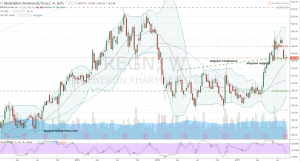 Click to Enlarge The notoriously volatile shares of Regeneron Pharmaceuticals Inc (NASDAQ:REGN) has continued to earn its wings. Since writing about REGN, the stock is off an outsized 9.5% relative to its peers CELG and AMGN, as well as the tech-heavy Nasdaq's own loss of just over 2%.
Not only is value being realized by the relative loss in market capitalization, but the decline has also occurred despite a huge earnings beat and Regeneron management raising guidance in large part due to the company's Eylea drug, which continues to be a major growth asset.
On the price chart, getting long REGN stock on weakness as shares test prior resistance for support, as well as the 50% level of a corrective base, is an attractive proposition. Further, with shares having formed an inside doji candlestick within a slightly larger decision candle, the choice to go long is made that much easier.
For traders also appreciative a technical hold and reversal higher is setting up in REGN, the Sept $480/$490 bull call spread is attractive. With REGN stock trading at $467.85 the vertical is priced for $3.50, or roughly 0.75% stock risk. This spread is a shorter-term play, but works well given the technical setup and knowing REGN stock is fully capable of producing large and fast rallies capable of turning the promise of a max payout of $16.50 into a reality.
Large Cap Biotech Stock #2: Celgene (CELG)

Click to Enlarge Next up on our list of large cap biotechs to buy are shares of Celgene Corporation (NASDAQ:CELG). Over the past month, CELG is off just over 7% and confirming its tradition of moving in a similar, but typically slightly less volatile fashion than REGN.
Making this large-cap biotech stock even more strikingly similar to its peer, Celgene also delivered better-than-expected earnings. Much to our amazement, it looks like a sell-the-news reaction on the part of investors.
On the price chart, CELG's pullback the past couple weeks looks like added value for bullish investors. This second attempt entry offers a nice supportive area above the 62% retracement level while retaining the integrity of a handle consolidation within the existing uptrend and larger cup base.
As with REGN, a slightly out-of-the-money vertical in Celgene looks like a smart approach given limited and reduced holding risk and the expectation shares are poised to reverse higher off technical support.
For traders in agreement, the Dec $135/$145 call spread for $2.55 is favored. This longer-term vertical allows for potential staying power, a potential max payout of $7.45 for just 1% CELG stock risk and possibly a more favorable earnings reaction in a couple months.
Large Cap Biotech Stock #3: Amgen (AMGN)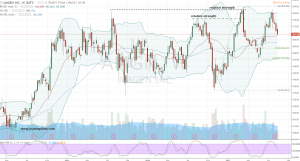 Click to Enlarge Amgen, Inc. (NASDAQ:AMGN) is another large-cap biotech stock on our "buy" radar, as AMGN shares dip into value territory. Like Regeneron and Celgene, Amgen recently topped earnings and increased guidance. However, longer-term prospects for its drug portfolio look less sure-footed.
On the AMGN chart, the pullback from recent highs failed to demonstrate a third sign of relative strength as shares reversed course prior to breaking out from a massive channel of the past three years.
Shares of Amgen are still stationed above layers of technical and price support within the lengthy consolidation pattern. But considering the less-desirable developments on and off the chart, using a softer delta bullish strategy looks more compelling on this more mature biotech.
With AMGN shares at $167.26, the Oct $170/$175 bull call spread is priced for $1.90. It's a reasonable way to position considering the circumstances. For just more than 1% stock risk, this vertical offers a max profit of $3.10 if AMGN can muster a less staunch rally of 4.75% over the next several weeks.
Given our addressed concerns, I'd also seriously consider a 50% money stop on this AMGN stock spread as a way to reduce risk if the occasion arises.
Investment accounts under Christopher Tyler's management do not currently own positions in any securities mentioned in this article. The information offered is based upon Christopher Tyler's observations and strictly intended for educational purposes only; the use of which is the responsibility of the individual. . For additional market insights and related musings, follow Chris on Twitter @Options_CAT and StockTwits and feel free to click here to learn more about how to design better positions using options!