Snap-on Incorporated (NYSE:SNA) continues to drift since disappointing Wall Street in its most recent earnings report a couple of weeks ago. It actually opened 1.5% higher right after the release but closed the day down nearly 5%.
But SNA stock has come nicely off its lows set a few days later and is now trading in the mid-$150s. So is SNA ready for a breakout?
Let's start by looking at earnings. The headline numbers were fine, as SNA earned $2.60 a share, beating the consensus estimate of $2.55 a share. Revenue of $921.4 million was just a hair shy of expectations.
Part of the "problem" was the earnings beat was driven by a sharp increase in financial services. Revenue in this segment increased 12% to $77.7 million with operating earnings growing 10% to $49.5 million. That's fine in and of itself, but it did overshadow slower growth in the core business.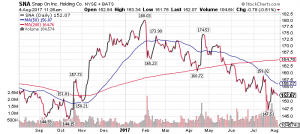 Click to Enlarge For example, sales in the Snap-on "Tools Group" were down from the prior year. It was a small decline of 0.7%, but it was still a decline. Operating earnings in the group were up slightly, thanks to improved margins.
What This Means for SNA Stock
SNA is down 15% from its 52-week high set back in early February. I continue to see the stock as extremely oversold, but management has to prove better execution to find deep-pocketed buyers.
On that note, the company just declared its next 71 cents a share quarterly dividend. Still, despite a decent valuation of 16.2X trailing earnings, I see no urgency to buy at this moment.
Looking at the chart, SNA is near a very strong support point around where it traded last fall. In addition to fundamental signals, I'm also looking for a technical buy signal, which right now would be a close above $156. We could get additional information on Monday, when the company presents at the Jefferies Industrial Conference.
Bottom line: I'm not a buyer of SNA here, but I wouldn't necessarily sell it if you already own it.
Curious what Wall Street insider Charles Payne really thinks? Get more behind-the-scenes insights, valuable market research and hands-on guidance including live stock recommendations. Charles Payne's Smart Talk is absolutely FREE for a limited-time only. Sign up today!