Shares of JD.Com Inc(ADR) (NASDAQ:JD) are up big on the year, climbing 56% so far in 2017. But it hasn't been easy sledding this summer. After tagging a record $49 in early August, JD stock is now down about 17%. Time to wave the white flag or back up the truck?
I wouldn't say JD stock is a "back up the truck" kind of name. But I certainly wouldn't wave the white flag, either. In fact, I would be more interested in dipping my toe in the water here. While listed on the Nasdaq, JD.com is a Chinese company based in Beijing. Its e-commerce business sells everything from food and baby books to home appliances and electronics.
Basically, JD.com is a smaller, less-conglomerate version of Amazon.com, Inc. (NASDAQ:AMZN). The Chinese online shopping space is attractive. While e-commerce disruption is earthquaking its way through the U.S., China has three times the population and a fewer bricks-and-mortar stores. In other words, e-commerce has a ton of room to expand.
On an earnings basis, JD.com is profitable through the first half of fiscal 2017. On a net income basis, not quite, but it's getting there. I will be the first to admit that on a fundamental basis, JD stock is not a screaming buy.
Sizing Up JD.com
On the surface JD.com is a good company, but not necessarily an amazingly great one. That's okay, though.
Some of the not-great features? JD's cash position is down about 23% year-over-year (YOY), while its total debt is up 27.5% YOY. Additionally, cash flow from financing is climbing. This would be more concerning if not for some of the more positive developments. Mainly, that JD's cash and debt levels are similar, while the latter is quite manageable. Further, total assets have increased significantly YOY, and its debt-to-assets ratio is declining. Additionally, free-cash flow and operating cash flow are both moving higher, which means JD.com can either pay down debt or further invest in its operations to grow its market share.
When it comes to sales and earnings, the numbers for JD.com are impressive too. Analysts expect sales to grow 39.4% this year and 28.5% in fiscal 2018. Forecasts call for earnings per share of 45 cents this year, roughly three times 2016's results. However, analysts expect another 89% growth in 2018.
That's why JD stock trades with an egregious trailing price-to-earnings (P/E) ratio while at "just" 45 times forward earnings estimates. Fitting with JD.com's overall theme, this valuation is good, but not knock-your-socks-off great. It's definitely not cheap, but for a company with robust revenue growth and a commitment to grow both earnings and cash flow, the valuation can be justified.
So if JD.com is a good company but not amazingly great, why did we call it a "must-buy" stock in the headline? Sometimes even if the fundamentals aren't perfect, the stock's price action is. In this case, JD stock fits the bill.
Trading JD Stock
JD stock has several catalysts lining up on the chart. First, the $38 level has been very strong support since early May. I would look for possible resistance from the 50-day moving average near $42. Further resistance could come into play between $43 and $44. Further, the MACD (blue overall) is turning bullish.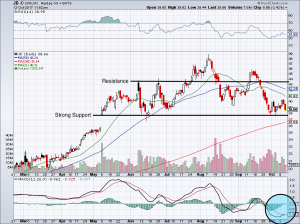 Click to Enlarge
Essentially, investors buying near current levels can risk anywhere from 50 cents to $1 a share on the downside and can reasonably target the low- to mid-$40s on the upside. Hmmm, $1 of downside for $5 to $7 of upside? Sign me up.
To get that kind of trade, investors will need to use a stop-loss on the downside. Stocks that are volatile can gap below a trader's stop and that's the worry with volatile names. JD stock would concern me on this, even with strong support near $38. Especially with a beta of 2 — indicating shares are roughly twice as volatile as the overall market.
If they don't want a stop, investors could consider a collar trade on JD stock. For every 100 shares purchased, investors could sell a $41.50 Nov. 3 call and buy a $36 put. The collar could be done for a net debit of $0.00. This would allow for $3 per share in upside, or 7.8%, and $2.50 per share in downside, or 6.5%. To minimize our downside, we're also reducing our upside. This could work though if we get a rally up to $39 to $40, where we would have more cushion on our trade and can re-evaluate in a few weeks.
Bret Kenwell is the manager and author of Future Blue Chips and is on Twitter @BretKenwell. As of this writing, Bret Kenwell did not hold a position in any of the aforementioned securities.