Yesterday's tech wreck brought opportunity in its wake. Many high fliers have returned to Earth, providing low-risk entries. Chief among the good-lookers is Salesforce.com, Inc. (NYSE:CRM). CRM boasts a rousing uptrend and is fast approaching a potential buy zone.
Wednesday's wonky price action should be the poster child for sector rotation. While technology stocks finally received their comeuppance, financials, retail and transports took flight. Rather than seeing a wholesale exodus from equities, we saw a shuffling of the deck.
And that leads me to believe that the pain in tech will be short-lived. With the overall bull market still on track, there's a good chance the tech weakness will soon be a buying opportunity.
And since CRM has one of the best uptrends in the space, it deserves a top spot on our list.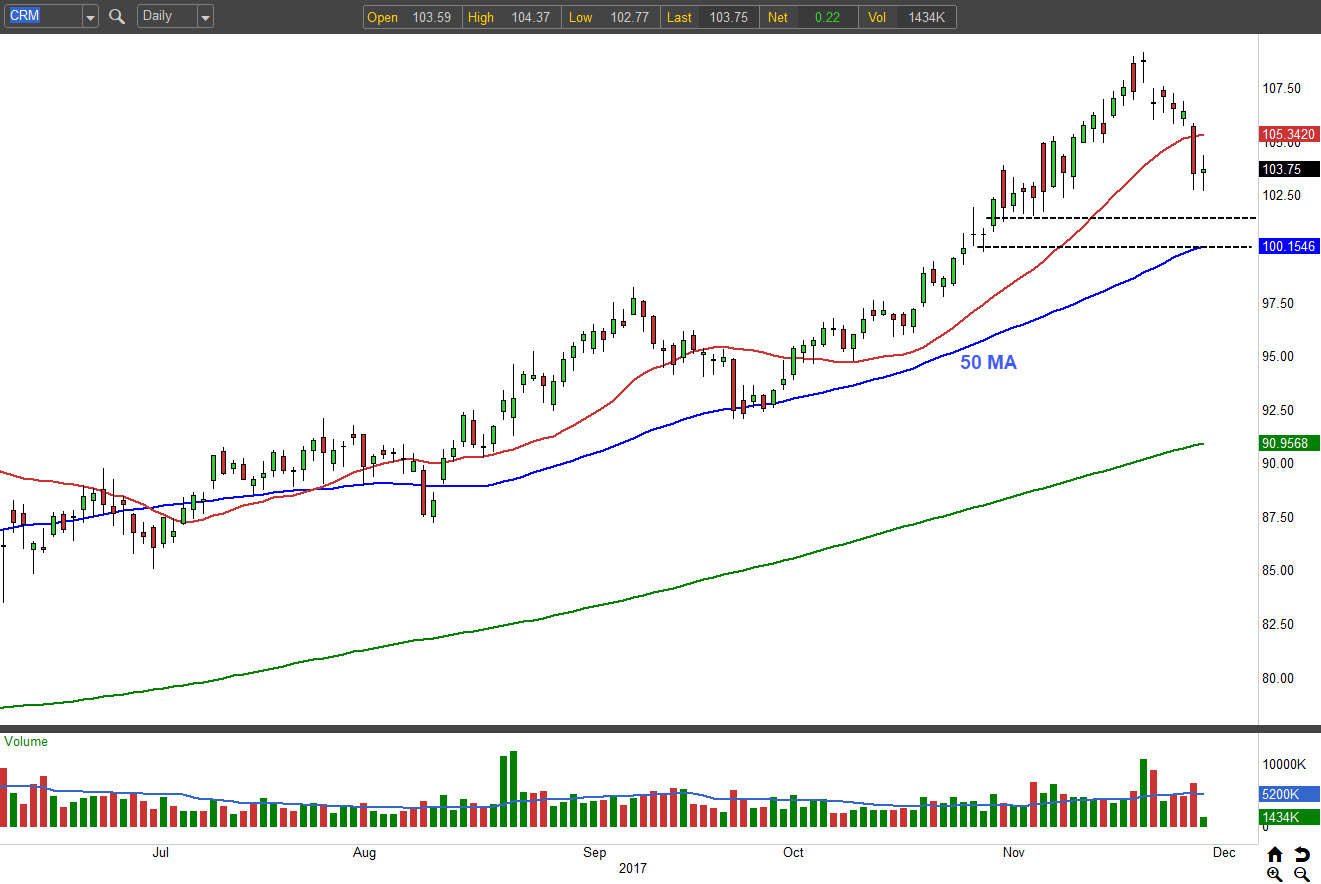 Salesforce.com shares have experienced multiple pullbacks this year, but everyone turned out to be a rousing buying opportunity. The 50-day moving average, currently resting at $100, is a potential support zone worth watching.
Additionally, a cluster of candles bottomed at $101.50, making it another area of interest. Though many tech stocks are rebounding with gusto today, CRM has thus far formed an uninspiring doji candle, so it may probe lower before bottoming.
Watch for signs of an upside reversal in the potential support levels just mentioned, then strike with bullish trades.
The CRM Stock Trade
To create a wider profit range and allow CRM to potentially fall further before buyers swoop in, consider selling January bull put spreads. This strategy also capitalizes on the higher implied volatility now available. If you're willing to wager we sit above $97.50 at expiration, then sell the Jan $97.50/$92.50 bull put spread for 57 cents or better.
The max reward is 57 cents, and the max risk is $4.43. To minimize the damage if CRM falls out of bed, exit on a break of the short put at $97.50.
As of this writing, Tyler Craig didn't hold positions in any of the aforementioned securities. Want more education on how to trade? Check out his trading blog, Tales of a Technician.