After missing the earnings bullseye, Target Corporation (NYSE:TGT) has seen a bit more dropping than shopping. But the real discounting and stronger profits for bearish Target stock traders may be just beginning using a well-placed, below-market long put butterfly spread.
Let me explain.
Target is showing Amazon.com, Inc. (NASDAQ:AMZN) and Wal-Mart Stores Inc (NYSE:WMT) aren't the only games in town when it comes to flexing some retail muscle after the department store giant delivered its Q4 confessional and confirmed a strong and better-than-forecast holiday selling season.
However, investors reacted negatively to the report and sent shares lower by nearly 4.5% in the immediate aftermath.
Behind the pressure, a modest penny profit miss tied to higher employee expenses and increased investments to enable its stores to compete, weighed on investors. Now and a bit more than a month later, it's this strategist's view the initial ride lower is setting up a more slippery slope for Target stock.
Target Stock Daily Stock Chart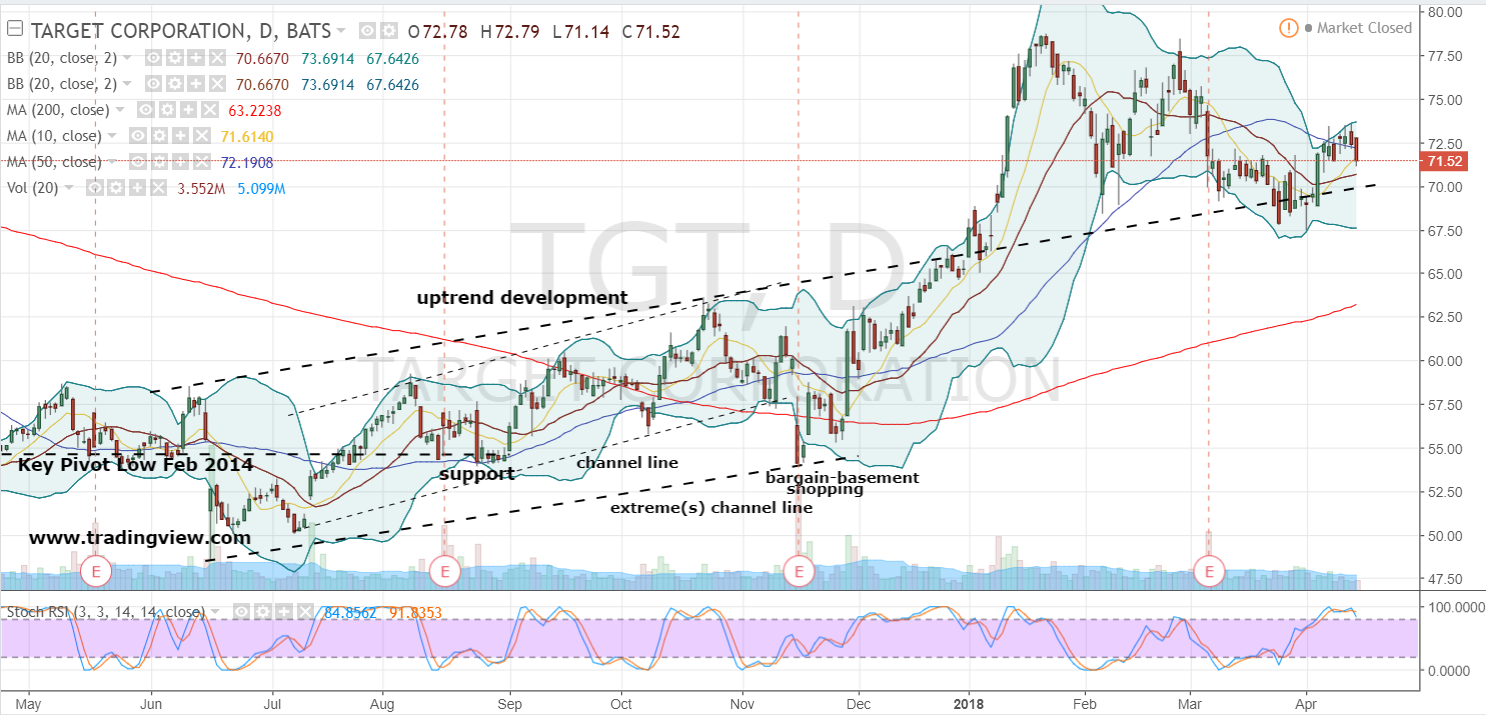 Shares of Target have enjoyed a nice run since last summer and a time when the discounting looked far from over given a key breakdown of lateral price support dating back to 2014. Nevertheless, investors shopping for a potential bargain in TGT did find one with shares up about 40% from the low formed in 2017. But now some trouble may be around the corner.
After scoring some unusual quick and swift gains out the gate in 2018, investors have put together some modest profit-taking off TGT's intermediate highs. Technically, the price action has formed a lower-high and lower-low pattern (downtrend). In truth, developing downtrends like the one in TGT aren't necessarily automatic sell signals to get out of a stock. However, there is some evidence to think this could be the start of a more significant decline for Target stock.
First, the recent lower-low did breach the prior uptrend support. More recently, last week's lower-high pattern was stymied by the 50-day simple moving average. Shares also failed to clear the post earnings high set in early March. Coupled with stochastics in an overbought position, TGT stock is offering a decent spot to short shares using a lower-cost and limited-risk bearish position.
Target Stock Moderately Bearish Put Butterfly Spread
Reviewing the TGT options board, one spread of interest is the May $67.50 / $65 / $62.50 put butterfly. With shares at $71.52, the combination is priced for 25 cents. That allows for a profitable range in-between $62.75 to $67.25 with a max payout of $2.25 if Target hit the bulls-eye of $65 on expiration.
If our technical outlook is completely wrong and TGT fails to improve upon its building downtrend, this strategy keeps the position's loss contained to 0.35% of the risk associated with shorting Target shares. That's nice insurance with no price guarantees when it comes to technical forecasting.
The one caveat or real cost for this low price spread is if TGT stock overshoots on the downside. Below $62.50 at expiration and the trader will be out the full, albeit modest, 25 cents paid. But if like me, that seems like an acceptable risk — this is a nice way to play an emerging earnings-driven downtrend for cost and risk conscience bearish shoppers.
Disclosure: Investment accounts under Christopher Tyler's management do not currently own positions in any of the securities or their derivatives mentioned in this article. The information offered is based upon Christopher Tyler's observations and strictly intended for educational purposes only; the use of which is the responsibility of the individual. For additional market insights and related musings, follow Chris on Twitter @Options_CAT and StockTwits.