After soaring on stellar earnings, Square (NYSE:SQ) paused for a breather. But now the mobile payments juggernaut is rested and ready to run. Here is why I like it and, more importantly, how to profit from further strength in SQ stock.
The latest stage of our bull market has delivered mouth-watering gains to stocks across the land. It has been a golden age for momentum stocks, and Square stock is arguably one of the biggest beneficiaries.
Since bottoming out at $8.27 in Jan. 2016, shortly after its IPO, SQ has soared 766%. At this stage, we find ourselves in the midst of a rousing uptrend complete with rising 200-day, 50-day and 20-day moving averages.
Last month's pullback was snatched up rapidly after Square delivered earnings results worth cheering about. The one-day 9% ramp ushered SQ to within a whisker of record highs. The consolidation that has settled on the stock since has the makings of a pause that will likely refresh to the upside.
Of particular note is the volume pattern accompanying the sideways movement. It has been subdued suggesting we've seen only mild bouts of profit-taking. Remember, light volume pauses are much more likely to give way to trend continuation than if we saw signs of distribution.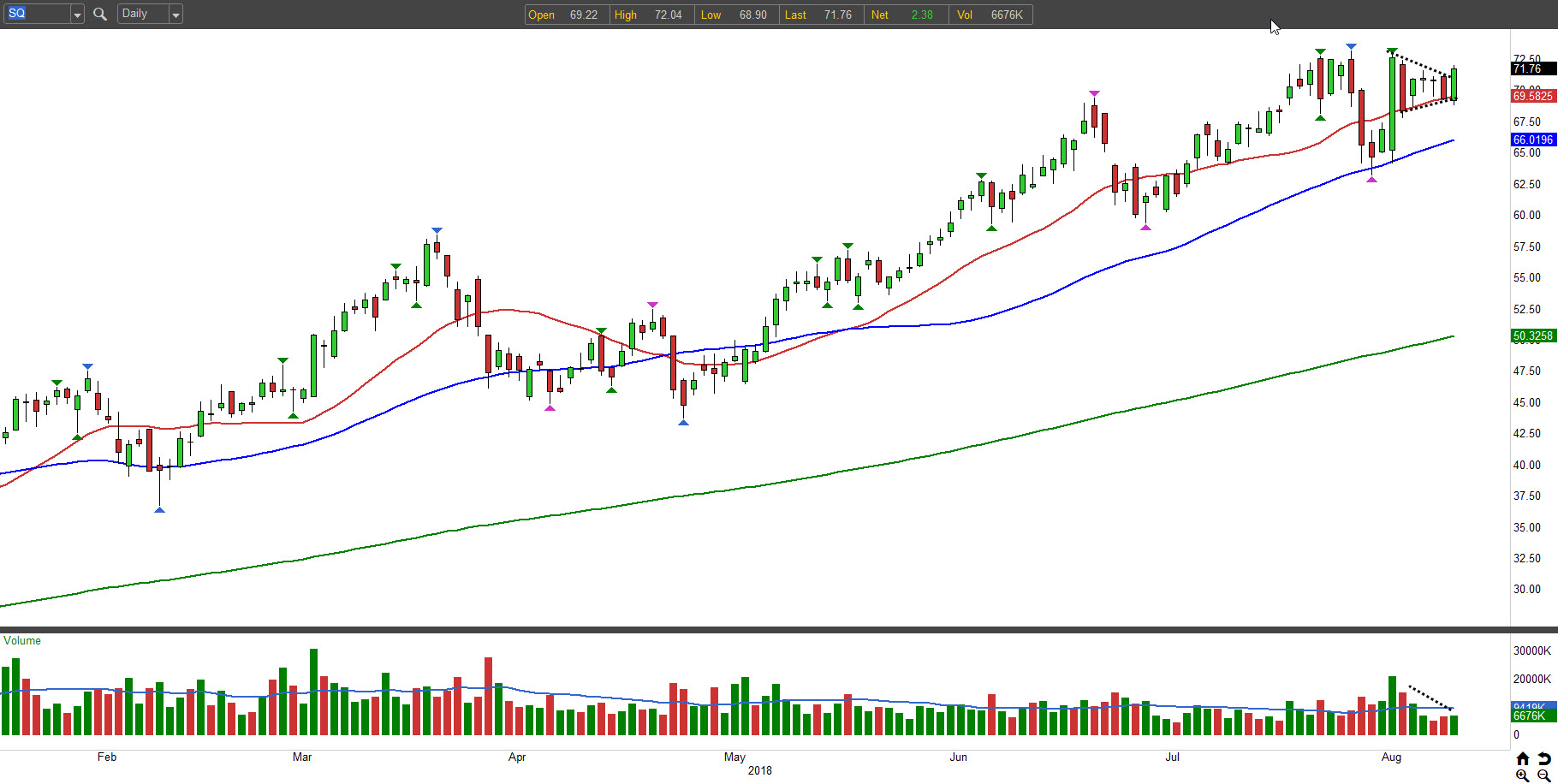 Friday's relative strength is what prompted today's highlight. While the broader market opened and stayed lower on Turkey fears, SQ stock launched higher right out of the gate. At the time of this writing, SQ is up 1.4% while the Nasdaq Composite is down 0.64%.
Throw it all together, and I think it's only a matter of time before SQ stock squeezes to new highs.
Square Up and Buy Call Spreads
With an implied volatility rank of 22%, SQ stock options are relatively cheap. To capitalize and have a chance at doubling your money, buy the Oct $70/$75 bull call spread for $2.30.
The max loss is limited to $2.30 and it will be lost if Square stock sits below $70 at expiration. The max gain is $2.70 and it will be captured if SQ rises above $75 by expiration.
As of this writing, Tyler Craig held bullish positions in SQ. Want more education on how to trade? Check out his trading blog, Tales of a Technician.