Shares of Beyond Meat (NASDAQ:BYND) continue to rip higher. BYND stock has now rallied over 40% since the making recent lows near $100 only a few weeks ago. This is despite the fact that the company once again missed badly on earnings.
The massive move higher has been fueled by the r/WallStreetBets Reddit horde tossing BYND stock into the meme stock short-squeeze fray. It joins the likes of GameStop (NYSE:GME), AMC Entertainment (NYSE:AMC) and others that are being targeted by the crowd.
It is always difficult to predict exactly how high the squeeze will take the stocks being squeezed. It is not difficult, however, to predict that the frenzy will at some point fizzle. Look to take a guarded short postion in BYND stock as the red-hot rally finally fades.
BYND Stock Remains Flat on Earnings Misses
The company reported earnings on May 6 and missed on both the top and bottom line. The earnings per share number was a loss of 42 cents, well below analyst expectations for a loss of just 19 cents per share. Revenues of $108.2 million were also weaker than the consensus of $113.7 million.
The stock dropped fell sharply in the days after the announcement but has subsequently rallied back. BYND stock is now up 20% since the disappointing earnings numbers were released.
Beyond Meat has now missed badly on earnings each of the last four quarters. Yet BYND stock is flat in that same time frame. The combination of lower-than-expected earnings with a flat stock price necessarily means the price-to-earnings multiple has expanded making BYND comparatively much more expensive.
Revenues has also lagged considerably. The current price-to-sales ratio is nearing an astounding 22x.
Technical Take Shows Large Premium
Beyond Meat is getting very overbought on a technical basis. Nine-day RSI is hovering at the 80 area. MACD is above 4 and at an extreme as well. BYND stock is trading at a large premium to the 20-day moving average.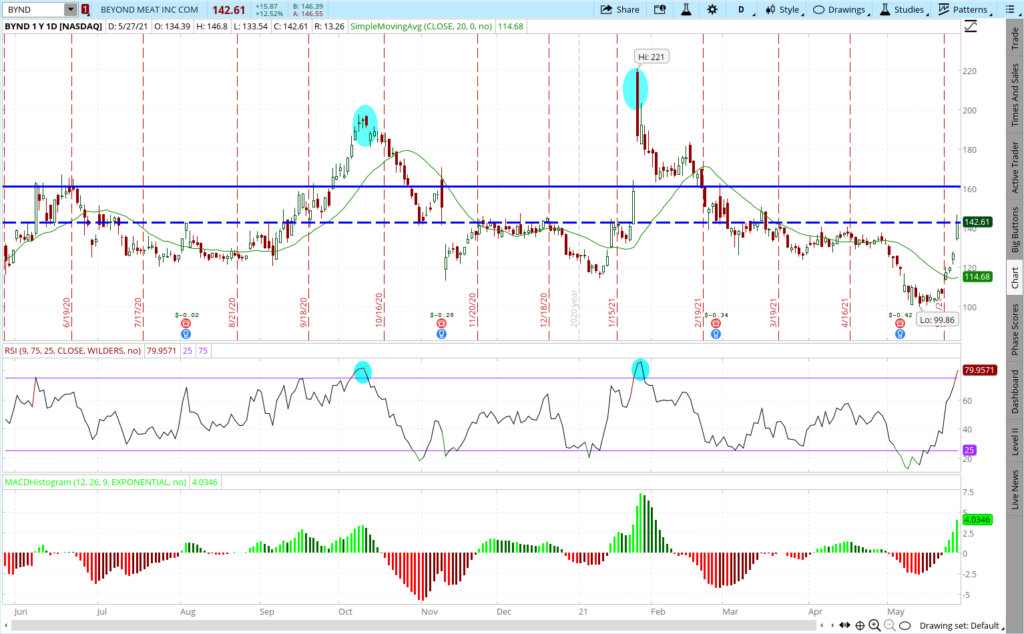 Click to Enlarge
Source: The thinkorswim® platform from TD Ameritrade
The last two times these three indicators aligned in a similar fashion marked significant intermediate term tops in BYND. There is major resistance at the $142 level (shares closed at $145.42 on Friday) and additional overhead resistance at $160.
BYND stock recently received two analyst upgrades. CFRA Research upped the shares on May 7 to a buy from a hold with a $140 price target. Bernstein moved to outperform from underperform on May 24 and put a $130 price target on the shares from the previous $101 target.
Interesting to note that BYND stock has already raced well beyond both of those price targets in just a few trading days into the end of May. This highlights just how red-hot this rally has become.
Shorting BYND stock outright is both dangerous from a risk standpoint and expensive from a margin perspective. The 36.4% rally in just the past five trading days shows just how dangerous it is. Shorting just 100 shares would require more than $7,000 using full margin.
Fortunately the options market provides a risk-defined, lower-cost solution to take a short position via an out-of-the money bear call spread.
How To Trade It
Sell BYND July $165/$170 call spread for a $1.25 net credit.
Maximum potential gain on the trade is $125 per spread. Maximum possible risk is $375 per spread. Return on risk is 33%. The short $165 strike provides a $22.39 (13.46%) upside cushion to the $145.42 Friday closing price of BYND stock. It is also positioned above the $160 secondary resistance level for Beyond Meat.
Using the July expiration allows plenty of time for the mania to subside. The defined risk spread also provides the ability to withstand having the stock continue to head higher initially.
On the date of publication, Tim Biggam did not have (either directly or indirectly) any positions in the securities mentioned in this article. The opinions expressed in this article are those of the writer, subject to the InvestorPlace.com Publishing Guidelines.
Anyone interested in finding out more about option-based strategies or for a weekly option and volatility newsletter can visit the Options and Volatility Newsletter website.