There have been plenty of improvement in key economic indicators of late. Core inflation has found calm while the jobs market is recovering, which has inspired a positive outlook from most analysts. As a rule of thumb, smaller-cap stocks and penny stocks perform well during periods with a positive economic outlook.
I've thus decided to sift through and pick a few penny stocks for investors who're seeking to take full advantage of the market sentiment. I went into my search with the goal of finding seven penny stocks that provide solid prospects with reasonable risk-reward utility.
It's critical to include penny stocks as part of a diversified portfolio instead of on a standalone basis, as the idiosyncratic risks are high relative to more mature stocks.
With that being said, here are the top seven penny stocks I found across markets:
Penny Stocks: Greenlane Renewables (GRNWF)
Greenlane Renewables is a contract-based biogas equipment supplier. GRNWF stock has gained nearly 30% over the past month as smaller-cap stocks have become popular once more.
Greenlane signed off on another $10.2 million worth of contracts this month, meaning earnings sustainability is a few steps closer. In Canada, the stock more than quadrupled in 2020 before being re-listed on the Toronto Stock Exchange's mainboard in early 2021.
The stock's down by around 25% year to date, but don't take that as a negative. In fact, I believe it's an excellent time to buy the dip as the company's poised to take advantage of Canada's 2030 zero-carbon goal.
Ceragon Networks (CRNT)
Ceragon Networks is a company that provides wireless backhaul solutions. These enable cellular operators and other service providers to deliver voice and data services.
CRNT stock had spent several years trading basically flat, but has managed to gain over 60% over the past year amid a build-up of 5G enthusiasm.
Ceragon recently beat analysts' expectations with its second-quarter earnings release as it produced an EPS beat of 3 cents. But another factor that's set to spur on stock performance is the low number of shares outstanding, a criticism of many penny stocks is that they issue an exorbitant amount of shares, which dilutes shareholders, but Ceragon only has 83.38 million shares outstanding.
Ceragon is a well-established company that has been around for a while, and I believe it is fully set to benefit from the 5G world.
Penny Stocks: VitalHub (VHIBF)
The electronic medical records (EMR) space is experiencing massive activity under venture capital flow. The area was worth $26.8 billion last year, and GrandViewResearch adds that "it is expected to witness a compound annual growth rate (CAGR) of 3.7% from 2021 to 2028."
VitalHub can be likened to a thematic venture capital company; it's a special purpose vehicle that acquires companies who develop electronic healthcare solutions.
The stock's been flat year to date, experiencing around 1% in upside. The company has since produced impressive topline numbers and the blockchain revolution could reignite the extraordinary run its Canadian stock experienced in 2020 when it nearly doubled in value.
It's also worth noting that VitalHub's business model is to acquire hypergrowth companies that add value to a holistic model. If this all comes together, it will turn its $11.2 million in intangible assets into surging revenue.
Rockwell Medical (RMTI)
Rockwell is a niche biopharma company that focuses on chronic kidney diseases with therapies and products to treat iron deficiencies and hemodialysis.
It's an infrequent occurrence that a biopharma penny stock holds relative value, but Rockwell does. An enterprise value/sales ratio of 0.66 stacks up well with a price to sales ratio that has decreased by 294%.
Improvements in earnings could also be on the way due to factors such as the extension of the company's supply contract with Nipro Medical, the licensing agreement with Drogsan Pharmaceuticals for the rights to commercialize Triferic AVNU, and the marketing approval for the same product in Canada.
Though you may want to keep an eye on earnings Monday evening before making a decision on Rockwell.
Penny Stocks: Stem Holdings (STMH)
Stem Holdings is an overlooked "pot stock." It's vertically integrated, meaning that it controls its entire value chain. The company deals with both medicinal cannabis and infused cannabis from seed to sale.
Foreign vertically integrated cannabis stocks such as Aurora (NASDAQ:ACB) and Canopy Growth (NASDAQ:CGC) have reached tremendous heights as deregulation unfolded.
Stem reported 358% year over year in revenue growth in March. And investors are incredibly excited about the company's third-quarter earnings release on Aug. 17. I fully believe that Stem will surprise investors with its growth through acquisition strategy; this is a model that worked well for Tilray (NASDAQ:TLRY), and I think Stem will follow a similar trajectory.
Institutions are confident about the stock's prospects, with Noble Financial expecting more than 600% in upside with a $2 price target.
Nucana (NCNA)
Nucana provides excellent prospects with its cancer treatment products developed by its proprietary ProTide technology. Jeff Bloss has just been added to the team as chief medical officer. Jeff brings 25 years of experience in Oncology at various biopharma companies such as Xencor, Onyx and Genetech.
Nucana has over $119 million in cash to work with while rolling out its much anticipated biliary tract cancer treatment product, Acelarin, which is currently in phase-3 study.
The company also has an anti-cancer agent (NUC-3733) in phase one of study.
Picking this stock is a gamble and about as binary in nature as it gets, but these products' commercial prospects make it a risk worth taking.
Penny Stocks: China Online Education Group (COE)
This might be a controversial pick considering that Edu-tech stocks were the part of the mass China sell-off a couple of weeks ago, when Chinese tech policy changes were announced. Further doubts surrounding tutoring reforms loom.
I, however, think that this particular stock will shake off systemic risk, and it's a brilliant opportunity to buy in while most investors are doubtful.
The Chinese online education market is forecast to grow at a constant annual growth rate of 17.5% over the next six years.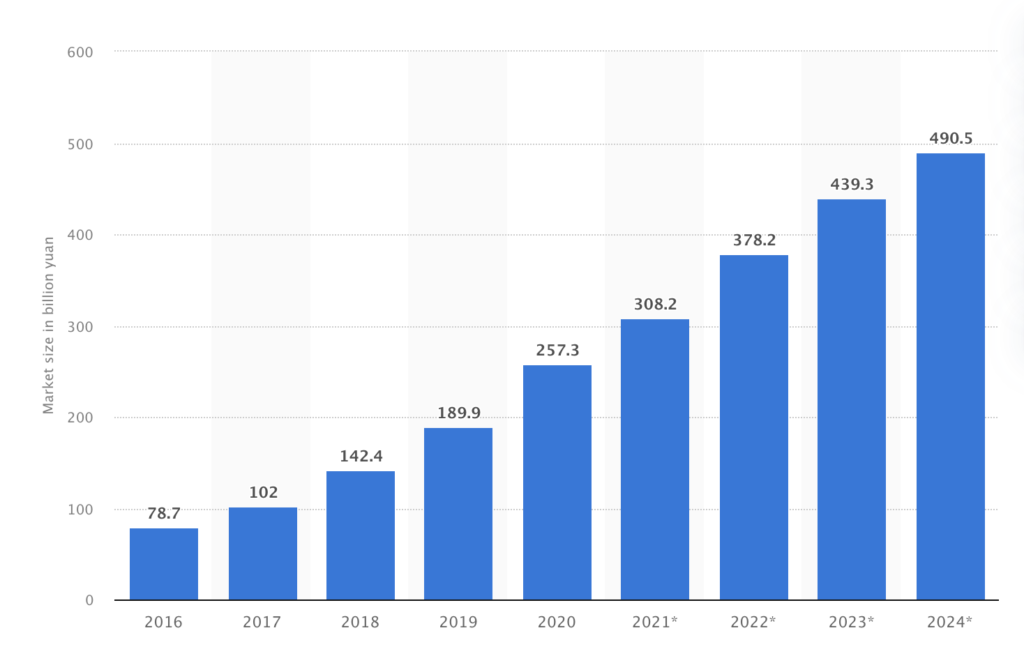 Source: Statista
China Online Education Group provides English classes to students online in the Peoples Republic of China and the Philippines. The company reported 33% in year-over-year revenue growth in its first-quarter earnings release and gross profits of 67.3%.
The stock has a superb relative value with a PEG ratio of 0.01, indicating that the stock's undervalued by 100x. Needham agrees with the value potential and argues that investors could expect an upside worth more than 1,000%, with a price target of $32.
If there are any questions regarding the article, please get in touch with me directly!
On Penny Stocks and Low-Volume Stocks: With only the rarest exceptions, InvestorPlace does not publish commentary about companies that have a market cap of less than $100 million or trade less than 100,000 shares each day. That's because these "penny stocks" are frequently the playground for scam artists and market manipulators. If we ever do publish commentary on a low-volume stock that may be affected by our commentary, we demand that InvestorPlace.com's writers disclose this fact and warn readers of the risks.
Read More: Penny Stocks — How to Profit Without Getting Scammed
On the date of publication, Steve Booyens held a long position in GRN. The opinions expressed in this article are those of the writer, subject to the InvestorPlace.com Publishing Guidelines.
Steve Booyens co-founded Pearl Gray Equity and Research in 2020 and has been responsible for equity research and PR ever since. Before founding the firm, Steve spent time working in various finance roles in London and South Africa, and his articles are published on various reputable web pages such as Seeking Alpha, Benzinga, Gurufocus, and Yahoo Finance. Steve's content for InvestorPlace includes stock recommendations, with occasional articles on crowdfunding, cryptocurrency, and ESG.