Last week, the U.S. Senate voted to advance an infrastructure bill that includes $550 billion in new spending on clean energy, roads and rails, and expanding internet access.
There's still a long way to go, but it was another step toward putting a much more sweeping infrastructure package — covering everything from roads and bridges to electric vehicle charging stations and power grid improvements — on the president's desk by this fall.
Infrastructure saves time… and time is money. That's why infrastructure advancements always produce wealth-creating opportunities.
So today, let's look at two companies perfectly poised to benefit from the infrastructure proposal now inching its way through Washington.
Eric Fry: "Buy Ticker Symbol A­_ _ _ Now"
On Monday, July 26, I recommended that subscribers to my trading service, The Speculator, close the final portion of our trade on copper mining giant Freeport-McMoRan Inc. (NYSE:FCX) for a return of greater than 1,400%.
The total gain on our Freeport trade, inclusive of all earlier sells at lower prices, was 1,017%! So we locked in a true 1,000% winner with that sale.
For more than a year, Freeport has climbed thanks to surging demand for copper. And given its inherent leverage, my recommended long-dated call option on FCX has soared.
Moreover, this return comes despite a pullback in the price of both copper and Freeport this spring.
However, I remain highly bullish on copper and Freeport.
Here's why…
One Key to Fixing America's Crumbling Infrastructure
Those twin sell-offs appear to have been "normal" corrections in an ongoing bull market. The underlying fundamentals for copper remain extremely bullish for the metal's price.
In fact, I'm so confident in copper and Freeport that I recommended a new trade the same day we closed out our 10-bagger. You can invest in Freeport stock, or you can get the details about our high-octane trade as a Speculator subscriber by clicking here.
I recommended that new trade, in part, because copper is basically the go-to metal when it comes to an infrastructure build-out.
Watch Out, China: America Is Striking Back
Copper is the must-have metal when it comes to electrical wiring. It's also a major component of plumbing. If you're building something, copper probably plays a role.
In fact, about 43% of all mined copper is used in building construction. Another 20% or so goes to transportation equipment — and that figure will only climb as our world increasingly turns to electric vehicles.
Copper.​com reports that electric vehicle sales growth will increase demand for copper by 1,700 kilotons by 2027.
You can get a sense for the enormity of that demand in the Bloomberg New Energy Finance chart below.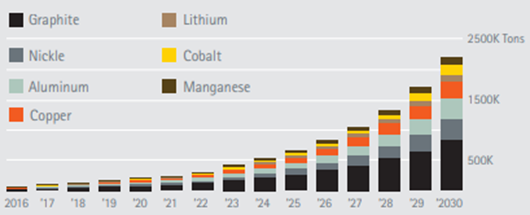 Keep in mind, copper is also a huge part of another one of the president's initiatives — green energy
From Axios:
The world's transition to renewable energy and electric vehicles will require unprecedented amounts of copper from potentially new mining operations…
The global need for copper could increase by an estimated 350% by 2050, with current reserves depleting sometime between 2035 and 2045, as wind and solar energy generate an increasing percentage of electricity and more people adopt electric vehicles.
Of course, Freeport isn't the only company that will benefit from this large-scale investment in U.S. infrastructure.
Here's another example…
Infrastructure Testing Will Supercharge This Firm's Shares
Despite its small size (a market cap of under $500 million), this company has carved out an industry-leading position in a couple of rapidly growing markets: sensors and fiber-optic testing.
Both of these markets offer exceptionally large and long-lived growth potential.
Moreover, a recent acquisition makes this company a specialist in sensing solutions that can monitor infrastructure like pipelines, highways, and railways — and gave it access to a suite of more than 150 active and pending patents.
The company's sensor technology utilizes fiber-optic strands that can measure or monitor various properties like strain, temperature, vibration, and thickness over long distances. These sensing capabilities can serve a vast array of end-uses — "smart infrastructure" being one of the most significant ones.
For example, when new bridges go into service, their builders often outfit the structure with fiber-optic sensors and measurement systems from this company in order to enable real-time health monitoring of the bridge.
This contract is not likely to be a one-off. During the last 20 years, 115 of the world's major bridges have collapsed — more than 20 of which crumbled within the last three years.
Get the Name to Eric Fry's Top Stock Pick Here
Here at home, the 2021 "Report Card" on U.S. infrastructure from the American Society of Civil Engineers (ASCE) gives the nation's bridges a barely passing grade of "C." But that's the average mark. Thousands of bridges are failing badly, as the ASCE Report Card states:
There are more than 617,000 bridges across the United States. Currently, 42% of all bridges are at least 50 years old, and 46,154, or 7.5% of the nation's bridges, are considered structurally deficient, meaning they are in "poor" condition. Unfortunately, 178 million trips are taken across these structurally deficient bridges every day… A recent estimate for the nation's backlog of bridge repair needs is $125 billion.
This company is well positioned to profit from this deferred maintenance — and the infrastructure package making its way through Washington would supercharge this business.
Finally, the company also operates a vibrant and rapidly growing communications testing business.
Importantly, this business could become a major beneficiary of the multiyear 5G build-out and network optimization.
Louis Navellier and I recently teamed up to reveal what might be the greatest investing opportunity we've seen in decades…an opportunity that could hand you a small fortune over the next 12 months.
And just last week, we held a special event in order to show it to our readers. You can watch a recording of that event here.
You'll learn why this opportunity is so lucrative and how it could make you $100,000 or more over the next 12 months.
Plus, we'll tell you about some of the stocks to own as this story plays out… including the company we've just been discussing..
You can go here to watch our video.
Regards,
Eric Fry
P.S. $56 Trillion Opportunity Hinges on This New Tech
There's a new technology about to go mainstream and it could unlock $56 trillion in new wealth and jump-start a new supercycle in tech stocks. According to Eric Fry and Louis Navellier, you could make $100,000 or more as this story plays out.
NOTE: On the date of publication, Eric Fry did not own either directly or indirectly any positions in the securities mentioned in this article.
Eric Fry is an award-winning stock picker with numerous "10-bagger" calls — in good markets AND bad. How? By finding potent global megatrends… before they take off. In fact, Eric has recommended 41 different 1,000%+ stock market winners in his career. Plus, he beat 650 of the world's most famous investors (including Bill Ackman and David Einhorn) in a contest. And today he's revealing his next potential 1,000% winner for free, right here.