They're uninformed. They're entitled and selfish.
They're passionate about their "careers" — but don't know how to work hard.
They love avocado toast (whatever that is).
I'm talking about millennials… or at least what we Baby Boomers say about millennials.
But here's the thing: I think millennials — and the Generation Z-ers who follow them — get a bad rap.
New tech platform could create $56 trillion wealth opportunity
The millennial generation here in the United States is leading the world into a completely new mode of life: the screen-based lifestyle.
This transformation is not simply a fad, craze, or generational quirk.
It is a megatrend — and it will impact our daily lives in ways we can scarcely imagine today.
That may drive you nuts. It certainly sometimes drives me nuts.
But here's the thing: The "Screen Time Megatrend" will create powerful moneymaking opportunities for decades to come.
And you can thank the millennials for it!
Every Interaction is Through a Screen
On Tuesday, I talked to you about the best sectors in which to park your cash — especially after this week's market wobble.
These sectors are part of what I call "megatrends" — paradigm shifts that will lead us to the best and boldest profit opportunities for the rest of this year and next.
Here's a snippet of what we discussed:
The Second Electric Revolution space, which has gone from a fun "competition" to a foregone conclusion in recent years. Long-duration Vanadium batteries as a partial replacement for "not so green" lithium-ion batteries is one of my favorite stories within this megatrend.
The long beaten-down travel sector, which is experiencing a "darkness before the dawn." And with the Covid-19 ban against European travelers being lifted in the U.S. earlier this week, the dawn may come sooner rather than later.
Lastly, cybersecurity is a major profit opportunity. And with 5G inching ever closer to global deployment, it's only going to become bigger.
Today, I'm zeroing in on another megatrend — one that I've been highlighting for nearly two years now.
But before we do that, I want you to think back to 1991.
Throughout the 1991 rockumentary Madonna: Truth or Dare, the singer's then-boyfriend, Warren Beatty, consciously avoids appearing on camera. But during one brief moment in the film when the camera pans toward him, a visibly disgusted Beatty gripes about Madonna's vanity project.
"She doesn't want to live off-camera, much less talk," he says. "There's nothing to say off-camera. Why would you say something if it's off-camera? What point is there existing?"
Sound familiar?
Millennials and "zoomers" seem to believe there's no point in living a life that doesn't appear on the screen of a handheld device.
For them, "date night" does not mean gazing lovingly at one another across a dimly lit restaurant table and then going to a movie. It means sitting across from one another at a restaurant table while staring constantly at their phones and texting other friends.
Playing a game with friends does not mean huddling around a Monopoly board and coveting the Boardwalk and Park Place properties. It means locking yourself alone in a dark room with a video monitor, donning headphones, and spending endless hours playing Fortnite.
Asking Mom a question does not mean strolling into the other room and talking face to face. It means texting that question to Mom, even if she's just 15 feet away!
The Next Industrial Revolution?
Millennials and zoomers are the first "screen time" generations — more are sure to follow.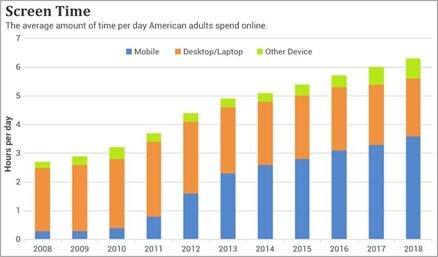 The Screen Time Megatrend might be the most powerful one since the Industrial Revolution.
The American lifestyle is literally shifting from an ambulatory, face-to-face paradigm to a stationary, face-to-screen paradigm.
NOW OPEN: Be Among the First to Learn Luke Lango's Crypto Code
Think about it: Almost every aspect of life that we and our parents conducted by moving from Place A to Place B and/or speaking directly to another human being has migrated to a screen.
Sure, the option remains to behave in a "retro" fashion… just for kicks. Pre-coronavirus, you could, for example, drive to a mall with a friend and shop for clothes. That activity could also include some "retro" face-to-face conversations.
But activities like these are increasingly passé. It's very possible to conduct every necessary daily activity — and many unnecessary ones — without ever speaking to another human.
The screen does it all.
Here's just a short list of mobile screen-centric activities that are the new normal:
casual conversation
news consumption
personal banking
gambling
shopping
research
gaming
flirting
gossiping
My beat is investing, so it's not my role to judge the relative merits or detractions of a screen-based lifestyle. But from a money-making perspective, the Screen Time Megatrend possesses extraordinary power.
Both to catapult certain stocks toward the heavens… and to condemn certain stocks to the dustbin of history.
To get a taste of what's to come, let's take a look back at recent history…
The Pioneers of the Movement
Many of the "first movers" of the Screen Time Megatrend have achieved spectacular success already.
Companies like Facebook (NASDAQ:FB), Apple (NASDAQ:AAPL), Amazon (NASDAQ:AMZN) and Alphabet (NASDAQ:GOOG, NASDAQ:GOOGL) identified this megatrend while it was still an infant — and moved decisively to capitalize on it.
Or maybe they just got lucky. After all, Facebook, Amazon, and Google all started their corporate lives as desktop-based services that relied on slow, dial-up internet connectivity.
If their stories had ended there, we might not even know their names today.
But thanks to the development of high-speed, wireless connectivity, in combination with the arrival of the iPhone in 2007, the fortunes of the early screen-time companies improved dramatically.
Luke Lango: This is the #1 Way to Reliably Find Cryptos BEFORE They Soar
And their stocks soared.
As high-speed internet became ubiquitous, and successive iterations of smartphones and tablets significantly boosted the functionality of handheld screens, a second wave of screen-time companies entered the limelight. I'm talking about firms like:
MercadoLibre (NASDAQ:MELI), an Argentine company that operates the largest e-commerce platform in South America.
Nvidia (NASDAQ:NVDA), a semiconductor chip supplier to many screen-based technologies.
Square (NYSE:SQ), a fast-growing payment processor for independent merchants.
All three of these stocks have soared more than 1,000% during the last five years!
Despite these success stories, the best is yet to come; the Screen Time Megatrend is just getting underway. In fact, it's barely in the second inning.
The first and second movers pioneered a brave new world that was fraught with danger and risk. Each of them could have failed miserably. In fact, most of them flirted with disaster for long stretches before turning the corner and establishing themselves as powerful and profitable enterprises.
But now, thanks to the survival of the fittest first and second movers, the Screen Time Megatrend is underway — and it will power dozens of third-mover companies to spectacular success.
Some of these companies will be in e-commerce, mobile gaming, online dating and payment processing. Others will advance screen-related technologies like artificial intelligence, virtual reality, 5G mobile networks, internet of things (IoT) and self-driving vehicles.
Of course, all of these technologies will give rise to future industries and technologies. That's why the growth potential of the Screen Time Megatrend possesses such enormous power and durability.
A $56 Trillion Tidal Wave is Coming…
You may not realize it yet, but this trend is joined at the hip with another powerful trend: the global 5G deployment.
That's because 5G changes the way everyone and everything connects, including the way that screens "talk" to one another. I'm talking about major technological advances that will impact:
e-commerce and retail…
entertainment, education, energy…
insurance, real estate, manufacturing, financial services and more.
And at the helm of this 5G movement are five plays that I believe every investor should own.
You can learn more about my 5G picks in my 2021 Wealth Acceleration Summit — and how you can take advantage of the $56 trillion explosion coming along with them.
Regards,
Eric Fry
P.S. One emerging platform could transform EVERY industry and supercharge the digital economy like never before… and my colleague and I are ready to give away the names of our favorite stocks in this space. Click here for more.
On the date of publication, Eric Fry did not own either directly or indirectly any positions in the securities mentioned in this article.
Eric Fry is an award-winning stock picker with numerous "10-bagger" calls — in good markets AND bad. How? By finding potent global megatrends… before they take off. In fact, Eric has recommended 41 different 1,000%+ stock market winners in his career. Plus, he beat 650 of the world's most famous investors (including Bill Ackman and David Einhorn) in a contest. And today he's revealing his next potential 1,000% winner for free, right here.