The last time I wrote about Senseonics (NYSEAMERICAN:SENS) stock was in early July.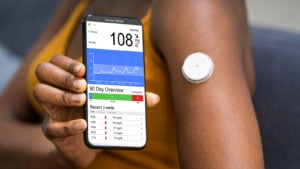 I thought SENS stock had a good chance of escaping penny-stock hell.
However, that was before it announced Q2 2021 results on Aug. 9.
Not surprisingly, it had a large operating loss, but it also had revenues in the millions. So that's excellent news on the collaboration front.
In my July commentary, I discussed Senseonics' relationship with PHC Holdings.
In addition to being its largest shareholder, PHC has big backers: KKR & Co. (NYSE:KKR) owns 58%, Mitsui & Co. (OTCMKTS:MITSY) owns 22%, and Panasonic Corporation (OTCMKTS:PCRFY).
These three companies have a combined market capitalization of $120 billion.
Most importantly, PHC owns Ascensia Diabetes Care, which controls 20% of the global market share for self-monitoring blood glucose systems.
Senseonics is working with Ascensia to commercialize its Eversense XL product that enables 180-day, real-time monitoring of glucose levels through an implantable sensor.
That could be a game-changer in continuous glucose monitoring (CGM) because it avoids having to insert and remove a sensor every two weeks, as is the case with many of the existing CGM products out there.
A Closer Look at SENS Stock
In Q2 2021, SENS reported total revenue of $3.29 million, almost 13x higher than a year earlier. Of that revenue, $2.86 million (87%) was to Ascensia.
A year ago, Ascensia accounted for $45 million of its $261 million in total revenue (17%). Thus, the relationship continues to grow.
I was primarily worried that Ascensia could terminate their agreement with Senseonics if Eversense XL weren't approved for use in the U.S. by the Food and Drug Administration (FDA) by Aug. 31.
"But, more importantly, it has granted Ascensia the global rights to distribute Eversense," I wrote on July 2. "The agreement includes the clause that states Ascensia can terminate the agreement if Eversense's 180-day product (Eversense XL) is not approved for use in the U.S. by Aug. 31, 2021."
The revenues generated by Ascensia in the second quarter suggest it isn't going anywhere, which means it's not a matter of when it can sell the 180-day product, but when.
As InvestorPlace's Chris Lau recently stated, Ascensia is ready to distribute Eversense XL 180 globally. The revenues will happen.
Barring any surprise news, September could be an excellent month for SENS stock.
The Valuation Is Pricey
The revenue in the second quarter is from the sale of its 90-day Eversense product to Ascensia, which has the exclusive rights to distribute both the 90-day and 180-day product, should it be approved for use in the U.S. and elsewhere.
Given the 180-day product could be better than anything currently available in the marketplace, it's fair to say that Senseonics deserves a higher price-to-sales ratio. How much more is debatable.
InvestorPlace's Tom Kerr points out that Senseonics revenues are projected to be between $12 million and $15 million in 2021, $30 million to $40 million in 2022, and $150 million to $200 million in 2025.
Based on a market cap of $1.7 billion, SENS stock is currently valued at 126x 2021 sales, 49x 2022 sales, and 10x 2025 sales.
Kerr believes this is too expensive, and investors should wait to buy SENS stock cheaper.
"Based on lack of near-term profitability and the almost certain need for a capital raise in 2022 or 2023, SENS stock remains highly speculative. Based on the company's own revenue projections of only $30 million-$40 million in 2022, a $1.4 billion market cap seems t0o high," Kerr wrote on Aug. 3.
As I write this, it is trading around $3.91. However, it traded below $2 for a large part of April and May, so it's more than possible this penny stock could fall below $2 before too long.
In my early July commentary, I suggested that risk-tolerant investors consider putting 25% into SENS stock — it was trading around $3.51 at the time — and the rest when the 180-day product was approved.
If you can get some SENS stock below $2, you definitely should. However, I'm doubtful it will get that low in 2021.
On the date of publication, Will Ashworth did not have (either directly or indirectly) any positions in the securities mentioned in this article. The opinions expressed in this article are those of the writer, subject to the InvestorPlace.com Publishing Guidelines.
Will Ashworth has written about investments full-time since 2008. Publications where he's appeared include InvestorPlace, The Motley Fool Canada, Investopedia, Kiplinger, and several others in both the U.S. and Canada. He particularly enjoys creating model portfolios that stand the test of time. He lives in Halifax, Nova Scotia. At the time of this writing Will Ashworth did not hold a position in any of the aforementioned securities.