Various lidar stocks are on the move today. Shares of Velodyne Lidar (NASDAQ:VLDR), Luminar (NASDAQ:LAZR), AEye (NASDAQ:LIDR) and MicroVision (NASDAQ:MVIS) all surged in earlier morning trading. However, this afternoon, many of these stocks have fallen back down toward yesterday's close.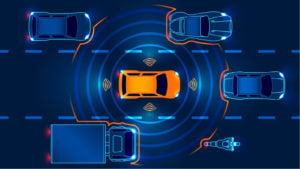 It appears this sector is one investors are keeping a close eye on. Indeed, lidar technology is among the central drivers of various sectors with strong catalysts. In particular, growth in the autonomous driving sector is what's expected to drive this sector higher over the long term.
Today, it appears this sector-specific news is a result of some bullish analyst coverage on the sector. Let's dive into what analysts see with this sector and why investors are getting bullish on lidar stocks.
Lidar Stocks Higher on Improved Analyst Outlook
As fellow InvestorPlace contributor William White pointed out today, a bullish analyst report has something to do with today's price action among lidar stocks. In particular, AEye received a bullish initial assessment by a Roth Capital analyst.
This buy rating and $15 price target initiated by Roth implies upside of approximately 50% over yesterday's close. Accordingly, it's unsurprising this stock took off in earlier trading. However, AEye and its lidar peers have settled down since this report came out.
What's intriguing about the stock charts of many of these lidar stocks is how closely they're tracking the price action in Tesla (NASDAQ:TSLA) stock today. A leader in autonomous driving, lidar stocks have seen mixed price action of late. That's because Tesla has moved away from lidar technology in favor of vision-based camera technologies. That said, as a proxy for the autonomous vehicle space, Tesla is the leader right now. Accordingly, investors will note these risk assets are becoming more and more correlated.
Currently, sentiment among lidar stocks appears to have fallen from this year's peak in Q1. That said, any additional positive analyst rhetoric on this sector is bullish for investors. Accordingly, these various lidar plays may see some upside volatility, should sentiment continue to improve.
On the date of publication, Chris MacDonald did not have (either directly or indirectly) any positions in the securities mentioned in this article. The opinions expressed in this article are those of the writer, subject to the InvestorPlace.com Publishing Guidelines.