ChargePoint Holdings (NYSE:CHPT) stock has been obliterated at the market in recent months. Rising inflation rates and the Fed's hawkish stance have led investors bail out on growth stocks. CHPT stock now looks more attractive than during the tail-end of 2021. The risk/reward has improved and is likely to reward the patient investor.
ChargePoint is an electric vehicle-charging juggernaut with over 160,000 ports spread out across the U.S., Canada and Europe. It generates sales through hardware and subscriptions with an asset-light business which allows immense scalability.
The EV sector turned on the afterburners in the past couple of years, with almost 6.5 million EVs sold globally just last year. That number will increase dramatically with the step-change in the energy business across the world. In this regard, ChargePoint has the first mover's advantage and can solidify its position as being the go-to service in the EV charging space.
Another Robust Quarter
ChargePoint rounded off another solid quarter with a 90% increase in revenues to $80.7 million. That metric improved from $146.5 million to $242.3 million for the full year, a 65% gain over 2020.
During the fourth quarter, sales from its network charging systems increased by 109% to $59.2 million from the prior-year period. Moreover, subscription revenues were up a healthy 57% from $11 million in the prior-year quarter.
In terms of profitability, gross margins for the quarter were at 22%, a 1% improvement from the prior-year period. Moreover, full-year non-GAAP net loss was $185.5 million compared to $117.6 million in the same period last year. Additionally, it expects revenues of $450 million to $500 million this year, representing a 96% increase from the prior year.
ChargePoint Has Edge
ChargePoint has first mover advantage in an industry poised for massive growth. It's just scratching the surface of the humungous market opportunity ahead. According to a recent report, the sector is expected to grow at a whopping 44.1% from 2022 to 2027.
ChargePoint leads the industry in terms of revenues and therefore has the most potential to produce superior returns for its investors.
To be sure, there are several big names looking to establish a position in the sector. However, the top three companies apart from ChargePoint have less than 25% of the market share. Additionally, we see some of the biggest automakers looking to monetize their respective charging infrastructures. However, their approaches create several openings for ChargePoint to leverage its business.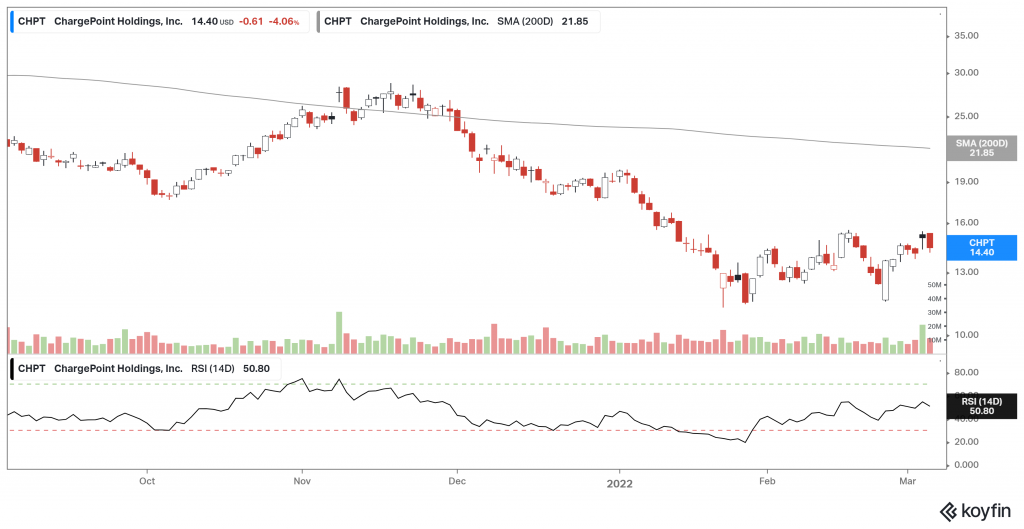 Click to Enlarge
Furthermore, the company's asset-light business model is likely to pay many dividends moving forward. It plans to be a SaaS-focused business and to operate a high-margin business. It sells its charging systems to its clients and provides a recurring subscription option. We are seeing how the company's subscription gross margins have been almost doubling its overall gross margins.
On top of that, there is plenty of upside with ChargePoint, as it looks to expand into newer territories. It's operating in 16 European markets at this time, which has been growing at a much faster pace than other markets in adopting EVs. The company aims for its European business to equal roughly one-third of its total sales.
Bottomline On CHPT Stock
ChargePoint has several competitive advantages over its peers in the burgeoning EV charging space. It continues to expand its revenue base aggressively, dwarfing the rest of the sector. Nonetheless, there are risks for CHPT stock, particularly with its path to profitability, which can pose a concern.
However, if it can expand its SaaS business, it will continue to drive margins higher and achieve profitability in the next few years.
On the date of publication, Muslim Farooque did not have (either directly or indirectly) any positions in the securities mentioned in this article. The opinions expressed in this article are those of the writer, subject to the InvestorPlace.com Publishing Guidelines.