It's not a secret that share prices have been hammered in 2022 And many of the Wall Street's best housing stocks haven't proven immune to the sell-off. Yet given the bullish secular trends of the U.S. residential market, investors now have a chance to buy the following three top industry leaders at deep discounts.
Inflation. Rising interest rates and at-risk consumers. They've proven leading bad actors for equities this year. And this week's dismal confidence and expectations data seemingly put the nail in the coffin for investors on the prowl for bear market bargains.
But that's not necessarily the case for real estate companies, especially the best housing stocks.
Bullish dynamics in the residential market such as record inventory shortages, demand from millennials dealing with baby formula and weekend soccer games, a secular work-from-home trend emphasizing the increased importance of proper housing and still historically low mortgage rates support investors buying or rather, making themselves at home in these three best housing stocks.
| | | |
| --- | --- | --- |
| LEN | Lennar Corp | $75.67 |
| RDFN | Redfin | $9.38 |
| EQR | Equity Residential | $70.76 |
Lennar Corp (LEN)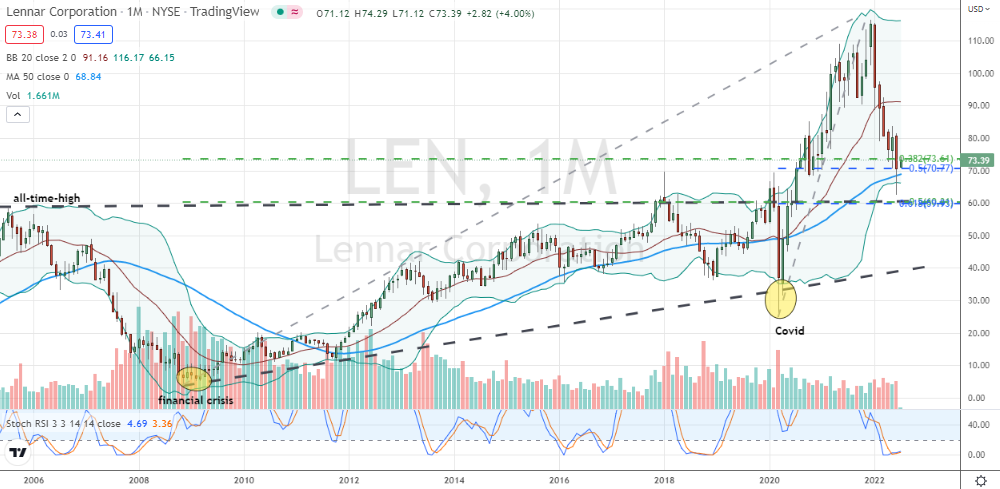 Source: Charts by TradingView
Lennar Corp (NYSE:LEN) is the first of our best housing stocks to buy.
Lennar is a top single family attached and detached homebuilder and a major player in key growth markets across the United States such as Miami, Austin, Seattle and Raleigh, North Carolina.
The $20 billion large-cap's reach also includes mortgage financing, title insurance and closing services, land development and management of multifamily rental properties.
And right now, LEN stock is built for a rising share price.
Solid fundamentals built to withstand any macro headwinds were reinforced this past week by another quarter of strong operating results that topped street views from this best housing stock.
Sure and to be fair, a red hot housing market is cooling, and Lennar is having to take steps like cutting prices in some regions. And real estate prices could soften further. But a crash in LEN stock? Given today's much more stringent lending standards and the bullish supports discussed, don't hold your breath.
Toss in a dividend of 2.15% supported by an attractive 8.57% payout ratio and shares slammed into a Fibonacci-backed test of LEN's pre-financial crisis high from 2006 that's reinforced by a bullish oversold stochastics monthly crossover, the foundation for wealth building in this best housing stock is at investors' doorsteps.
Redfin (RDFN)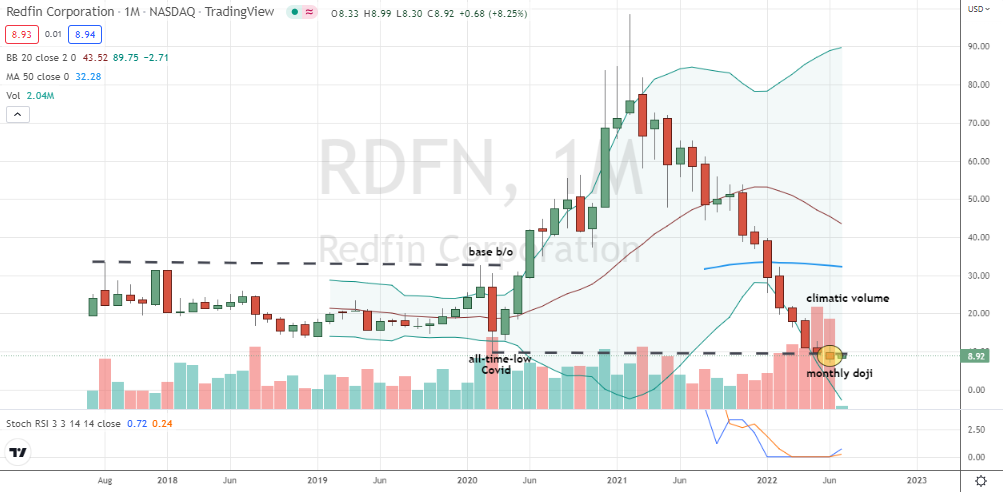 Source: Charts by TradingView
Redfin (NASDAQ:RDFN) is the next of our best housing stocks to purchase.
RDFN is an online-driven discount brokerage whose buying and selling can be found coast to coast. According to The Motley Fool, those efforts are valued at north of 1% of the U.S. real estate market. That amounts to more than $60 billion in transactional value. And it's poised to get much larger.
Redfin's leveraging of technology and push to build its brand through its iBuying business, online rental platforms to cultivate brokerage stickiness and growing suite of services are making RDFN a one-stop shop for residential real estate. Overall, it's working too.
In Redfin's first quarter the broker saw sales climb 123% to nearly $600 million year-over-year compared to a small-cap valuation of $1 billion. And despite issuing reduced, below views guidance for the second quarter due to today's short-term market headwinds, RDFN still expects to grow revenues by 30% to 38%.
Technically speaking, investors can get in on this best housing stock at bargain basement prices.
Over the past two months shares broke ground to new all-time-lows. And with record-setting, capitulation style volume, a fresh bullish stochastics crossover and June's less-than-gloomy monthly doji candle centered on RDFN's Covid bottom, there's little chance for buyer's remorse in this best housing stock.
Equity Residential (EQR)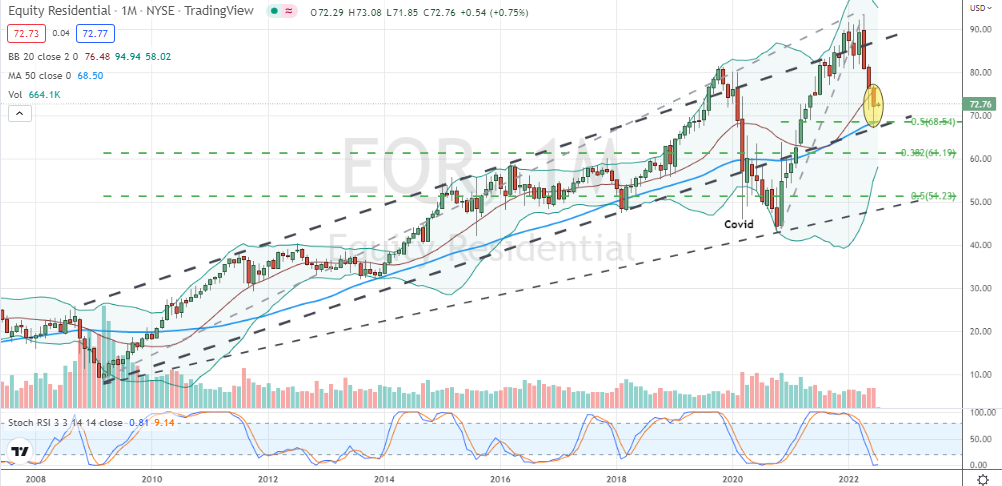 Source: Charts by TradingView
Equity Residential (NYSE:EQR) is the last of our best housing stocks to buy.
EQR is a residential real estate investment trust (REIT). And with housing prices just off record levels and home ownership unaffordable for many would-be buyers, business for this large-cap apartment property operator has been solid with occupancy at roughly 97% for its 311 properties.
What's more, the prospects of the Gen Z population leaving the nest for their own digs in expensive metropolitan markets on both coasts where EQR has 90% of its assets and continuing to drive apartment demand bodes well for Equity Residential. Analysts at CFRA have a price target of $103 based in part on that tailwind.
CFRA's estimate is at the high end of Wall Street's expected trading range for EQR stock and well above the median forecast of $85. But the boutique also made the call when shares fetched nearly $92 compared to today's $70 market price.
Bottom-line, seeing how it's that time of the month when rents get paid and the average new EQR lease is a pricey $3,170, taking on extra income of 3.4% from this best housing stock's dividend as shares test its Covid-19 busted channel line and 2020's 50% retracement level, could help with getting those ends to meet in today's inflationary environment.
On the date of publication, Chris Tyler did not have (either directly or indirectly) any positions in the securities mentioned in this article. The opinions expressed in this article are those of the writer, subject to the InvestorPlace.com Publishing Guidelines.