This year has been one to remember for oil stocks. But what goes up must come down. So, if you own red-hot oil stocks, you'll want to sell them and look elsewhere to thrive during a recession.
Hey, you've had a good run with crude. While the first six months of 2022 saw the stock market's worst run since 1970, oil prices rose about 50%. That's crude oil's biggest breakout since the first half of 2008.
But the second half of 2008 was a different story.
A recession hit, and oil prices slumped into their biggest crash in decades. All told, "black gold" lost roughly 80% of its value in six short months.
Now, the data suggests history is about to repeat itself.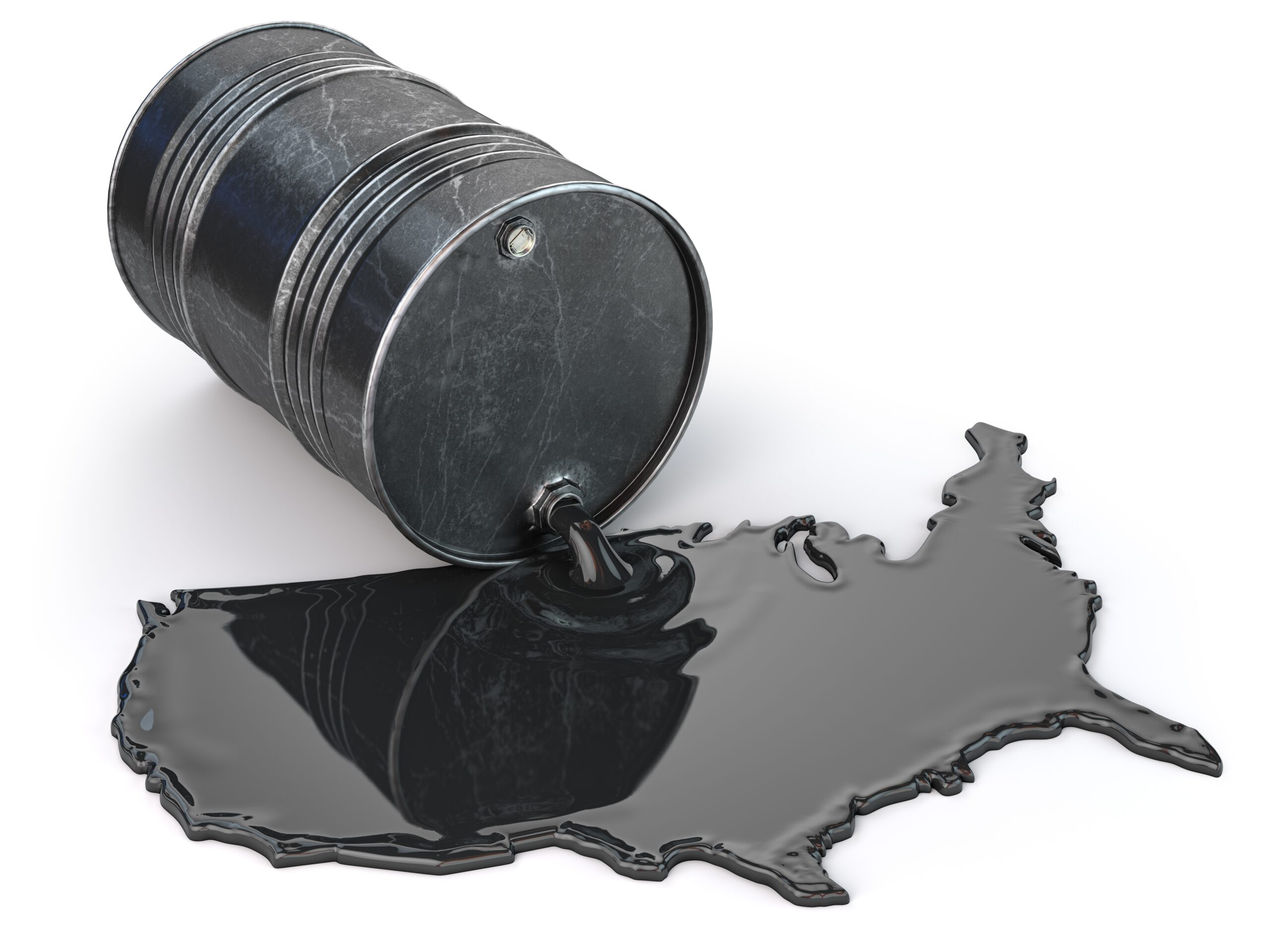 A Repeat of 2008
The bear thesis on oil is a simple one. Oil always gets crushed by more than 40% in recessions. And right now, we're walking hand-in-barrel into a recession. Black gold is trading near all-time highs ahead of demand destruction and massively overstated supply constraints. So, get ready because oil prices could get crushed in a big way.
This is exactly what happened in 2008.
During the first half of the year, oil prices surged. And stocks struggled on worries of supply constraints, underinvestment in refining capacity, and a still-strong demand for oil. Yet, in the back half of the year, a recession hit. And suddenly, demand collapsed, rendering the supply constraints meaningless. Oil prices dropped 80% in six months.
The parallels to 2022 are eerily similar, right down to the price action. Just look at the following chart. The current oil bull market (blue) is trending in step with the 2007-08 bull market (orange).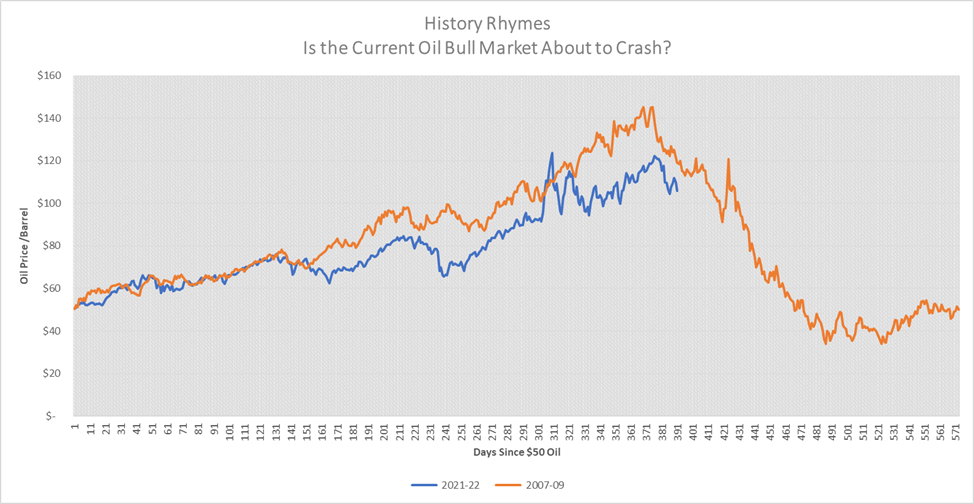 Both soared from $50 per barrel to $100-plus in about 300 days. Both took another 50 to 75 days to climb to $120-plus oil. And both started to show signs of weakness about 375 days in.
As of today, we're about 390 days past $50 oil in the current cycle. At present, oil prices are 15% off their recent highs. At this point in the 2008 oil bull market, oil prices were about 17% off their recent highs.
The rally. The peak. The decline. They all line up almost perfectly. That means that if the U.S. economy does spiral into a recession in 2022-23, what comes next could be an epic crash in oil prices.
We think that's exactly what's going to happen. As a result, the strategy here should be to ditch oil and buy recession-proof stocks.
A Recession Is Coming
The 2008 oil bull market was felled by a recession. The 2022 oil bull market will be wrecked by the same thing.
Make no mistake. The U.S. economy is spiraling into a recession.
The consumer is falling apart. Consumer confidence is at all-time-low levels. Consumer spending fell flat last month and was actually down on an inflation-adjusted basis. Every week across America, retail foot traffic has been dropping by more than 10%. Personal savings have been annihilated.
Businesses are slowing. Manufacturing activity has been steadily declining, and so has services activity. New orders metrics are dwindling. Enterprise spending is falling flat. Companies are cutting their spending and revenue guidance.
The labor market is cracking. Jobless claims have risen from a weekly cadence of 170,000 new filings in March to 180,000 in April, 210,000 in May, and 230,000 in June. Every tech company seems to be pausing hiring and/or going through layoffs. JPMorgan (NYSE:JPM) just fired a bunch of mortgage bankers.
The housing market is rolling over. Mortgage rates have undergone their biggest spike ever, while home affordability has crashed. And the number of price cuts has gone through the roof.
No matter where you look in the data, you'll see a recession.
This is best encapsulated by Citi's Economic Surprise Index, which measures all U.S. economic data relative to expectations. Today, that index sits at a very dour reading of minus-71. And last week, it even had a few daily readings of nearly minus-80. Such consistently low numbers on the Citi Economic Surprise Index are rare and are usually reserved for recessionary periods.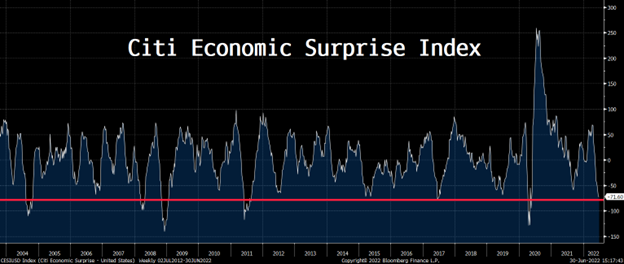 The writing is on the wall. A recession is either already here or just around the corner.
We've already established that's bearish for oil stocks. But another group of stocks could actually soar during a recession.
Oil Stocks Fail in Recessions
Again: Oil stocks never do well in recessions, regardless of the supply situation!
In the 1990-91 recession, oil prices dropped 50%. During the 2000-01 recession, they dropped more than 40%. In 2008, they dropped almost 80%. And in 2020, they went negative: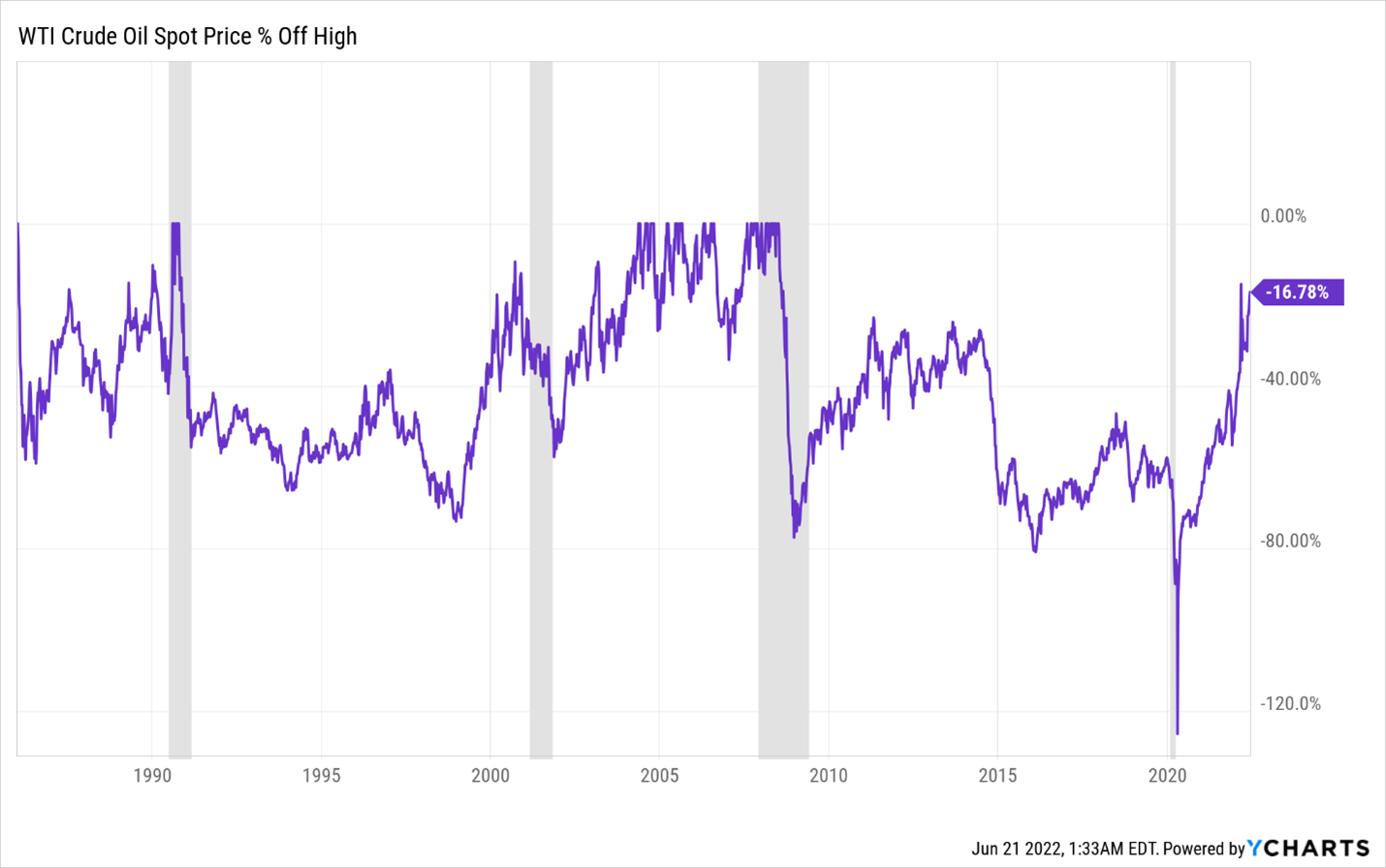 Historically, recessions almost always cause a 40%-plus drop in oil prices.
They say the four most dangerous words in investing are "this time is different." Indeed, we find it dangerous to think that this time is different for oil stocks.
It isn't. A recession is coming, and it will crash oil prices by more than 40%.
It's time to ditch the oil trade and prepare for an economic slowdown.
The Final Word on Oil Stocks
With a recession on the way, it is time to forget oil stocks. Instead, focus on buying stocks that can not only survive a recession but can grow right through it.
I have the perfect stock for that.
It's a tiny, virtually unheard-of company developing breakthrough technology with world-changing potential. And it has more than enough cash on hand to weather a recession many times over.
This is a company that can leverage partnerships and production ramps to grow like wildfire. That's true even if the economy comes to a standstill. And it might be on the cusp of announcing a major partnership with Apple (Nasdaq:AAPL).
Forget oil stocks. This is the investment you need to make today.
On the date of publication, Luke Lango did not have (either directly or indirectly) any positions in the securities mentioned in this article.