Editor's note: "5 Major Reasons Tech Stocks Will Soar in 2023" was previously published in January 2023. It has since been updated to include the most relevant information available.
Back in January, I laid out the reasons why the stock market will boom in 2023.
They were varied. Inflation appears to be collapsing. The Fed is likely to stop hiking rates by summer. Stock valuations have reset to historical norms. The economy should avert a deep recession. Sentiment and positioning are peak bearish. So on and so forth.
And all point to soaring stock prices in 2023.
Since that time, stocks rallied to start the year. At its peak, the S&P 500 was up more than 2% in the first five trading days of the year. That's an unusually strong start – and it suggests much bigger gains are on the way over the next 12 months.
Since 1935, the S&P 500 has rallied more than 2% in the year's first five trading days 17 different times. In 16 of those 17 instances, stocks finished the year higher, with an average return of nearly 20%.
And when the S&P 500 rallied more than 2% in the year's first five trading days after a bad year – as is the case in 2023 – the gains were even bigger. Since 1935, this price action has happened nine times, and stocks rallied in each year. Average returns? Nearly 25%!
Clearly, the price action is suggesting something here. And that "something" is a massive stock market rally over the next 12 months.
But let's take this analysis a step further…
We all know that when the market rallies, certain stocks lead and other stocks lag. If you want to maximize your potential returns in the possible stock market boom, then you need to be invested in the leaders.
The leaders of the coming stock market rally will be tech stocks.
Yes. Tech stocks. The same tech stocks that were crushed in 2022 are set to stage an enormous comeback in 2023.
Why? Well, in the spirit of all the lists I've been putting out recently, here's another: five major reasons why tech stocks will soar in 2023.
#1: Amazing Years Typically Follow Bad Years
For the past 50 years, tech stocks have been a nearly unstoppable force in the market. During that same stretch, technology products and services have increasingly dominated our lives.
And as a result, tech stocks have developed a tendency to bounce back quickly when they get hit hard.
Since 1970, whenever tech stocks have had a bad year, they almost always rebounded vigorously the following year.
In 1984, the tech-heavy Nasdaq dropped 11%. The next year, it popped 32%.
In 1987, the Nasdaq fell 5%. The next year, it rose 15%.
In 1990, the index shed 18%. The next year, it soared 57%.
Lather, rinse, and repeat for 1994/95, 2008/09, 2011/12, and 2018/19. Pretty much every time the Nasdaq drops in any given year, it rebounds in a huge way the following year.
The only exceptions were in the early 1970s and early 2000s. But in the early 1970s, tech stocks declined in back-to-back years because of rising inflation. Inflation is falling today. In the early 2000s, tech stocks were trading north of 30X earnings. Today, they're trading below 25X earnings.
Therefore, the bulk of evidence strongly suggests that tech stocks will bounce back with vigor in 2023 after their horrible showing in 2022.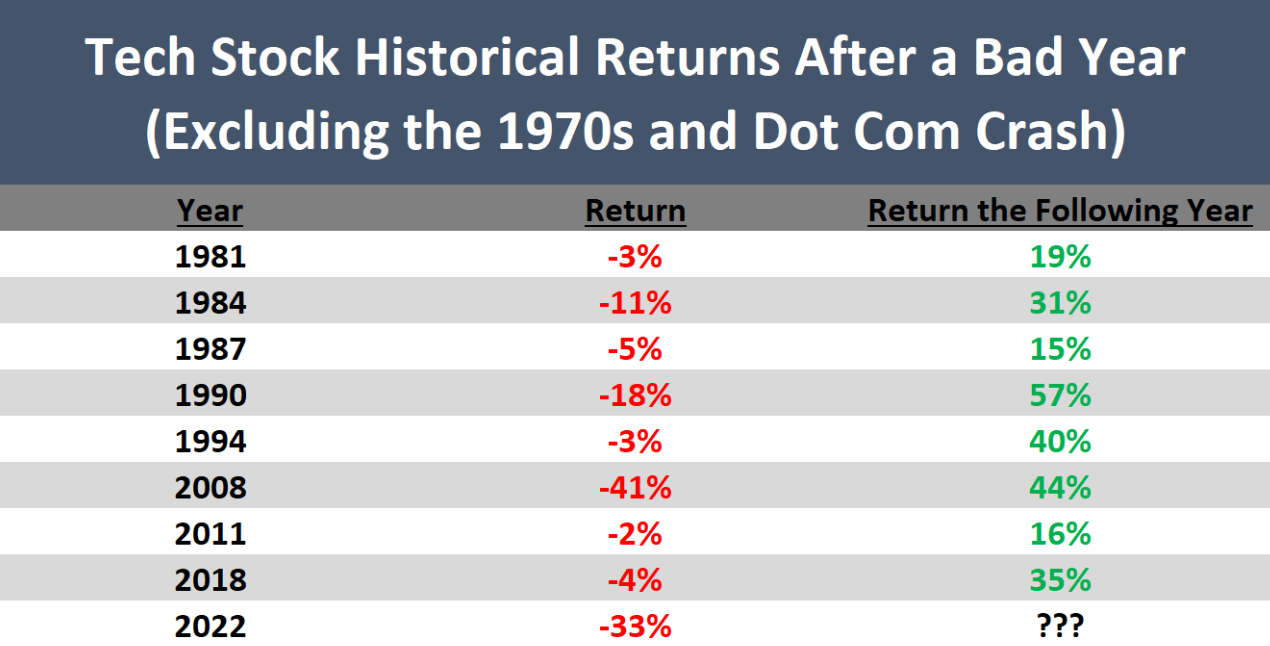 #2: Peak Inflation Tends to Spark Massive Rallies for Tech Stocks
Perhaps the biggest reason tech stocks got crushed in 2022 was rising inflation. But inflation has now peaked, and that should help propel a major tech stock rebound in 2023.
In the past, tech stocks have always soared during the 12 months after "peak inflation" in an inflationary cycle.
The U.S. economy has undergone three hyperinflationary periods over the past 50 years: The mid-1970s, the early 1980s, and the early 1990s. Each time, when inflation peaked in that cycle, tech stocks soared over the next 12 months.
Inflation peaked in November 1974. Over the following 12 months, tech stocks rose by about 25%.
Inflation peaked in March 1980. Over the following 12 months, tech stocks rose by about 70%.
Inflation peaked in October 1990. Over the following 12 months, tech stocks rose by about 60%.
The pattern is crystal clear. When inflation peaks, tech stocks soar.
Inflation peaked in this cycle in 2022. History says that tech stocks should soar in 2023.


#3: Fed Pauses Often Spark 50%-Plus Melt-Ups in Tech Stocks
Another big reason why tech stocks got crushed in 2022 was a series of big rate hikes from the Fed. In 2023, though, the Fed will likely pause its rate-hiking campaign – and as a result, tech stocks will soar.
Over the past 50 years, we've identified eight verifiable Fed pauses – when the central bank stops hiking interest rates after a prolonged interest rate hike cycle. Each time, that "pause" sparked a tech stock rally.
The rallies were never small.
In fact, the smallest post-Fed-pause tech stock rally in history was 21% in the late 1980s. That's the smallest one!
On average, Fed pauses spark 44% mega-rallies in tech stocks, including two 70%-plus rallies.
In other words, these stocks don't just have a 100% track record of rallying on Fed pauses. They have a 100% track record of soaring when the Fed pauses.
And pretty much everyone – even the Fed – agrees a pause is coming in 2023.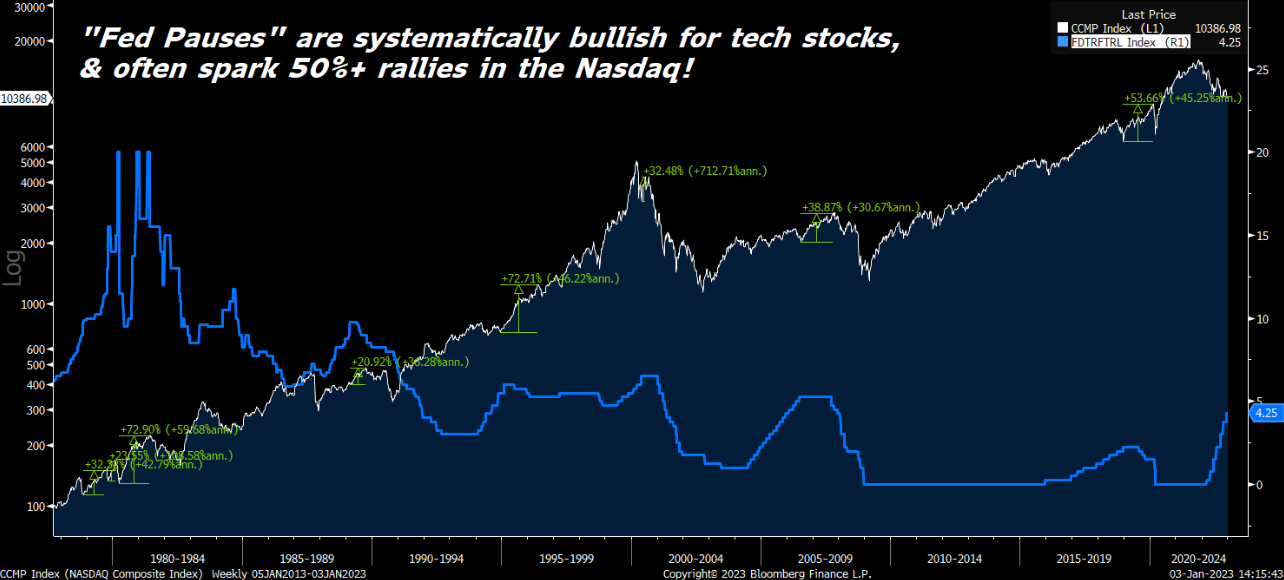 #4: Valuations Are Heavily Discounted & Favorable
One of the best reasons to bet on a big 2023 rebound is the fact that tech stocks are historically very cheap right now. Whenever tech stocks do get this cheap, the odds are highly favorable that they're going to push higher in a big way.
The data here is pretty clear and convincing.
In late 2022, the S&P 500's technology sector's price-to-earnings (P/E) multiple dropped below 24X. That's very cheap for the tech sector. Normally, tech stocks trade north of 30X earnings. A sub-24X P/E multiple is among the cheapest in history.
That's the good news.
The better news is that tech stocks tend to soar whenever they get this cheap.
Historically speaking, whenever the S&P 500's tech sector has found itself trading below 24X trailing earnings, the stocks were higher a year later 87% of the time. The average return? About 20%.
Based on the current P/E multiple, then, history says there's an 87% chance these stocks roar 20% higher this year.
Investing is all about odds. And when it comes to buying tech stocks right now, the odds are strongly in your favor.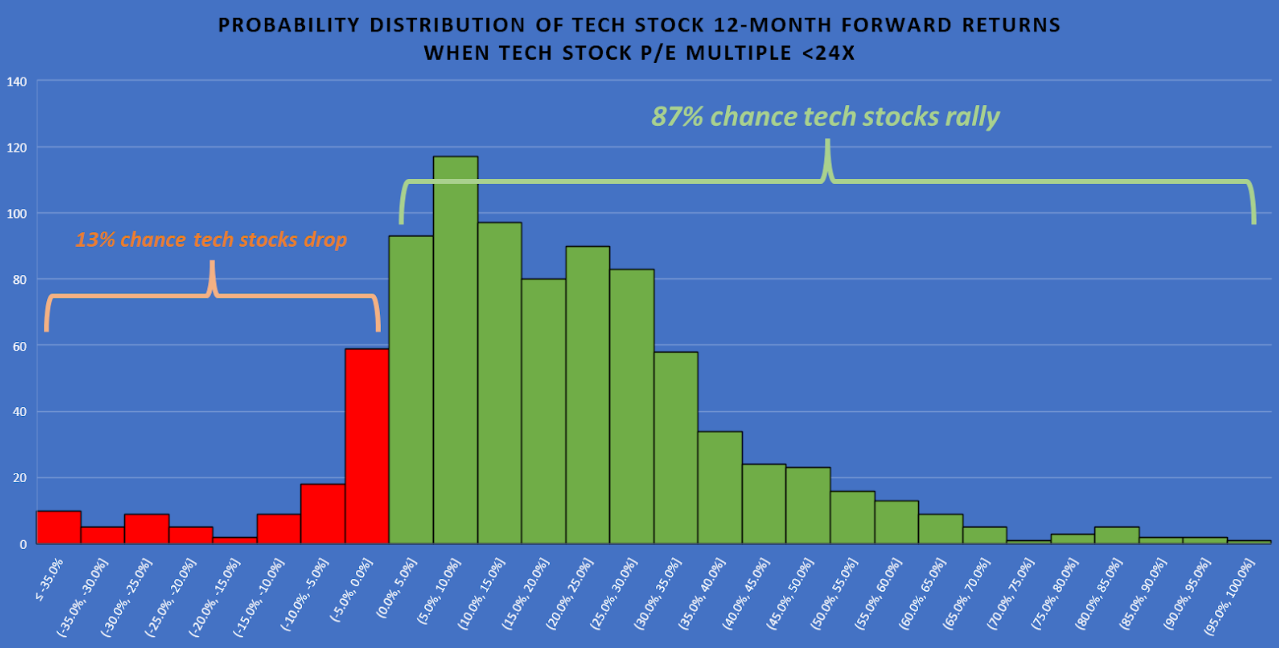 #5: Profit Margins Will Rebound in 2023
Have you noticed all the layoff announcements in the tech industry lately?
Coinbase (COIN) announced that it is laying off 20% of its staff. Amazon (AMZN) is letting go of 18,000 employees. Salesforce (CRM) is cutting 10% of its workforce. Stitch Fix (SFIX) is firing 20% of its staff.
The tech layoffs are piling up.
Some read this as bad news for tech stocks. But have you also noticed how they have tended to rally after their company makes a layoff announcement?
Coinbase, for example, saw its stock jump 13% the day it announced layoffs.
When it comes to the tech industry, layoff announcements are actually good news. This means lower expenses and higher profit margins.
The reality is that tech companies over-hired during the pandemic. They added a whole bunch of operating expenses, and not all of those additional operating expenses created additional revenue. Expenses rose faster than revenues. Profit margins shrank.
Now, tech companies are "righting the ship," so to speak. They're cutting those additional jobs they brought on during the pandemic, which they, quite frankly, didn't really need. So, revenues won't be impacted, yet expenses will drop, which will lead to meaningful profit margin re-expansion.
That's important because as profit margins go, so goes tech stocks.
When profit margins are rising, the stocks rise. When profit margins are falling, the stocks fall.
Profit margins are set to rise over the next 12 months. As they do, tech stocks should rise, too.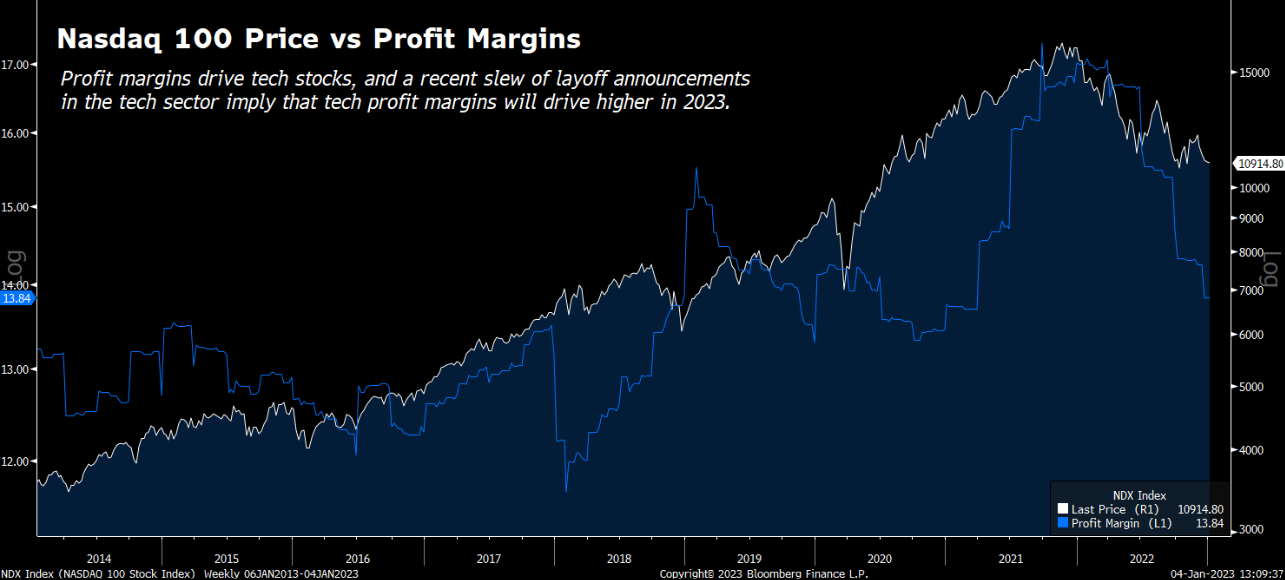 The Final Word
Where there's crisis, there's also opportunity. The stock market was hit with a major crisis in 2022. It has now created major opportunities in 2023.
Some investors will capitalize on these opportunities and see fabulous opportunities for wealth as a result. Others will sit on their hands and wait for the "coast to be clear" before investing. They'll miss the shot at making small fortunes.
That's why they say fortune favors the bold. In financial markets – as is true in life – risk and reward are tightly correlated.
Yes, there are lots of risks out there in the stock market right now. But there's also huge potential reward. Do you want to potentially make fortunes in a massive stock market comeback?
Then you need to be willing to take on a bit of risk. And we have just the strategy to do that.
On the date of publication, Luke Lango did not have (either directly or indirectly) any positions in the securities mentioned in this article.