When a stock or a sector has a strong run, investors inevitably ask: Am I too late?
Energy stocks – especially old-school oil and natural gas stocks – have definitely enjoyed a strong run. The S&P Energy sector is up 40% so far this year, while the S&P 500 itself is down 11%.
The biggest three companies have been among the best performers, with Exxon Mobil Corporation (NYSE:XOM), Chevron Corporation (NYSE:CVX), and ConocoPhillips (NYSE:COP) averaging 62% gains in 2022.

Energy has been the place to make money in 2022, and we've done very well there.
But oil prices are now off their peak. Gas prices average less than $4 a gallon for the first time since March (which is good news for inflation). And you can see in the chart above that oil stocks are also off their highs.
So, is the energy trade over? Have these stocks had their day in the sun?
Not in my mind.
If you're looking to invest in companies with strong earnings and sales, you should keep energy stocks on your radar…
Strong Fundamentals and Strong Momentum
The truth is that crude oil prices will probably moderate even more in the upcoming months due to seasonality.
Every year, demand ebbs as we head into the nicer weather of fall, and energy prices dip as a result. I wouldn't be surprised to see oil decline to about $85 per barrel in September and October.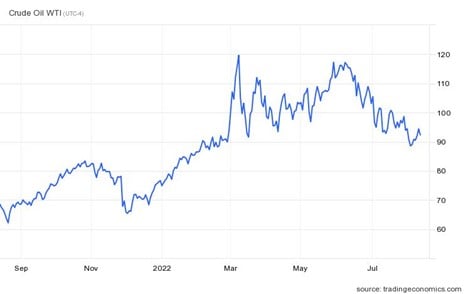 But here's the key: Even with oil at $85, many energy companies will remain profitable.
And then there is natural gas. Prices will likely remain persistently high given that Russia continues to play games in Europe. Russia has already stopped supplying gas to France, Poland, Bulgaria, Finland, Denmark, and the Netherlands, and it reduced supplies to Germany and Italy. European Union (EU) members have been advised to cut natural gas consumption "immediately," as the EU runs the risk of running out of natural gas to heat homes this winter.
With all those supply disruptions, natural gas prices should remain much higher than normal for the foreseeable future.
Add it all up and we can expect crude oil, natural gas, and other energy-related companies to continue achieving stunning earnings and sales results. We've already seen energy companies produce record results in the most recent quarter – and most have guided higher for the second half of the year.
In fact, FactSet recently reported that analysts continue to increase their earnings estimates for the energy sector. The sector is now anticipated to report average earnings growth of a whopping 265.3% in the second quarter, up from previous estimates for 255.4%. The energy sector is also anticipated to report average second-quarter sales growth of 55.9%.
For these reasons, many energy stocks earn a high Fundamental Grade in my proprietary Portfolio Grader stock analysis system. This grade factors earnings and sales growth, analysts' estimates, margins, cash flow, and more. All are important to a stock's performance.
Many energy stocks earn an even higher Quantitative Grade right now. I call this grade my "secret sauce." It is my proprietary measure of institutional buying pressure. In other words, it tracks where the "smart money" is flowing. The more attractive a stock is to institutional investors, the better the stock will perform in the near term.
As an example, Exxon Mobil, Chevron, and Conoco Phillips all earn an "A" Quantitative Grades right now: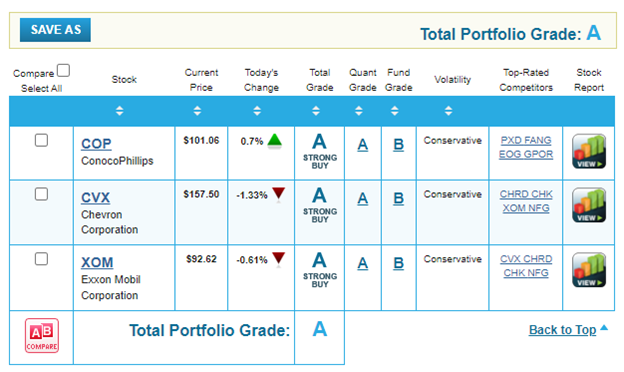 I recommend one of those three in my Growth Investor service, in addition to other energy stocks. I go where the growth is, and we can find it in energy.
And when you add up everything we've talked about today, it should come as no surprise that I continue researching new energy opportunities to add to our Buy Lists. You might want to consider doing the same as we look ahead to a strong finish to the year.
Sincerely,


Louis Navellier, Market 360
The Editor hereby discloses that as of the date of this email, the Editor, directly or indirectly, owns the following securities that are the subject of the commentary, analysis, opinions, advice, or recommendations in, or which are otherwise mentioned in, the essay set forth below:
ConocoPhillips (COP)