The banking crisis, which we covered on Tuesday and Friday, stole most of Wall Street's attention this week…
But while everyone was distracted, there were some exciting developments in the artificial intelligence (AI) space I wanted to alert you to.
Specifically, on Tuesday, OpenAI announced the creation of GPT-4, the latest version of its primary large language model.
But before we dive into the details, let's backtrack for a moment to review ChatGPT-4's predecessor, ChatGPT.
Essentially, ChatGPT is an AI chatbot that you can think of as a "language machine." Standing for "chat generative pre-trained transformer," ChatGPT is an engine that can produce texts on everything from solving math problems to writing a book report.
And it's very easy to use. After you create an account on OpenAI's public website, simply type in your question and ChatGPT will spit out an answer.
In just five days after the release of ChatGPT, it amassed 1 million active users. In 40 days, it attracted 40 million users. In just two months, it surpassed 100 million active users. And it's now considered the paradigm of how extensive and influential AI-generated content can be.
So, in today's Market 360, we'll take a closer look at GPT-4. I'll then share an update Alphabet Inc.'s (NASDAQ:GOOG) AI endeavors, and then wrap up with who I expect will be the winner in this AI race.
The New and Improved GPT-4
According to OpenAI, "GPT-4 is a large multimodal model (accepting image and text inputs, emitting test outputs) that, while less capable than humans in many real-world scenarios, exhibits human-level performance on various professional and academic benchmarks."
The company is calling GPT-4 its "most capable model," as the newest chatbot can more accurately solve difficult problems with its "broader general knowledge and advanced reasoning capabilities." For example, GPT-4 passed a simulated bar exam with a score around the top 10% of test takers.
On Tuesday afternoon, OpenAI co-founder and president Greg Brockman held a live-stream demo of GPT-4 to showcase some of the upgraded chatbot's new features. He revealed GPT-4's ability to take a hand-drawn mockup of a website and, from that picture, generate code for a functional website in a matter of seconds.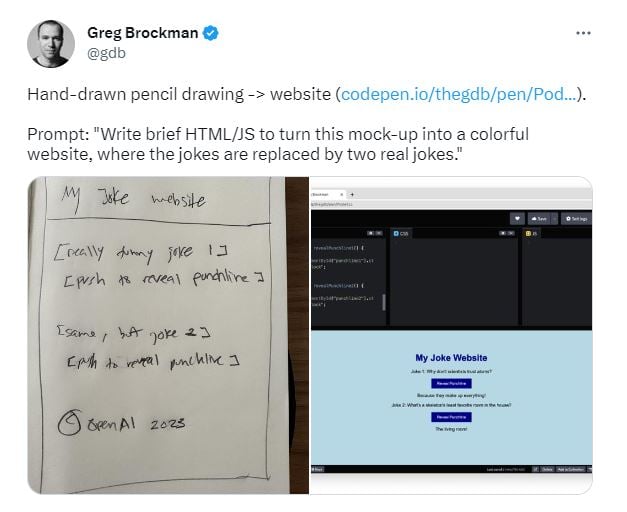 Brockman also revealed GPT-4's new visual capabilities. He entered a cartoon image of a squirrel holding a camera and asked the chatbot to explain why the image was funny. Almost instantly, the chatbot answered with: "The image is funny because it shows a squirrel holding a camera and taking a photo of a nut as if it were a professional photographer. It's a humorous situation because squirrels typically eat nuts, and we don't expect them to use a camera or act like humans."
Clearly, when it comes to OpenAI's chatbot, you can't stop progress!
Competition Is Heating Up
Not to be outdone, Alphabet is also working on its own AI tools. You may recall that it tried to "one-up" Microsoft Corporation (NASDAQ:MSFT), which is heavily invested in OpenAI, with its own AI chatbot, Bard.
Bard is set to perform a multitude of tasks, including "plan a friend's baby shower," "compare two Oscar-nominated movies," and "get lunch ideas based on what's in your fridge." The chatbot is powered by Google's language model LaMDA, or Language Model for Dialogue Applications. LaMDA is trained specifically in conversation dialogue.
But because of Alphabet's mad dash to lap Microsoft, the company hit a hurdle during its rollout of Bard. During a live demo of Bard, its chatbot answered a question incorrectly.
While Bard's bugs are still being sorted out, Alphabet had an array of new AI-driven healthcare tools to share on Tuesday. This included a chatbot that can help make sense of your medical symptoms and a search feature that will tell you if a doctor takes Medicaid.
This AI chatbot is called Med-PaLM 2 and is the "largest language model" for the medical world. It consistently passes medical exam questions with a score of 85%, which places it at "expert" doctor level.
I should add that Alphabet also announced its plans for AI and Google Workspace. In a letter to investors on Tuesday, Vice President of Google Workspace Johanna Voolich Wright detailed the new generative-AI experience will feature:
Draft, reply, summarize, and prioritize your Gmail
Brainstorm, proofread, write, and rewrite in Google Docs
Bring your creative vision to life with auto-generated images, audio, and video in Google Slides
Go from raw data to insights and analysis via auto completion, formula generation, and contextual categorization in Google Sheets
Generate new backgrounds and capture notes in Google Meet
Enable workflows for getting things done in Google Chat
The Winner in the AI Space
When it comes to who will be the winner in the AI space, I believe that title will still go to NVIDIA Corporation (NASDAQ:NVDA).
Remember that NVIDIA makes high-end graphics processing units (GPUs), used in products like gaming consoles and personal computers, and that chipmakers are vital to AI inventions. So, NVIDIA is a major player in the artificial intelligence arena.
I'll admit that NVIDIA has been one of my favorite stocks for many, many years. It dominates the AI space, and it also boasts strong fundamentals.
Case in point: For its fourth quarter, the company reported earnings of $0.88 per share on $6.05 billion in revenue, which compared to earnings of $1.32 per share and revenue of $7.64 billion in the fourth quarter of 2022. However, the analyst community only expected fourth-quarter earnings of $0.81 per share and revenue of $6.01 billion.
For its fiscal year 2023, earnings came in at $3.34 per share and revenue was $26.97 billion. These results also bested estimates for full-year earnings of $3.27 per share and revenue of $26.92 billion. The company noted that it also returned $10.44 billion to shareholders in its fiscal year 2023.
NVDA shares popped more than 14% in the wake of its strong earnings and was eventually upgraded to a B-rating in Portfolio Grader, making the stock a "Buy."
In comparison, Alphabet and Microsoft still rate lowly in Portfolio Grader. Alphabet holds a D-rating and Microsoft has a C-rating.
The bottom line: If you want to invest in the AI space, consider NVIDIA.
Stay tuned for more stock market updates in next week's Market 360 articles. And also keep an eye on your inbox for details on two massive economic events I see on the horizon – events that mainstream media is ignoring.
Regards,


Editor, Market 360
P.S. You won't hear about this on the mainstream news. Patriotic Americans are at risk for having their assets frozen. A former bank regulator is blowing the whistle on Biden's frightening new weapon. Discover the immediate steps you need to take now.
The Editor hereby discloses that as of the date of this email, the Editor, directly or indirectly, owns the following securities that are the subject of the commentary, analysis, opinions, advice, or recommendations in, or which are otherwise mentioned in, the essay set forth below:
Alphabet Inc. (GOOG), NVIDIA Corporation (NVDA)