Today is the last day of March (and the first quarter), a month generally considered to be a strong time for the stock market. While March proved to be a strong month for the S&P 500 and NASDAQ, which rallied 6% and 16%, respectively, it wasn't without volatility – namely, the chaos the collapse of Silicon Valley Bank brought about.
As tomorrow brings the start of April, the good news for investors is that this month is an even stronger time for the stock market, though the market's performance this April could be even better. I'll explain why in today's Growth Investor Monthly Issue for April, but I'll give you a hint now: It has to do with the election cycle.
So, before we enter April – and look forward to an April surge – the question remains, "Is the banking crisis over?"
Well, let's look at what caused Silicon Valley Bank to fail.
Simply put, it was an inverted Treasury yield curve. This bank also held much more long-term Treasury bonds than most other banks. The other culprit that took out Silicon Valley Bank was a spike in Treasury yields in February in the wake of the unexpectedly strong January payroll report, which was grossly exaggerated by seasonal adjustments.
In other words, had the Labor Department not exaggerated January payroll growth, Treasury yields might not have spiked, and Silicon Valley Bank might still be solvent. So, the federal government in the end aided and abetted the stresses that are now impacting the banking system. The solution to un-stressing the banking system is simple: The Fed has to un-invert the Treasury yield curve with its open market action.
The good news here is that the Fed's dovish Federal Open Market Committee (FOMC) statement last week indicates that the central bank is done raising rates, so it can set its sights on un-inverting the yield curve and relieving the stress on banks.
In the meantime, helping to shake banking fears out of the market was First Citizens BancShares, Inc.'s (NASDAQ:FCNCA) announcement on Monday that it is acquiring Silicon Valley Bank, which caused the broader market to open strongly this week.
First Citizens is one of the nation's largest regional banks, and it will be acquiring all of Silicon Valley Bank's deposits, loans, and branches – which will open this coming week under the new management.
In a news release on Monday, First Citizens Chief Executive Frank Holding Jr. said, "We look forward to building relationships with our new customers and positioning our company for continued success as we affirm our commitment to support the integrity of our nation's banking system."
Shares of First Citizens surged on Monday, ending the day up 54%.
So, folks, I believe this Silicon Valley Bank chapter to largely be over.
Looking forward, I expect the market's breadth of power to continue to improve, especially once the first-quarter earnings season gets underway. The banks will kick off the next earnings season with their quarterly results in mid-April, and I expect analysts to follow their results very closely following the banking fiasco.
In today's Market360, let's take a look at what the analyst community expects from the big banks, and then I'll share where you should invest ahead of the first-quarter earnings season.
What to Expect From the Big Banks
Wells Fargo & Company (NYSE:WFC) is scheduled to release its first-quarter earnings before the market opens on Friday, April 14. Analysts expect earnings of $1.14 per share, a 29.5% year-over-year increase from earnings of $0.88 per share, and revenue of $20.16 billion, a 14.5% year-over-year increase from revenue of $17.59 billion. Earnings have been revised higher over the past 90 days, so an earnings surprise is likely.
JPMorgan Chase & Co. (NYSE:JPM) is also expected to report its first-quarter earnings on Friday, April 14, before the opening bell rings. Analysts estimate earnings of $3.43 per share and revenue of $36.04 billion, up from earnings per share of $2.63 and revenue of $31.59 billion in the same quarter last year. Earnings have also been revised higher over the past 90 days.
Citigroup Inc. (NYSE:C) is also expected to release its first-quarter earnings the morning of April 14. Analysts estimate earnings of $1.69 per share, down 16% year-over-year from earnings of $2.02 per share – although earnings estimates have been revised higher in the past 90 days. Revenue is expected to come in at $20.08 billion.
Bank of America Corporation (NYSE:BAC) is set to release its first-quarter earnings on Tuesday, April 18, before the market opens. Earnings are expected to come in at $0.83 per share, up 4% from earnings of $0.80 per share in the first quarter of 2022. Revenue is estimated to be $25.59 billion, a 10% year-over-year increase from $23.33 billion in the year prior.
Now, let's see how these big banks stack up in my Portfolio Grader ahead of their earnings reports…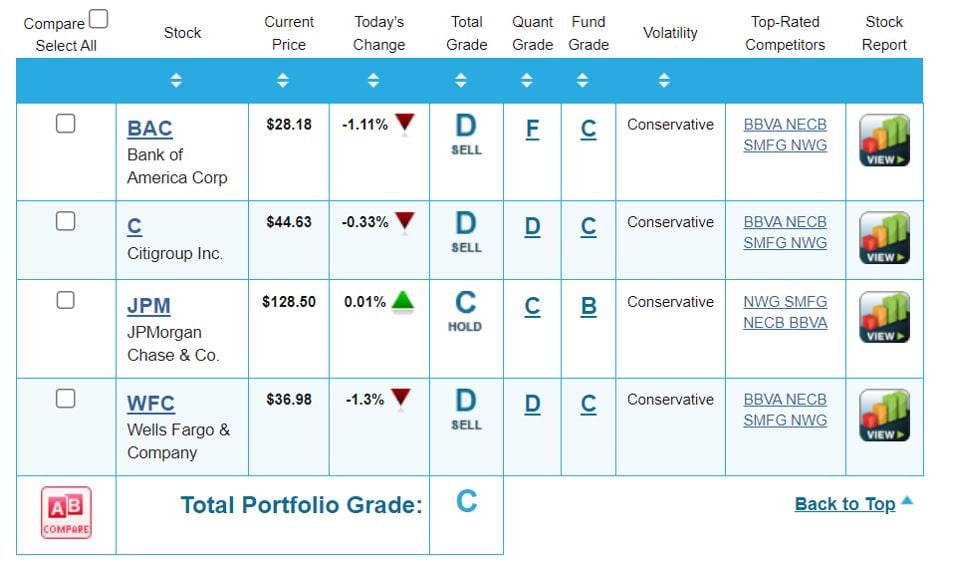 As you can see, Bank of America, Citigroup, and Wells Fargo all have D-ratings, making them "Sells." JPMorgan has a C-rating, making it all "Hold."
The common thread here: They all have low Quantitative Grades.
The Quantitative Grade, which accounts for about 70% of a stock's Total Grade, measures a company's institutional buying pressure. You can think of this as "following the money." The more money that floods into a stock, the more momentum a stock has to rise. The opposite is also true; the more money that flees a stock, the more momentum a stock has to fall.
Although I believe the U.S. banking crisis to now be generally over, the truth of the matter is that the big banks still have poor institutional buying pressure. So, none are good buys ahead of their earnings reports in April.
Where to Look Instead
I've said it before, and I'll say it again…
I'm not a fan of any banks.
I am an ex-banking regulator, so I've seen firsthand how banks, essentially, "put lipstick on a pig" and cook their books. This experience scarred me for life, and it's why you'll rarely, if ever, see a bank in my portfolios.
Folks who follow me at Growth Investor haven't had to worry during this banking contagion – because we don't invest in banks.
Instead, I like to focus on fundamentally superior stocks – those that provide positive earnings and are backed by persistent institutional buying pressure – especially with the first-quarter earnings season right around the corner.
This ensures that my Growth Investor Buy Lists are "locked and loaded" for the upcoming earnings announcement season.
Consider this: My average Growth Investor stock is characterized by 39.2% average annual sales growth and 292.1% average annual earnings growth. In addition, the average earnings surprise was 7.9% in the previous quarter, and due to positive analyst earnings revisions, plus expanding operating margins, I expect wave-after-wave of positive surprises in the first-quarter earnings season, too.
As a comparison, the S&P 500 is expected to report a 6.1% average decline in earnings growth for the first quarter, as the majority of S&P 500 sectors have experienced negative analyst revisions. The S&P 500 is also only expected to achieve first-quarter sales growth of 1.9%.
To further position my Buy Lists for the next earnings season, I added five new fundamentally superior stocks in today's Growth Investor Monthly Issue for April. All five are uniquely positioned to prosper in their respective corners of the market and are backed by superior earnings and sales growth.
To learn more about how to access my newest Growth Investor picks, click here.
Sincerely,
Louis Navellier
P.S. On August 19, 2022, the Fed released a 43-page report explaining how bad the economy really is. This report was not talked about during the press conference, but it suggests policymakers can't do the jobs by themselves and actually could make matters worse.
The reality is the Fed popped another bubble. But this time not just in tech or real estate – but the entire stock market as a whole. That's why I am urging you to get the details of this report and take action before it's too late.
Click here for the shocking details.
The Editor hereby discloses that as of the date of this email, the Editor, directly or indirectly, owns the following securities that are the subject of the commentary, analysis, opinions, advice, or recommendations in, or which are otherwise mentioned in, the essay set forth below:
JPMorgan Chase & Co. (JPM) and Bank of America Corporation (BAC)