Do you remember that 2013 Geico commercial of a camel walking around an office, excitedly announcing that it's Wednesday?
Or, more exciting and personalized for the camel, "Hump Day."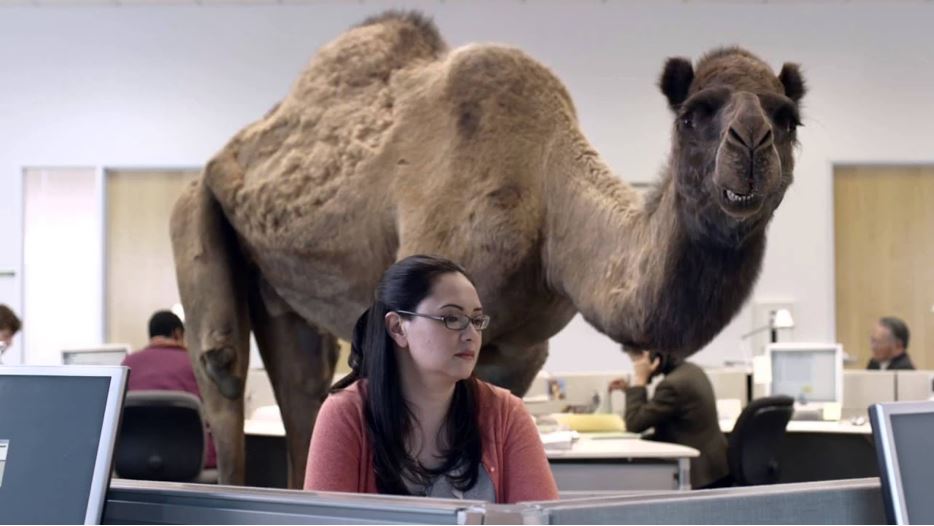 Source: YouTube
The commercial jokes that switching to Geico would make a customer "happier than a camel on Wednesday," using the well-known slang term for the middle of the week.
For Tesla, this Wednesday wasn't just "Hump Day," it was also Investor Day.
The company laid out a mission statement called "Master Plan Part 3" to become the largest car manufacturer in the world, with an output of 20 million vehicles annually by 2030 – up from 1.3 million currently. Tesla also announced that it officially broke ground at a new lithium refinery in Corpus Christi, Texas.
However, investors seemed to be more interested in when the Cybertruck, Tesla's electric vehicle (EV) pickup, will be launched, since prototypes are being spotted around Tesla's Palo Alto headquarters.
The here problem is that EV companies, including Tesla, have been fighting high lithium, nickel and cobalt prices, causing battery shortages and steeper costs. And the high prices of batteries are constraining EV sales globally.
Based on the latest earnings results from Rivian Automotive, Inc. (RIVN) and NIO, Inc. (NIO), two other popular EV players, it seems like EV growth might be tapping the brakes this year. So in today's Market 360, we'll take a closer look at the reports and I'll share if the companies are good buys right now.
Let's start with Rivian Automotive.
ESG Darling's Earnings Fall Short
It's a sad story here, folks.
An innovative electric vehicle company, Rivian was the first to have an electric pickup truck. And it was an ESG darling. After going public, it was briefly worth more than Ford Motor Company (F), which has a significant stake in Rivian when it has its IPO. It was, in my opinion, a "pump and dump." And now it seems that disaster is brewing for the company…
The company announced its fourth-quarter results on February 28. For the fourth quarter, Rivian reported revenue of $663 million, which missed analysts' estimates for revenue of $742.4 million. The company also revealed an earnings loss of $1.73 per share, which topped analysts' expectations for an earnings loss of $1.94 per share. It depleted $2.2 billion in cash in the fourth quarter and had $11.6 billion in cash at the quarter's end.
The company did forecast vehicle production of 50,000 vehicles for 2023, which would about double last year's production, but the number is below expectations for 60,000 vehicles.
In a letter to shareholders, company management wrote:
Supply chain continues to be the main limiting factor of our production; during the quarter we encountered multiple days of lost production due to supplier shortages. We expect supply chain challenges to persist into 2023 but with better predictability relative to what was experienced in 2022.
To combat the supply chain shortage, Rivian is supposed to shift to cheaper, less efficient iron phosphate batteries that utilize no cobalt or nickel. This shift, interestingly, has not hindered the company's backlog, which remains at over 100,000 vehicles.
However, due to the acute battery shortage caused by high prices for copper and lithium, the company may never reach economies of scale to achieve profitability. The bottom line is that Rivian is losing money – and at its current burn rate, it's going to run out by the end of the year.
So, the company could potentially be acquired by another major automaker, like its former investor, Ford, who is selling its F-150 Lighting significantly cheaper than Rivian's R1T pickup.
And speaking of Ford…
The company revealed that it was partnering with a Chinese battery company to open an EV battery plant in Michigan. Ford plans to invest $3.5 billion in the venture, with the facility expected to open in 2026 and produce batteries that would power 400,000 EVs each year.
Once operational, the plant will produce lithium iron phosphate batteries, and it will be the first plant in the U.S. to produce these batteries. Ford plans to utilize the lithium iron phosphate batteries in its popular Mustang Mach-E first, likely later this year, and in the F-150 Lightning next year.
However, Ford suspended production and shipments of its popular F-150 Lightning pickup truck. The company cited a battery issue for the suspension, but it declined to disclose the details of the issue. Based on the latest news releases, the battery issue was uncovered during Ford's pre-delivery quality inspections.
Ford spokeswoman, Emma Bergg said, "The team is diligently working on the root cause analysis," and added that Ford is "doing the right thing by our customers" to resolve any potential issues before resuming production and shipments. It will be interesting to see if the battery issue is solely related to its current battery suppliers, LG Energy Solution and SK On.
The "Tesla of China" Reports a Big Earnings Miss
NIO Inc., the "Tesla of China", released its fourth-quarter earnings on Wednesday. For the quarter, NIO reported an earnings loss of $0.51 per share and revenue of $2.3 billion. Analysts expected an earnings loss of $0.26 per share and revenue of $2.3 billion.
Looking forward, NIO expected to deliver between 31,000 and 33,000 vehicles in the first quarter of 2023, down from the 40,000 delivered in the fourth quarter of 2022. The company also anticipates sales of $1.6 billion for the first quarter, while analysts were expecting $2.5 billion.
Steven Wei Feng, NIO's chief financial officer, said that "2022 was a year of decisive investments and accelerated global market entry for NIO." Looking forward, he added, "In 2023, we will focus on improving our execution efficiency, and work in an agile and efficient mode to embrace the competition in the global electric vehicle market in the long run."
Both RIVN and NIO took it on the chin following their mixed earnings results, falling around 17% and 10%, respectively. (Ford was also knocked in the wake of its disappointing report in early February, dropping 6% in after-market trading)
Now that we've reviewed the companies' dismal earnings results, let's see how they stack up in my Portfolio Grader.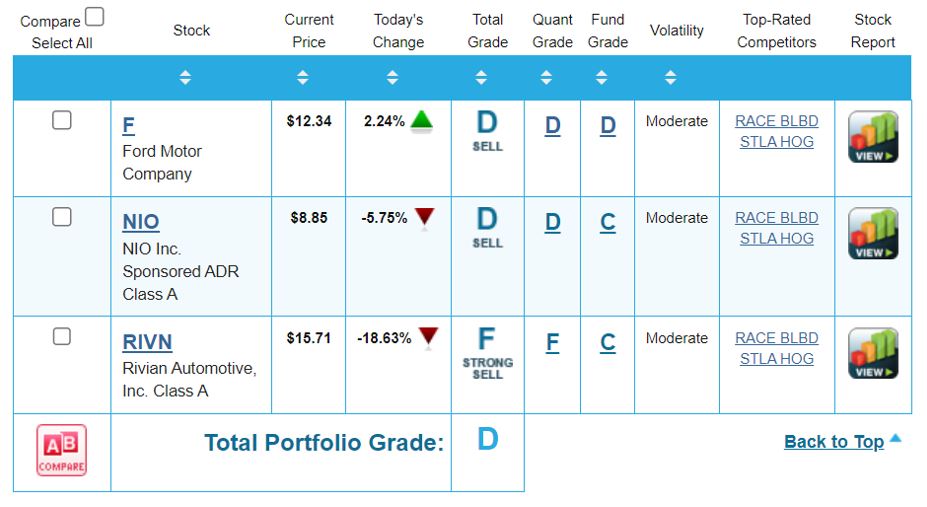 As you can see from the report card above, Ford and NIO have D-ratings and Rivian has an F-rating, making them all "Sells."
These companies still have many speedbumps ahead, so I would not put any gas into their tanks right now. However, there is an EV company that I like right now…
A Booming Lithium Business
Sociedad Quimica y Minera de Chile S.A. (SQM) is the largest producer of lithium, iodine potassium nitrate and thermos-solar salt in the world. And due to high lithium prices from robust battery demand and soaring fertilizer prices, SQM's business is booming.
The company unveiled blowout yearly results on March 2. Full-year 2022 earnings surged 567.2% year-over-year to $3.91 billion, or $13.68 per ADR, up from $585.5 million, or $2.05 per ADR, in 2021. Analysts expected full-year earnings of $13.27 per ADR. Full-year 2022 revenue came in at $10.71 billion, also besting estimates for $10.52 billion.
For the fourth quarter, SQM reported earnings of $1.15 billion, or $4.03 per share, and revenue of $3.13 billion. That represented 257.9% year-over-year earnings growth and 189% year-over-year revenue growth. The consensus estimate called for earnings of $3.73 per share on $2.99 billion in revenue.
Company management also noted that it remains optimistic for the future of SQM's business, as electric vehicle sales should boost lithium demand to nearly 1.5 million metric tons by 2025.
So, if you want to invest in the EV sector, I would reconsider the big EV makers and instead look to the companies that are needed to make the batteries that will power the electric vehicles. In this case, that's SQM.
To learn more about SQM, as well as the other EV companies I like right now, join me at Growth Investor today. Once you do, you'll have full access to my latest recommendations, Top Stocks, Monthly Issues, and much more.
Sincerely,
Louis Navellier
P.S. Obama wouldn't want you to see this message in a million years. It warns of a disturbing government program you must protect yourself from.
Obama unleashed this program on America when he was president. And now? It's coming back.
Click here to see the disturbing truth – and find out the steps you need to protect yourself and your portfolio.
The Editor hereby discloses that as of the date of this email, the Editor, directly or indirectly, owns the following securities that are the subject of the commentary, analysis, opinions, advice, or recommendations in, or which are otherwise mentioned in, the essay set forth below:
Ford Motor Company (F) and Sociedad Quimica y Minera de Chile S.A. (SQM)