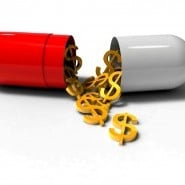 Red alert! The Centers for Disease Control and Prevention has issued its obligatory flu warning for 2012.
Though it's pretty much the same boilerplate caution from last year (and the year before that, and the year before that …), this one has been penned a bit earlier than usual, reflecting a relatively early start to this year's flu season. So, get your shot, wash your hands, use a tissue, and … pick the right stocks?
It might be a trade that's wedged in somewhere between "blatantly obvious" and "cliché," but certain pharmaceutical stocks do indeed get an annual flu bump around this time of year. So, if it's going to happen, you might as well play it.
As is so often the case, though, picking the winner is the real trick. You might want to look smartly before you leap, since not every flu vaccine maker actually has a product that has been officially approved as a flu vaccine in the United States for the 2012-13 influenza season.
Here's a rundown of the names the CDC has given the green light to this time around: