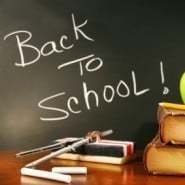 Students might dread the start of a new school year, but many retailers couldn't be more excited. Everyone knows that kids can't make their classroom debuts without first being decked out with a backpack, school supplies and, of course, new outfits.
Unfortunately, this year it just might be too hot for back-to-school-loving retail stocks to post sizzling sales numbers. Record temperatures have been reported in many parts of the country so far this month, meaning higher-than-usual electric bills are set to come in August — during the peak of the back-to-school season.
While I usually roll my eyes at the scapegoating of weather for retail weakness, unusually hot temperatures when the stakes (and expectations bar) are high might actually do some damage … especially if gas prices remain at unpleasant levels, too.
Let's take a look at five retailers that are especially dependent on strong third-quarter sales, and that you might want to watch for stock weakness in the months to come.