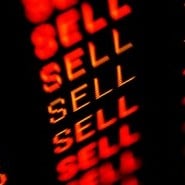 While the market seems to have sidestepped a meltdown and looks healthy enough to keep stocks afloat, the reality is that plenty of stocks are vulnerable to more than a little downside.
Whether for technical reasons, fundamental reasons, or a combination of both, time has finally caught up with some of this year's best-performing stocks. Five of them, in fact, are so vulnerable right now that the smart-money move here may be to simply go ahead and sell them.
Here's a closer look at what's wrong with these five stocks to sell, and exactly what could go wrong with each.