Good news from Chesapeake Energy Corporation (NYSE:CHK) has this trader thinking it's time for investors to "spend" a little on CHK stock. But before you do, take some of the speculation out of owning shares using a "married put" strategy to hedge your bet.
Natural gas outfit Chesapeake delivered some good news to Wall Street Tuesday morning, announcing it will spend $1.9 billion to $2.5 billion in 2017. The new capex data narrows prior guidance and provides clarity for CHK stock investors.
Clarity-seeking investors should also be impressed with Chesapeake's production forecast. The company's now sees 5% to 15% annual growth through 2020. The more upbeat narrative is a far cry from a year ago when Chesapeake's survival as an ongoing business was in question both off and on the CHK stock price chart.
Chesapeake's rebounding prospects have been supported by asset sales, debt reduction and some re-inflation of oil and gas prices over the past twelve months after hitting decade lows. And according to CEO Doug Lawler, "The execution of our 2017 capital program will position Chesapeake for significant production and earnings growth and cash flow neutrality in 2018."
With an improving picture for Chesapeake on the price chart, it's time investors consider their own capital investment and spend a little something on CHK stock.
CHK Stock Daily Chart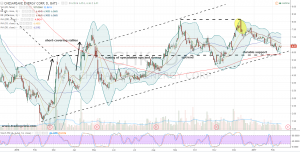 Click to Enlarge I'm a sucker for stocks that appear to be making all the right moves technically, but still maintain a flaw or two. The daily chart of CHK illustrates a bullish setup with a nice risk-to-reward. The situation is too good to be true.
Over the past year CHK stock has gone from volatile short-covering style reactions, up and down, and into a more developed and stable uptrend.
With last week's low, shares have pulled back 28% from an early and sudden December double-top high to successfully test the longer-term 200-day simple moving average and up-channel support lines.
Traders using the chart for guidance are risking roughly 50 cents on the downside to see $1.50 to perhaps as much as $3 upside if CHK can resume its rally and retest the prior highs or possibly reach the upper channel line.