Real estate investment trusts (REITs) have essentially one job to do for their investors – pay reliable dividends. Many do, but when firms find their payouts in jeopardy things get ugly in a hurry.
Which is why you need to avoid, or sell, the five ticking time bombs we're going to discuss today.
Dividend cuts don't just "happen." When a REIT slashes or suspends its dividend, it's rarely a surprise – and rarely an isolated incident.
Let's consider ARMOUR Residential REIT, Inc. (NYSE:ARR) – here's five years of dividend cuts and misery: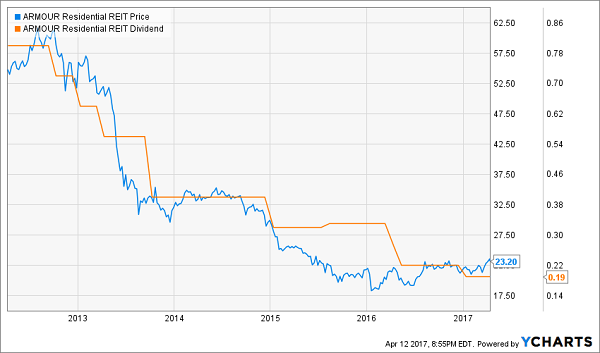 Sure, the current yield for Armour always looks good at 10% or higher.
The problem is, its payout can't be trusted. And neither can these five unsustainable dividends.