Energy is one sector where the experts just can't seem to get it right.
That's a trend my colleague Brett Owens has been watching for a long time.
In a March article, he warned that too many investors were bullish on oil, and the hedge fund "experts" betting on an imminent price breakthrough were wrong.
Since then, oil prices, oil stocks and energy funds have fallen sharply, leading energy to post year-to-date losses while every other asset class is up:
Energy Takes a Dive

It doesn't matter how you played energy; the Alerian MLP ETF (NYSEARCA:AMLP) was the best performer, but even that was negative, while the more oil-exposed Energy Select Sector SPDR ETF (NYSEARCA:XLE) and Vanguard Energy ETF (NYSEARCA:VDE) were down about 9%, on average.
Of course, neither did as poorly as WTI futures, which have slumped over 11% in 2017.
In such a market, it's easy to have flashbacks to 2014. Back then, the bottom seemed to fall out on the entire energy sector, and it seemed folly to play energy in any way, shape or form. Personally, I abandoned energy about five years ago and never looked back.
Now, however, it's time to look back.
While energy's recent weakness is alarming to many investors, it's actually a hidden blessing, because it indicates that something very special is happening to oil.
Right now, the black stuff is range bound. And if we go back three years, it's easy to see how we've entered a new phase in the super-cycles that dictate oil prices.
Oil's New Home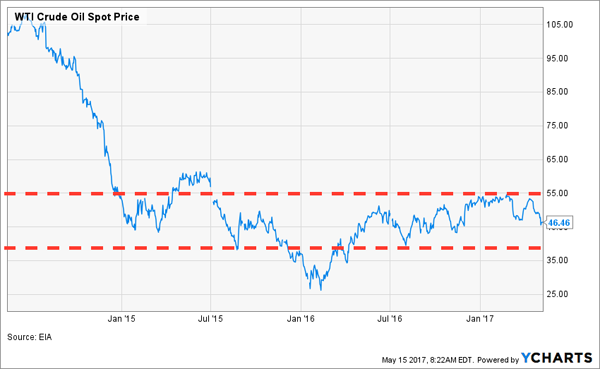 Since the WTI crude price nosedived in late 2014, it's reached a new range of $37 to $54 per barrel, with volatility of 33.7% from the median. That's pretty much in line with oil's historical average volatility, indicating that, despite the herd's worries, this isn't really an unusual time for oil.
Since World War II, oil prices have been characterized by long lulls followed by sudden, sharp price changes (either upwards or downwards), then a period of relatively low volatility:
Big Jumps Followed by Calm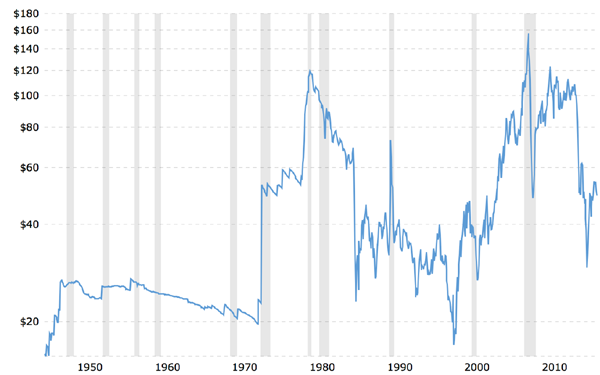 Looking at the period from 1949 to 1973, we had the longest period of oil calm until the OPEC oil embargo; after that crisis finished, oil actually stayed in a tight range for five years, despite the '73 crisis showing just how dependent the US was on imported crude oil (which, theoretically, should have caused greater volatility and market worries).
Then another spike came during the 1979 oil crisis, following the Iranian revolution and years of slowly declining prices. Similar moments of crisis and relief in the 1980s, 1990s and 2000s caused similar moments of sudden price spikes and falls, followed by anywhere from one to six years of relative price stability.
Which brings us to today.