Dow Jones Stocks to Buy: American Express (AXP)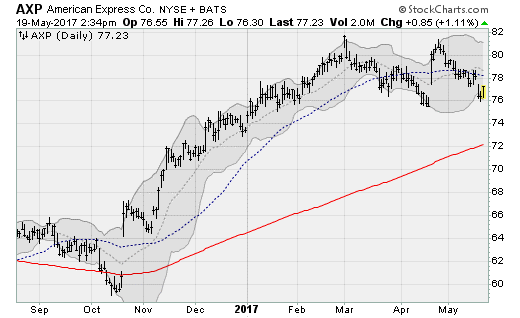 American Express Company (NYSE:AXP) shares are bouncing off of support near $76 from their mid-April low, setting up a run back to the upper end of its five-month consolidation range near $82. That would be worth a near 8% gain from current levels.
Shares surged in late April thanks to a better-than-expected quarterly report and an upgrade from analysts at Guggenheim and RBC. Earnings of $1.34 per share came in seven cents ahead of estimates despite a 2.5% drop in revenue, easing profitability concerns amid rising competitive pressure.
What's more, American Express is expected to perform twice as well over the long term as it has in its previous five years, and any signs of outperformance could sway more analysts from "hold" to "buy" ratings.