Dow Jones Stocks to Buy: Goldman Sachs (GS)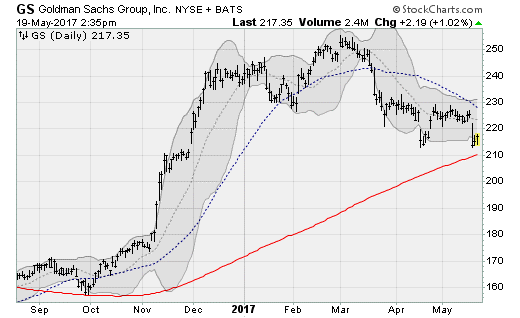 Goldman Sachs Group Inc (NYSE:GS) shares are testing critical support near $215, the lower end of a tight three-month consolidation range, which in turn marks the bottom of a floppy head-and-shoulders reversal pattern going back to December.
A breakdown here would trade a decline to the $190 range; but a rebound off of support here should be worth a run at the 50-day moving average for a gain of around 6% from current levels.
Shares gained more than 40% following President Trump's surprise electoral win on hopes higher long-term interest rates, faster economic growth, and higher inflation would boost financial sector profits by widening net interest margins. Now that GS stock has wobbled in light of a largely headline-induced move (on the face of it), GS stock looks like a bargain with double-digit long-term growth on tap.
Anthony Mirhaydari is founder of the Edge (ETFs) and Edge Pro (Options) investment advisory newsletters. A two-week and four-week free trial offer has been extended to Investorplace readers. Redeem by clicking the links above.