If you're part of the cult that is Tesla Inc (NASDAQ:TSLA), don't sweat it. Following earnings earlier this month, the automaker is still delivering on more than just promises. But traders considering taking a test drive would be better off going the options route than buying TSLA stock for an outright swing trade.
I've been consistently bullish on Tesla this year. Most recently in April, and a couple weeks in front of Tesla's earnings release, I wrote about how to survive a potential earnings wreck and profit nicely in the event shares rallied. More on those zoom-zoom gains later.
Earnings have come and gone. Most important is that Tesla supplied the goods on many fronts, including stronger-than-expected record deliveries, improved average transaction prices, stronger cash position of roughly $4 billion, as well as gross margins due to improved manufacturing efficiency.
If you've been a believer in TSLA stock, everything suggests staying buckled up. But slightly more active Tesla advocates, given what the chart looks like at the moment, can find better opportunities in the options market.
Tesla Stock Chart
As the weekly chart illustrates, shares have enjoyed a nice drive higher in 2017. In our opinion, TSLA has earned those gains, technically speaking.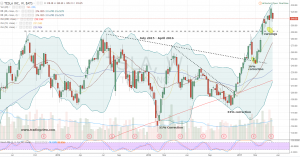 Click to Enlarge
Tesla's return to relative strength and market leadership follows a massive, corrective base structure put together roughly 2.5 years prior to this year's throttle higher and breakout to all-time highs.
More recently, an immediate post-earnings reaction amounted to some profit-taking in TSLA stock. The modest decline established a successful test of its prior base breakout for support. After rallying from the key challenge, shares are stationed midway within a large doji decision candle for a second straight week.
I don't drink Kool-Aid, but I do believe Tesla shares will eventually break out to fresh highs with the doji low testing candlestick remaining intact.
How to Trade TSLA Stock
Our last Tesla trade discussed on April 18 offered a pre-earnings return of over 40%, or $3.00. The attractive profit was courtesy of bullish modified butterfly. The fully protected May position went on to deliver gains of over 150%, with the spread expanding to $10.85 as TSLA closed near $325 on May 12.
That was after traders shifted gears into a bullish U-turn pattern.
With shares near $312, I like approaching TSLA stock with a traditional, bullishly stationed long call butterfly. Try the June $320/$340/$360 call spread for $3.10.
This June butterfly fits in nicely right now because an earnings catalyst, good or bad, is outside the life of the spread. The view is potentially detrimental gap risk is reduced and the cost for entry is lowered to just 1% of owning shares.
What's not to like, right?
At the same time, we can maintain a bullish (but not over-the-top) bias.
The best-case scenario for this spread is if Tesla can rally and find its home at $340 on June expiration. While unlikely, the max profit would approach profits of nearly $16.90. However, even a move of just more than 3.5% puts TSLA stock inside a healthy expiration profit zone spanning $323.10 to $356.90.
Investment accounts under Christopher Tyler's management do not currently own positions in any of the securities or their derivatives mentioned in this article. The information offered is based upon Christopher Tyler's observations and strictly intended for educational purposes only; the use of which is the responsibility of the individual. For additional market insights and related musings, follow Chris on Twitter @Options_CAT.