Buying real estate investment trusts isn't like buying other stocks; despite their high yields and big long-term returns, REITs require a bit more attention and a bit faster action than more popular dividend-payers, like blue chips and dividend-growth stocks.
But it's more than just speed and care. To win with REITs, you need to follow three rules—and I'm going to show you those today.
These REIT rules have never been more important than they are now.
Broadly, REITs are getting more valuable, but the market is getting more scared of them.
This disconnect makes no sense and is partly the reason why two extremely healthy and valuable REITs—Sabra Health Care REIT (NASDAQ:SBRA) and Care Capital Properties (NYSE:CCP) recently merged.
In their announcement, both firms said the merger would save $20 million in costs annually, provide greater diversification and give the new company more cash for expansion.
The market's response?
Both REITs have plunged in recent days, giving both negative returns since CCP's IPO in 2015:
Markets Cautious on REITs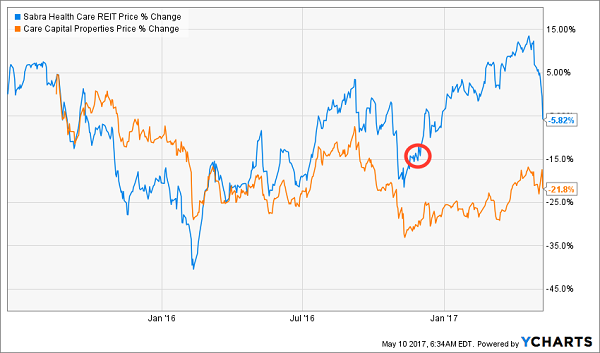 At times, drops like this gave contrarian investors a great opportunity to get both SBRA and CCP on sale when the stocks were ridiculously oversold. Like back in November 2016, when buying SBRA was a no-brainer: it was absurdly undervalued due to a plummet in price without a drop in earnings, capital access or expansion.
Selling SBRA after the merger announcement also made sense, because the market is worried that the combined company isn't going to deliver on management's promises. The market is wrong on this, which means waiting for both Sabra and CCP to bottom and then jumping in again might be a good idea.
This brings us to our rules of successful REIT investing…