If you're biased toward, not just tweeting about Twitter Inc (NYSE:TWTR), but owning TWTR stock as well, don't be. That sounds harsh, but I'm not saying don't go long — I simply see the options market as a much better way to put your money where your mouth is. Let me explain.

Last month, I stated TWTR stock is back. It wasn't the first time. While the second attempt has continued to work nicely for traders, I do think it's increasingly the right time to stay on message with a medium like InvestorPlace, which is more substantial than a random bullish tweet forgotten minutes, if not seconds later.
Off the Twitter chart, former Microsoft CEO Steve Ballmer agrees. As a major shareholder of TWTR stock, Ballmer told CNBC's Squawk Box that the social media company is a very good asset that's been executing and monetizing well.
The upbeat, if not biased dialogue, noted Twitter needs to continue with its foot on the gas pedal. If the company is able to do that, "their path could be way up."
As noted, I'm a believer in Twitter as well, albeit biased in a different way. At the moment I don't have any vested interest in TWTR stock. However, our unbiased technical opinion is today's pitch before the cameras isn't in jeopardy of turning into yet another hook, line and sinker situation for today's TWTR bulls.
TWTR Stock Daily Price Chart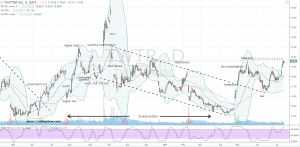 Click to Enlarge Since writing about Twitter, TWTR stock has rallied from $17.88 to $19.32, as of this writing. For TWTR stock bulls, the gain amounts to a return of 8% in less than four weeks, which on an annualized basis results in a very generous return on investment in excess of 105%.
And with the Nasdaq up less than 0.2% for the same period, TWTR stock has also demonstrated nice relative strength gains too. All told, conditions are looking up for Twitter, but the technical narrative gets even better.
After a couple painful years of being in a bear market and at times feeling like Twitter might become irrelevant off and on the price chart, shares have emerged from a significant double-bottom pattern and are now putting together the building blocks for a newly-emerging uptrend.
The next confirmation in this bullish process will be for TWTR stock to make a new relative high above May's false breakout pivot of $19.79. It would also be technically constructive for that price action to be a handful or more percentage points above the prior high in order to have a clear higher-high pivot in place.
If I was to take my predictive powers and project out even further in time, any corrective weakness in TWTR stock should ultimately be met with sufficient buying interest to form a higher low above the mid-June pivot test. And ideally, a technical hold and successful test of May's pivot high would be a more classic outcome and confirmation for a new uptrend in TWTR stock.