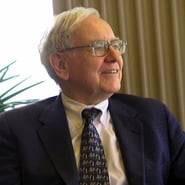 2013 might rightfully be called the year of the "Clash of the Gurus" to anyone watching the news. The biggest is the very public slugfest between activist investors Bill Ackman and Carl Icahn over nutritional supplements company Herbalife (NYSE:HLF). Ackman is short 20 million shares of Herbalife at last count, and Icahn is long at least 14 million.
Taking a slightly lower profile than Icahn, Third Point's Daniel Loeb also took an anti-Ackman long position of more than 8 million shares, though he reportedly slightly reduced that position in February.
Ackman and Icahn's faceoff on CNBC got as close to something from the Jerry Springer Show as two Wall Street titans in suits can get, with each essentially calling the other a liar. One of these guys is going to be wrong in a big way, and it's going to cost their investors a fortune.
I recommend you run as far away from Herbalife as you can right now — you don't want to get caught in a nasty war of attrition between two masters of the universe — and instead go after these three solid dividend-paying stocks being accumulated by well-known gurus:
Archer Daniels Midland (Warren Buffett)


Dividend Yield: 2.4%
It's not a guru list without a mention of Warren Buffett.
Buffett made news with his acquisition of H.J. Heinz (NYSE:HNZ), but his Berkshire Hathaway (NYSE:BRK.A, BRK.B) has been steadily increasing its position in several companies, including DaVita HealthCare Partners (NYSE:DVA) and old standby Wells Fargo (NYSE:WFC).
But as far as conservative dividend payers go, Buffett's most notable addition is Archer Daniels Midland (NYSE:ADM), the Midwestern food processing company.
Archer Daniels, which produces base products like oils and high-fructose corn syrup sweeteners, is about as unsexy as an investment can be — precisely why it belongs in Berkshire's portfolio.
It also happens to be a Dependable Dividend Stock that has paid dividends since 1927.
Chesapeake Energy (Mohnish Pabrai)


Dividend Yield: 1.8%
Our next guru is one of my very favorites, Mohnish Pabrai.
If you haven't read Pabrai's book, The Dhandho Investor, you are costing yourself money. It's one of the best books on value investing written in the last decade. However, while I love following Pabrai, I'm not the biggest fan of his current portfolio, which is too concentrated and too heavy in banks for my liking.
That said, natural gas exploration and development company Chesapeake Energy (NYSE:CHK) is a fairly recent addition worth noting.
Calling Chesapeake a "dividend stock" might be a stretch, as it yields only 1.8% and it operates in a risky business in which dividend cuts are a real possibility. Its high debt levels and a scandal last year involving outgoing CEO Aubrey McClendon have soured investor sentiment toward the stock.
This is a riskier play than, say, Archer Daniels Midland, but Chesapeake is a good way to play a long-term boom in natural gas, and Pabrai is betting heavily that the worst is behind the company. As of his most recent filings, Pabrai's fund had 17% of its portfolio in Chesapeake.
Johnson & Johnson (Prem Watsa)


Dividend Yield: 3.2%
And finally, we get to Prem Watsa of Fairfax Financial, commonly known as the "Warren Buffett of Canada" for both his investment acumen and his use of insurance companies as investment vehicles.
Watsa's biggest current position is one you have to have an iron stomach to hold: smartphone also-ran BlackBerry (NASDAQ:BBRY). BlackBerry doesn't pay a dividend at this time, and I consider the company's outlook too uncertain to recommend at this time.
I do, however, like his No. 2 holding: health care giant Johnson & Johnson (NYSE:JNJ).
Johnson & Johnson is the ultimate dividend-paying machine, raising its dividend for 50 consecutive years, and currently yielding 3.2%. Plus, after underperforming the market for years, J&J is finally showing signs of life. The stock is up nearly 10% in 2013.
If Watsa's track record is any indication, I would expect more gains to come.
Charles Lewis Sizemore, CFA, is the chief investment officer of the investment firm Sizemore Capital Management. As of this writing, Sizemore Capital was long JNJ. Click here to receive his FREE 8-part investing series that will not only show you which sectors will soar but also which stocks will deliver the highest returns. The series starts November 5 and includes a FREE copy of his 2014 Macro Trend Profit Report.