Precious metals have been one of the market's best-performing areas this year.
Recently, silver was up for six weeks in a row — its longest winning streak since peaking back in April 2011. Silver gained more than 16% from its late May low going into its mid-July peak thanks to a combination of Chinese commodity financing fraud (increasing demand for physical metal), bubbling inflationary pressures, Eurozone contagion concerns and ongoing geopolitical hotspots in the Gaza Strip and elsewhere.
Gold hasn't been far behind, nor have the related mining stocks. All have been building a base of support since late 2013 and look ready for a sustained rise higher. Any dip should ultimately prove to be a buying opportunity for investors looking to get in on the action.
Mainly, this is because of the Federal Reserve's ongoing reluctance to raise short-term interest rates from 0% — where they've been since 2008 — despite the fact the unemployment rate has fallen to 6.1% (only 0.3% away from the Congressional Budget Office's estimate of full employment) while consumer price inflation is growing at a 2.1% annual rate.
The Fed is risking falling behind the curve on inflation, which given the massive increase in the monetary base from around $800 billion pre-recession to nearly $4 trillion now, could quickly get away from them.
Here are the four best options for investors who are considering investing in gold and silver.
Physical Metal Is the Most Conservative Way to Invest in Gold and Silver
Gold and silver have classically been invested in via the physical ownership of coins and bars. This is part and parcel of one of the key attractions of precious metals in the first place: Elimination of the risk that comes with storing wealth within the financial system using paper assets.
And for those preparing for an outright breakdown of civil society, gold coins are more useful for bartering and trade in a post-apocalyptic world than an American Express card or a fully funded retirement account. The same goes for silver.
For those wishing to cut out the middle man and reduce exposure to the banking system, this is the way to go. The standard option is to go with the U.S. Mint's American Eagle coins, with weight, content, and purity backed by the U.S. government. Moreover, as a recognized quality, they can be added to Individual Retirement Accounts (IRAs).
There are more fanciful options too, if you're interested in coins as a collector and not just an investor. Coin dealers like the American Precious Metals Exchange (APMEX) offer an online catalog of options and even the ability to pay with a credit card.
Liquidity can be a problem, as buying and selling isn't as instant as online stock trading. APMEX offers to buy standard items, such as 1 oz. Gold American Eagles, with a bid-ask spread of about 2%.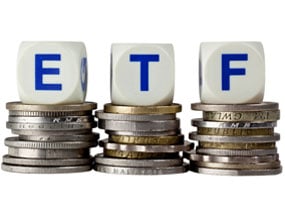 Source: istockphoto.com/joxxxxjo etf
Metal ETFs Are a Less Conservative Way to Invest in Precious Metals
If you're not interested in storing your wealth in a safe, under your mattress, or buried in the back yard, than the next most conservative way of investing in gold and silver would be the metals ETFs — exchange-traded funds that dole out fractional ownership of gold or silver. The most famous of these is the SPDR Gold Trust (GLD), which currently holds 26 million ounces of physical gold worth more than $34 billion.
If you're interested in silver, the iShares Silver Trust (SLV) holds more than $6.8 billion of the grey metal.
There are more aggressive ways to play the precious metals, including leveraged metals funds that use derivatives to give double or triple exposure (or even inverse exposure) to the daily changes in the price of gold and silver. These funds include the ProShares UltraSilver (AGQ), which is up more than 20% since I added it to my Edge Letter Sample Portfolio back in June.
The advantage of using ETFs instead of physical metal is smaller bid-ask spreads, quick transactions, and no need for secure storage. Downsides include indirect ownership and exposure to the financial system if it all goes down.
Sector ETFs Are a More Aggressive Way to Invest in Gold and Silver
Next down the list is investing in sector-level ETFs that invest in a basket of gold and silver mining stocks. Given the selling pressure many of these companies have come under since precious metals prices peaked in 2011 and 2012, valuations are attractive. Especially when you consider that these companies enjoy legal ownership of proved metal in the ground.
But rather than pick and choose individual mining stocks, funds like the Market Vectors Gold Miners (GDX) or the Market Vectors Junior Gold Miners (GDXJ) provide exposure to the underlying factors while filtering out company-specific risks.
It's about applying the advantages of diversification while still being focused enough to benefit from the positive catalysts driving gold and silver higher. For example, the GDX fund holds positions in 57 companies with top holdings including Goldcorp (GG), Barrick Gold (ABX), and Newmont Mining (NEM).
And, just to illustrate, Goldcrop currently holds more than 54 million ounces of proven and probable gold reserves as well as 818 million ounces of proven and probable silver.
Buying Individual Stocks from Gold and Silver Mining Companies Is the Most Aggressive Way to Invest in Precious Metals
And finally, the most aggressive way (outside of those leveraged ETFs I described above) of investing in gold and silver is to invest in the individual companies extracting the metals from the Earth's crust. Unless they've hedged their order books, these companies provide natural leverage to the price of the precious metals since their earnings can grow quickly once the fixed costs of production are covered.
To illustrate, the GLD fund gained 8.2% from its June low into the mid-July high. The GDX fund of gold mining stocks gained 26.6% from its May low. But Goldcorp individually gained nearly 30% over the same period.
The risk is higher here since you're exposed to company-specific risks such as problems at individual mines or labor disputes. But the potential reward is greater as well.
Disclosure: Anthony has recommended GG, GDX, and SLV to his clients.
Anthony Mirhaydari is founder of the Edge and Edge Pro investment advisory newsletters, as well as Mirhaydari Capital Management, a registered investment advisory firm.
For a different point of view on gold and silver as an investment read Why Warren Buffett Hates Gold