Trends can be risky business for some, but getting on them before they get big can pay off big time.
As a kid, I loved piggyback rides — and frankly, I'm not too big to ignore one when companies like these are waiting to give shareholders a ride on the tech stocks of the future.
Here are three of the biggest trends in tech stocks to watch for in 2015.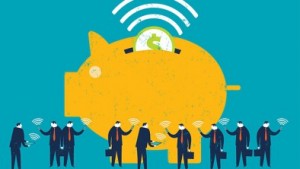 Cloud Technology
Spending on the cloud made up 5% of enterprise IT spending in 2014, and according to Goldman Sachs analysts, will potentially reach 11% in 2018. What's more, cloud computing spending is expected to see a 30% compound annual rate growth from 2013-18, while the rest of the enterprise IT market will experience a 5% growth.
So who is leading the pack among tech stocks? That would be Amazon.com, Inc (NASDAQ:AMZN), thanks to a head start that has seen AMZN take in $4 billion in revenue over the last year. According to Goldman:
"Amazon Web Services (AWS) has been the clear leader to date by revenue. However, our field work suggests AWS, Microsoft (NASDAQ:MSFT) Azure, Google 's (NASDAQ:GOOGL) Cloud Platform, and Salesforce.com's (NYSE:CRM) Salesforce1 are being increasingly evaluated in deals."
Notable mentions: Oracle Corporation (NYSE:ORCL), International Business Machines Corp. (NYSE:IBM)
Mobile Devices
OK, so it's not really an emerging trend among tech stocks, but year after year consumers throw money at companies like Apple Inc. (NASDAQ:AAPL) for increasingly thin, speedy and trendy mobile devices.
AAPL is, of course, the front runner due to its consistent innovation, insane revenue stream, and a stock valued at nearly $700 billion. This year, Apple is gearing up to release a larger iPad (dubbed the iPad Pro or iPad Plus) that could potentially replace your laptop. Then there's the iPhone 7 and iPhone 7 Plus releasing later this year and, if history is any indication, it will continue to outdo previous year sales.
Notable mention: Samsung Electronics Co Ltd (OTCMKTS:SSNLF)
The Internet of Things
You don't have to know a lot about technology to know that 25 billion is a lot. And that's how many devices analysts are predicting will be interconnected by 2020.
This is what is increasingly being referred to as "The Internet of Things," meaning we are living in an age where being connected is conducive to the way we go about things on a daily basis.
In five years, the worth of the Internet of Things is expected to exceed $7 trillion. Do you really want to be the one who missed out on the next big thing for tech stocks?
On the one hand, Google Inc (NASDAQ:GOOGL) recently bought out a little company named Nest for $3.2 billion dollars. Nest, a maker of Internet-connected thermostats, then bought out a company of its own – Dropcam, maker of Internet-connected cameras, for $555 million.
On the other hand, investors could benefit from looking at suppliers, specifically chipmakers like Qualcomm, Inc. (NASDAQ:QCOM). QCOM recently expanded into new markets thanks to its acquisition of a British semiconductor company, CSR. The expected growth from this buy, according to Steven Mollenkopf, is projected at 8-10% annually over the next few years.
Further, with a lowered price to earnings ratio of about 12.5, it's a solid bargain growth stock.
Notable Mention: Sierra Wireless, Inc. (USA) (NASDAQ:SWIR)
As of this writing, John Kilhefner did not hold a position in any of the aforementioned securities.