The market is looking like it's finally ready to give investors and traders a taste of what September seasonality is supposed to look like, as futures once again point to another lower opening and the S&P 500 finally starts cracking through some of its technical support levels.
A focus on international markets and oil prices (because of the Organization of the Petroleum Exporting Countries meeting) are the reason for the jitters. Of course, regardless of the reason, the action in the S&P 500 and other indices has us checking the list for potential shorts or stocks that we should be closing position on. Today's Big Three Stock Charts looks at Deutsche Bank AG (USA) (NYSE:DB), Nike Inc (NYSE:NKE) and General Electric Company (NYSE:GE).
Deutsche Bank AG (USA) (DB)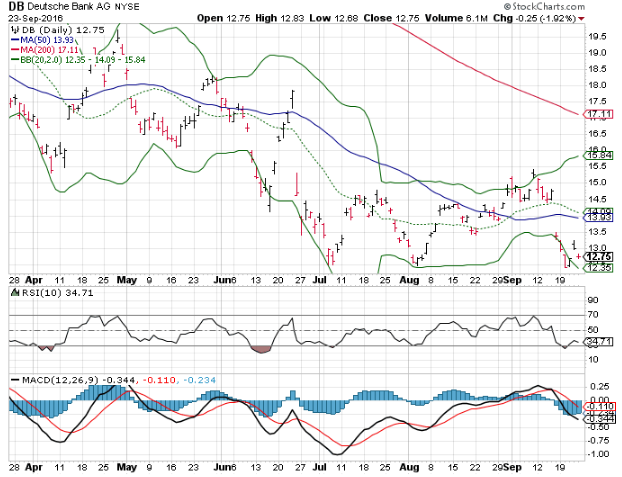 The Germany-based bank is trading in the red this morning for a few reasons. First, the global market appears to be growing weary of the extensive measures taken by various central banks and their effect on the commercial banks. Second, the mention from Angela Merkel has ruled out the idea of a bailout for the German Bank.
The technicals for DB were already suffering ahead of this. Shares were trading Friday at the low-end of their range, which has struggled to keep Deutsche Bank shares from falling below the $12.50 level for the last three months. DB stock is picking up volume as it tests the bottom of the range this week, indicating that a break below it is almost imminent.
Dangerously, Deutsche Bank shares just emerged from an oversold condition that actually frees some additional selling pressure. At the same time, momentum indicators are showing that the negative trend is growing stronger as DB shares rest dangerously at the bottom of the range.
This is not a "hold 'em if you've got 'em stock" at this moment, especially with earnings approaching, which were specifically unkind to European banks over the last year.
Nike Inc (NKE)

Shares of Nike are on our technical radar for a few reasons. First, the implications of the global economy continuing to slip have negative implications for NKE given its global reach. Of course, this isn't a technical or chart factor, so let's move on to those.
In moving back below the $57.25 level, Nike stock is breaching the line of long-term technical bear markets, as it will post a close below its 20-month moving average for September at its current price. NKE shares have been desperately trying to buoy themselves above this trendline for the last four months, but the current decline is starting to grow momentum. This would be the first time Nike has moved into a technical bear since 2008.
Shorter-term implications are just as bearish, as NKE stock is trading below all three of its significant short-term trendlines. Currently at $55.15, Nike stock is below its 20-, 50- and 200-day moving averages. In addition, all three of these trendlines have reversed into declining patterns. Our quantitative studies show that Nike stock is more than two times more likely to continue its current trend when this is the case.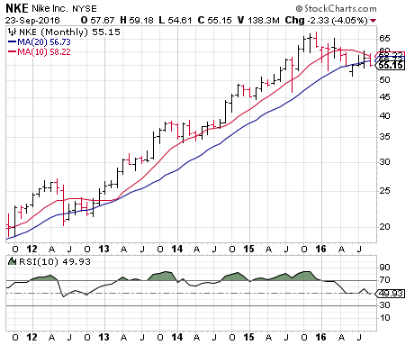 A Break of the $54 level will be the next catalyst for a move lower for the technicians watching NKE's chart.
General Electric Company (GE)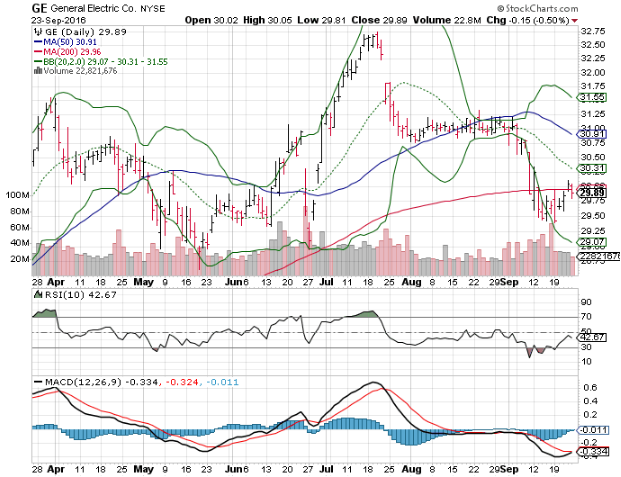 General Electric is another company on our list of because of its global exposure. GE shares have struggled to maintain any strength with the market through 2016, as is reflected in the year-to-date returns. As of Friday, General Electric's year-to-date returns were down 1.83% against the market's 7.5%. The underperformance has come from GE stock's breakdown in July. Before that, General Electric was a clear market leader. Does everyone really believe the Brexit hasn't negatively affected companies?
Onto the charts though … in early September, GE shares lobbed a technical warning shot across investor's bow when they broke below their 200-day moving average. Shares have yet to gain any strength and things are starting to get worse.
We've seen General Electric's 50-day trendline reverse and begin a decline as well as the 20-day, which is now going to break below the longer-term 200-day this week.
Just for a little more pressure, General Electric is getting ready to test the long-term technical support of its 20-month moving average. As already mentioned, this is the line of demarcation between a technical bull and bear market for a stock. A sustained period below this trendline will cause more technical selling with increased volatility.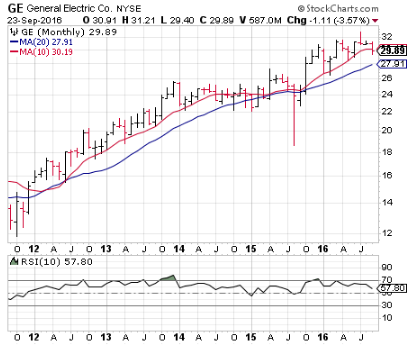 Technical traders will be keeping an eye on the $28.63 level over the next few weeks, as the sellers will take their lead from this mark. Regardless of whether GE shares find some strength there, the charts are telling us that there are much better opportunities for growth right now.
As of this writing, Johnson Research Group did not hold a position in any of the aforementioned securities.
More From InvestorPlace