Stocks are shying away once again from the Dow 20,000 threshold as the bulls look like they may not have what it takes to beat the hurdle before the holiday weekend.
While I think a breakout is likely before the year is over (for propaganda purposes, obviously), the selling should intensify heading into January as seasonality turns negative and investors contend with a list of unknowns.
Those include the economic impact of higher interest rates, a hawkish Federal Reserve and the uncertain future of President-elect Trump's fiscal plans.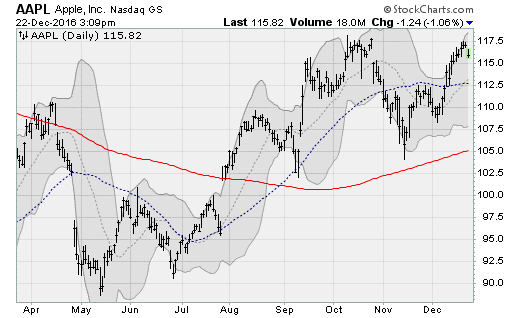 Technical indicators are rolling over as well, with breadth deteriorating as many begin to book profits. A perfect example of this is the single most important stock in the market: Tech bellwether Apple Inc. (NASDAQ:AAPL), which is rolling over from double-top resistance.
Apple stock really hasn't gone anywhere over the past three months — despite the broad market's ramp to new records — amid disappointment with the iPhone 7, evidence of smartphone market saturation and constant reminders that the company has lost its innovative touch. Tepid China sales and intense competition aren't helping either.
One recent bright spot (and a reason Apple stock ramped back to its October high) was nascent hope of an earnings-repatriation holiday from the incoming Trump administration.
But many investors are apparently using the rebound as an opportunity to exit Apple stock amid growing evidence the company is trying, and failing, to find its next niche.
Its foray into an electric, autonomous vehicle has been a mess as an overture to BMW (OTCMKTS:BMWYY) was rebuffed and staffing levels cuts. The company has no offering in the AR/VR space. No drone product. And reports of a possible purchase of a Hollywood studio looks like cheap mimicry of the successful original content offerings of Netflix, Inc. (NASDAQ:NFLX) and Amazon.com, Inc. (NASDAQ:AMZN).
I'm bearish and have recommended the Jan $116 Apple stock puts to Edge Pro subscribers. The company will next report results on Jan. 24 after the bell. Analysts are looking for earnings of $3.23 per share on revenues of $77.1 billion.
Anthony Mirhaydari is founder of the Edge and Edge Pro investment advisory newsletters. A two-week and four-week free trial offer has been extended to InvestorPlace readers.
More From InvestorPlace