To say it's been a rough year for Nokia Corp (ADR) (NYSE:NOK) would be a gross understatement. Unless something dramatic were to occur, NOK stock is staring at a 30%-plus loss for 2016. While Nokia has shown spurts of promise, more often than not, they have sparked poor investor sentiment and selloffs.
There's an old saying, though, that bad news can't last forever. Once you hit rock-bottom, the next direction is likely up.
But that analogy doesn't quite work out perfectly for NOK stock.
For one, Nokia isn't exactly near rock-bottom. The network and technology company still is well-regarded within the international community. With nearly 102,000 employees, the "pride of Finland" isn't about to disappear overnight.
In fact, Nokia shows encouraging signs from time to time, including on the charts right now. After succumbing to the "Trump shock" felt by other tech stocks, NOK has gained back some real estate. From mid-November onward, Nokia stock is up almost 15% and has crossed through its 50-day moving average.
What's Behind the Recovery in Nokia Stock?
Fundamental tailwinds certainly seem supportive of the technical enthusiasm.
For starters, Nokia is being pushed by strong demand for its technologies division, as well as other growth sectors. The company is also expanding its product portfolio. It has been fairly acquisitive, with the most conspicuous example being the buyout of Alcatel-Lucent. But Nokia also has gobbled up smaller companies that could drive more value, too.
Along with making the right investments comes making the right divestments.
Nokia sold its HERE maps navigation unit, for one. The added weight of an unproductive asset was unnecessary to lug around any further considering that they lost so much market share in mobile devices. There was a time when Nokia was one of the top players in town. But Apple Inc. (NASDAQ:AAPL) happened, and that's simply that.
Now, today's Nokia is far different than yesteryear's. Whereas the previous focus was physical products — quirky, boxy cell phones that were considered innovative for its time — now, an investment in Nokia is quite different.
According to InvestorPlace's Dana Blankenhorn, NOK is "a bet on demand for wireless and wireline services increasing dramatically over the next several years. That would seem to be a good bet."
Indeed, plenty of signs confirm the bullishness. Revenues are actually on the upswing over the past couple of years. Nokia's asset base is consolidated and focused on developing its core business as opposed to engaging in frivolities.
There are more than enough reasons to believe in a prolonged comeback in Nokia stock. Still, I have some reservations.
A Rough History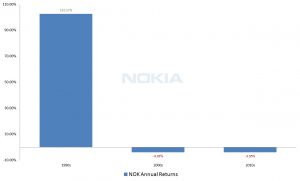 Click to Enlarge Shares traded in the open markets in the beginning of 1994. But it was only in the 1990s that Nokia stock averaged positive returns! In the 2000s, annual returns averaged 4% in the red.
In the current decade, it's literally more of the same. Nokia is in a long, long-term downtrend that's hard to gussy up no matter what you do to it.
An argument can and will be made that past performance is not necessarily an accurate barometer for the future. But it does reflect a mountain of issues for Nokia, as well as an inability by leadership to change anything. Nokia brought in Rajeev Suri to right the ship in May 2014. And while NOK stock did enjoy a brief honeymoon rally, shares ultimately have lost 35% since his installation.
While the devil on my shoulder wants to play the contrarian trade, the angel/accountant on my other shoulder is screaming bloody murder. This year has been particularly difficult on the bottom line, with the company suffering GAAP losses in each of the past three quarters.
That's not an attractive gamble to make.
As of this writing, Josh Enomoto did not hold a position in any of the aforementioned securities.