We all know financial stocks have gone through the roof since President Trump's win. So the question becomes: what do we do with these companies now?
There's no one answer for every financial stock, of course.
Some are still great, undervalued buys—but there are two that have gotten grossly overvalued and should be avoided, or sold if you hold them. (Below, I'll reveal 3 better high-yield stocks to buy instead.)
These 2 Financials Are Headed for Trouble
Bank of America Corp (BAC) is the first bank on my hit list.
A Breathtaking Rise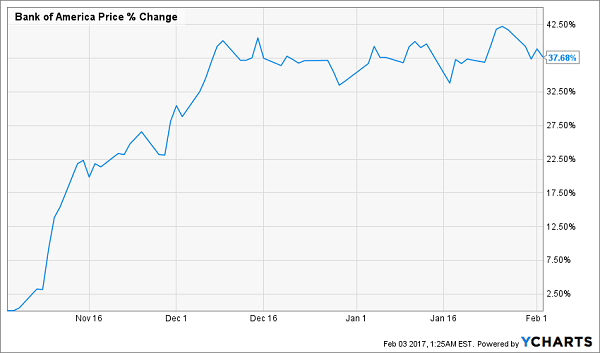 After spending most of 2016 in the red, BAC has soared more than 37% in three months. Nothing much has changed at the bank; it's just riding a wave of euphoria as investors bet that Trump's America will mean higher interest rates and fewer regulations, driving up BAC's earnings.
However, the stock's recent outperformance is far above that of peer Citigroup Inc (C), which is up only 15% since Election Day:
"Only" 15% Gains in 3 Months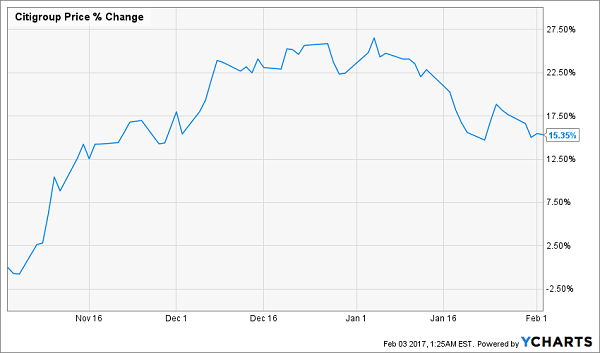 Still, that's a lot of price growth—far more than is justified.
Here's why.
For starters, Citigroup is getting smaller. Its revenue has collapsed in the last three years (the same thing is happening to BAC, by the way, though not as severely):
Stock Prices Up, Revenues Down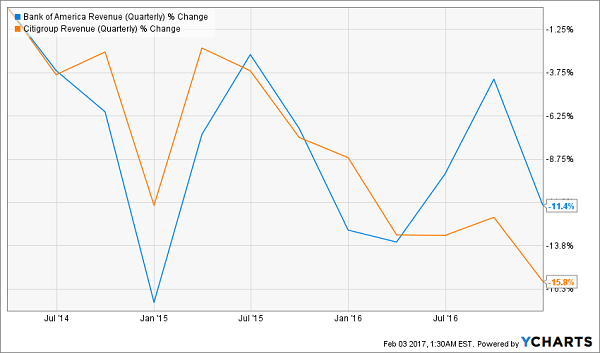 Thanks to cost cutting, Citigroup has been able to grow earnings per share by a pittance over the same time period—but Bank of America has actually been much better at this game:
No Growth Behind These Earnings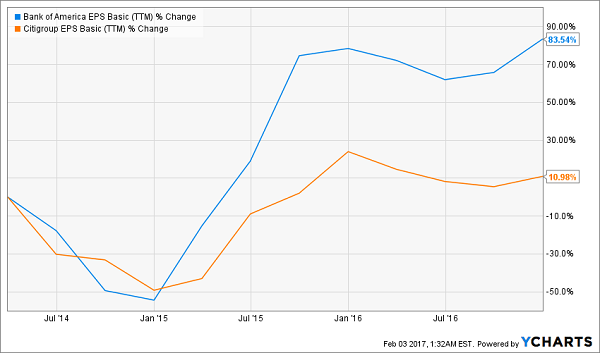 But that doesn't mean BAC is a buy; both of these stocks are sells. Why? Because they're too expensive relative to their performance:
Higher Price, Lower Growth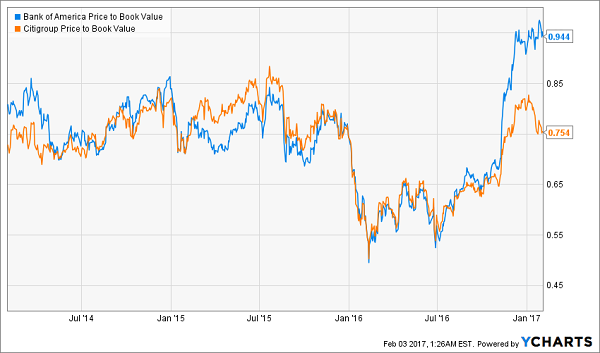 You're paying a price-to-book value of almost 1 for BAC, while C is now priced at the same discount we would've gotten in 2014 and 2015. That's no bargain, considering C's revenue decline, and BAC's earnings growth seems fully priced in. Besides, how long can BAC keep growing earnings while losing market share?
With all that in mind, I think we need to look for alternatives.
Here are three…