Squeeze plays are the game of the day for today's three big stock charts as we take a look at AT&T Inc. (NYSE:T), Intel Corporation (NASDAQ:INTC) and Starbucks Corporation (NASDAQ:SBUX). Each of these companies are either stuck in or emerging from a technical squeeze play that has implications for each stock over the next few weeks.
AT&T Inc. (T)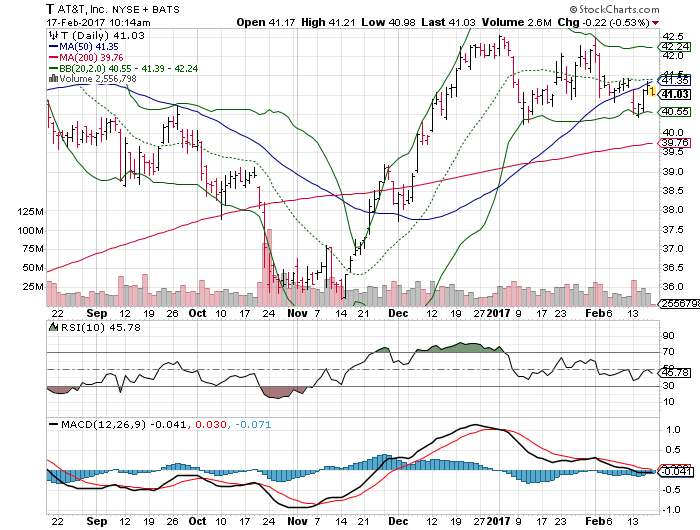 We're seeing shares of AT&T get pushed into a squeeze play as they bounce between two critical trendlines.
Over the past week, the stock has been bouncing between its 50- and 200-day moving averages on what the charts identify as average volume. Zooming in to the intraday activity, we are seeing some surges in volume as the stock is touching-up on these trendlines. This tells us that the chart watchers are getting ready to strike.
In addition to the trendlines, the 50-day moving average is around the same level that matches up with the trendline that connects the stock's recent trend of lower highs. This brings implications.
A break above the 50-day at $41.50 will take out the resistance that it has been placing on the stock while the move would break the trend of lower highs. This will attract a group of bullish traders to drive AT&T stock toward $43 in short order.
On the other side, failure for the 200-day to hold the shares are $40.50 will trigger selling pressure and a price target of $39. Our expectations are for the former situation to play out on AT&T shares.
Intel Corporation (INTC)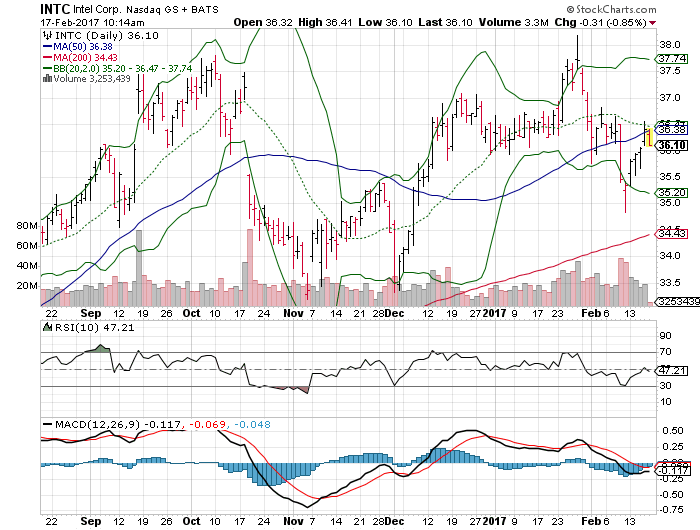 The semiconductor giant is still sleeping as relative performance against the semiconductor sector is lagging. Not shares are stuck in a squeeze play that may direct them lower over the short term.
A confluence of trendlines is restraining Intel's daily movement right now. The 50- and 100-day moving averages are drawing a small channel for the stock to trade within the $36 and $36.50 range. After bouncing from the 200-day moving average, at $35, technical traders appear to be waiting to see how the current tight range will play-out before directing the stock any higher.
For now, the smart money's on the stock holding the round-numbered $36 level as the market see some softness, then breaking through the overhead resistance of the 50-day to set a course for $38 over the next few weeks.