Stocks are starting the week on a stumble. The reason? Comments various Federal Open Market Committee policymakers are suggesting that whither inflation is not as present as was thought, or that a little inflation is alright with the FOMC's projections. All of this speak leads to confusion as we watch rates move lower again.
What's not moving lower are two out of three of our three big stock charts. Today we look at the charts for Nvidia Corporation (NASDAQ:NVDA), Raymond James Financial, Inc. (NYSE:RJF) and Advanced Micro Devices, Inc. (NASDAQ:AMD).
Nvidia Corporation (NVDA)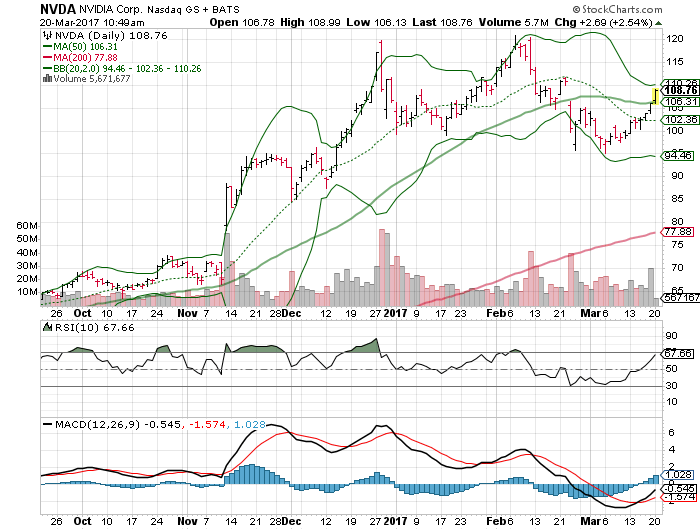 Fan favorite Nvidia is making the chart cut today as its shares are breaking above their 50-day moving average again. This is happening after NVDA stock has taken a much-deserved break after running hot into its most recent earnings announcement.
Nvidia stock made a 20% correction that is now looking as though it was "text book" as NVDA shares pulled back to their 100-day moving average after slicing through initial support at their 50-day trendline.
Now, Nvidia shares are on the march again, rallying back and breaking above their 50-day moving average again. The increase in volume that we're seeing indicates that NVDA stock is now being engaged by technical traders on the break above this critical trendline.
One item that may give the bulls a little pause is the fact that the stock is creeping up on an overbought condition. This may result in a small pause that will give the opportunity to grab shares before they make their move above $110 to continue their rally.
Raymond James Financial, Inc. (RJF)
Raymond James Financial joins the S&P 500 this morning, explaining the huge spike in the volume that was seen on Friday.
Shares of RJF have been on a slow decline since the announcement that the company would be included in the broad market index. We've seen the shares pull back more than 6% from their highs ahead of the announcement, but its time for the technicals to reverse this trend.
Raymond James hit an oversold reading on its RSI last week, suggesting that the shares were ripe for a short-term turnaround.
Now, we should see a trickle of volume coming in on RJF shares over the next week as a number of portfolio managers continue to adjust their holdings to account for the recent benchmark change.
More importantly, the stock found what looks to be staunch support at its 50-day moving average. This means that shares of Raymond James Financial should gain momentum as they move above $78.
Advanced Micro Devices, Inc. (AMD)
Another stock benefiting from the changes to the S&P 500 is Advanced Micro Devices. AMD shares slumped after the announcement that the company was being added to the S&P 500; however, the slump may have created a great buying opportunity for the chart watchers.
AMD shares actually drew the beginnings of a Head and Shoulders pattern that could have signaled the end of this stock's bull run. Instead, today's rally suggests that Advanced Micro stock is likely to recover from its recent relative weakness and take out the recent highs.
You see, instead of breaking down at the neckline, represented by $13.65 on the chart, AMD shares found support at this price and are now making a major move higher.
The bullish move is attracting attention of the technicians today as volume is already ahead of its averages. In addition, like Raymond James shares, we should continue to see some bullish activity based on the stock's inclusion into the S&P 500.
As of this writing, Johnson Research Group did not hold a position in any of the aforementioned securities.