In my last article, I pointed out that the S&P 500 is far from overpriced right now. All you have to do is dig a bit deeper than first-level investors to see that this is true.
And while I do think it's a good idea to buy stocks right now, I don't think the SPDR S&P 500 ETF (NYSEARCA:SPY) or Vanguard 500 ETF (NYSEARCA:VOO) are good ways to do it.
Before I get into why, let me first explain what these funds are.
VOO and SPY are passive index funds whose job is to track the market, not beat it. So if you buy them and the market goes up, you're fine. And if you have a long time horizon — meaning you're investing money you don't expect to touch for 30 years or more — you'll also probably do alright with these funds.
But all right isn't good enough.
If you're looking to invest for a long time horizon, you'll have more flexibility — and make more money — with an active approach.
And if you're investing for a shorter period, VOO and SPY can be downright dangerous. Imagine, for instance, you were set to retire in late 2008.
Here's what would have happened to your S&P 500 index fund:
Snapshot of a Retirement Nightmare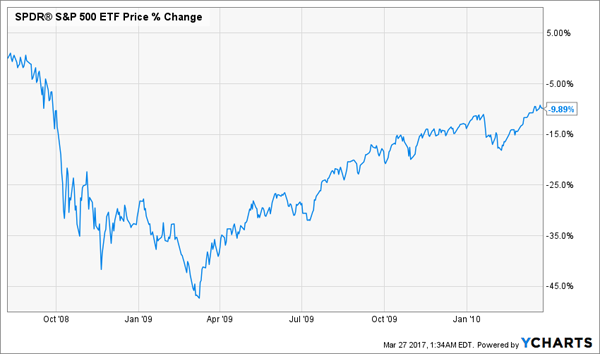 Of course, that's what your bond allocation is for, right?
Well, yes, but keep in mind that if you have any percentage of your portfolio in bonds, you're not really a passive investor anymore. And a mixed portfolio of stocks and bonds underperforms one consisting of 100% stocks over the long haul for just about any period in American history.
In other words, when it comes to the question of how you can retire on time during a market crash, passive-indexing fans have no answer, except perhaps to say, "Suck it up and work an extra couple of years."
That's just not good enough.