We continue to make our way through one of the heavier earnings seasons of the quarter with some massive numbers over the last 24 hours.
After the close yesterday, Apple Inc. (NASDAQ:AAPL), Papa John's Int'l, Inc. (NASDAQ:PZZA) and First Solar, Inc. (NASDAQ:FSLR) all reported their quarterly results, giving us some interesting charts to look at in today's installment of three big stock charts.
Apple Inc. (AAPL)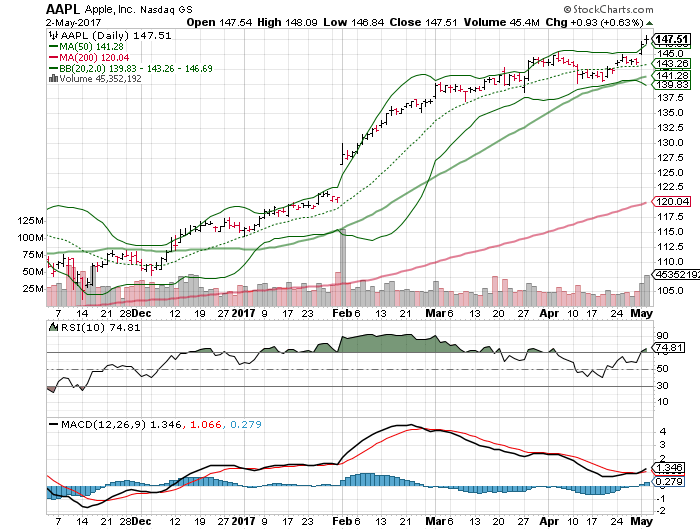 So far, in early morning trading, it looks Apple is getting a bit of a pass as the shares are only trading 1% lower. Of course, one of the reasons that the market is already anticipating the release of the newest iPhone. We'll start to see the company drop hints soon.
More importantly, let's look at the chart. From a technical perspective, AAPL stock looks like a fine wine that I want to let breathe a little before I try to consume.
The shares are oversold ahead of their earnings season, which we will now see correct as the "Apple faithfuls" just had to buy the rumor on this one.
Traders will be watching the 50-day moving average closely to market sure that AAPL stock catches what should be due support. That price is at $141.25. The trend of the 50-day remains bullish, so expect to see some strength there.
My regression channel analysis of the long-term trend in Apple shares suggests that the stock has a downside target of $133 over the next three to four weeks if that 50-day support fails to hold. From there, a break below $133 would target the next move to the $115-mark.
Conveniently, the first line in the sand of $133 is closely located to the 100-day moving average for AAPL, which is currently at $131. That's enough to draw in a lot of technical buyers and should be considered a good buying opportunity for those of us watching the charts.
Papa John's Int'l, Inc. (PZZA)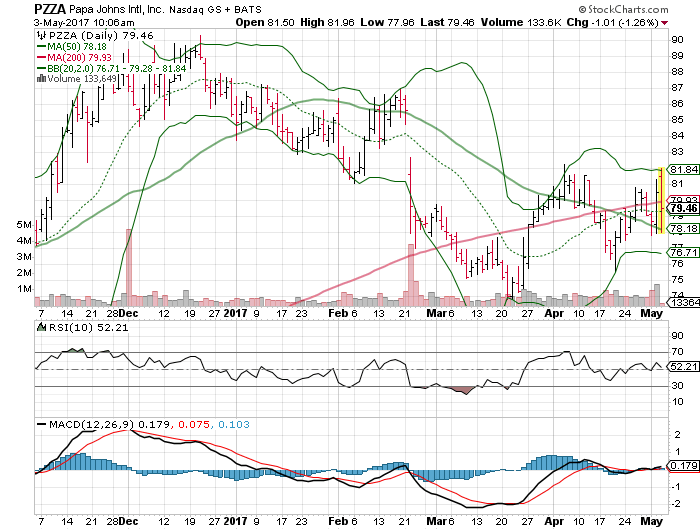 Papa John's is making some dough! (sorry, it had to be said). The company reported earnings results that bested the market's expectations while reaffirming their outlook for the next fiscal year.
Before the announcement, the stock had already been transitioning into a bull market run as PZZA shares crossed above their 50-day and 200-day moving averages in one day, yesterday.
A consolidation at $80 has strengthened as a floor for the stock's price and now the improving trendlines should help to give Papa John's a boost.
Looking at a longer-term monthly chart, it is not surprising that we've seen PZZA stock struggle to get back above $80 as this is where the shares stalled in July 2015 and September 2016. This break above $80 should target $90 over the short-term.
First Solar, Inc. (FSLR)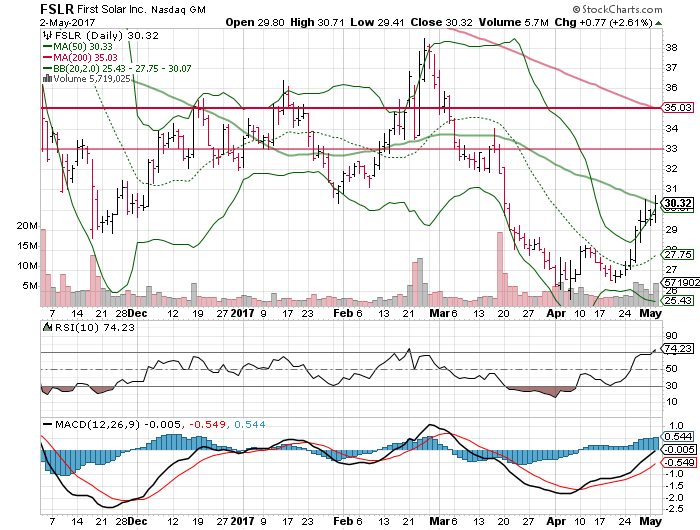 Finally, shares of First Solar. FSLR stock has been taking a beating as the criticism of its funding along with continued losses plague the stock price. Last night, the company delivered an earnings report that included a brighter (I'm loaded with the puns today) future based on the acceleration of projects.
The catch in the report is that we will see margins squeezed over the next year. This is something that this morning's traders are ignoring in pushing First Solar stock 17% higher in early trading.
The technical charts continue to suggest that we'll see pressure on FSLR stock. Looking back at past earnings, the good news/bad news quarters always see a knee-jerk buy followed by selling pressure almost immediately after the rally.
Here's what we'll be watching…
Chart resistance at $38 — this was the top after the February earnings report. Traders will key in on this as a potential profit-taking point.
Some pressure at $35 — First Solar's 200-day moving average is screaming lower and sits at this price right now. Expect to see some pressure here.
$33 also stands as chart support based on the last three month's activity.
We're watching these levels closely as the longer- and intermediate-term charts still target FSLR as a bearishly trending stock.
As of this writing, Johnson Research Group did not hold a position in any of the aforementioned securities.