It's a complaint I hear about closed-end funds all the time: they charge high fees but still underperform the market.
To be honest, this is true of some funds—but not all of them. In fact, some CEFs have racked up breathtaking returns far bigger than those of the market as a whole.
I've written about funds that have beaten the benchmark index before, such as the 14 funds that crush Vanguard's passive funds while also offering superior dividend yields.
Then there are the actively managed Vanguard funds that beat Vanguard's own passive funds and have done so for years. And of course, CEF Insider subscribers know of several closed-end funds that have beaten the S&P 500 for a decade or longer and are still outperforming.
So now I want to introduce you to the 10 best-performing CEFs over the last decade. Each has gone up by more than 11% annually, on average, in that time, and each boasts a dividend yield between 5.4% and 9.5%.
First, let me just say that while all of these funds have beaten the S&P 500 over the last 10 years, that doesn't necessarily mean they will for the next decade.
But what their strong runs do tell us is that we shouldn't believe anyone who says it's impossible to find a fund that will beat the market over a long period of time.
Here they are:
10 CEF All-Stars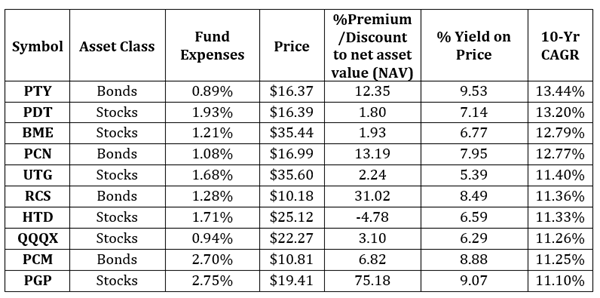 The PIMCO Five Lead the List
Of the 10 best-performing CEFs, five come from PIMCO.
The best performer of all is the PIMCO Corporate and Income Opportunity Fund (NYSE:PTY), with a compound annual growth rate of 13.4%. Less impressive, but still breathtaking, are the PIMCO Corporate and Income Strategy Fund (NYSE:PCN), the PIMCO Strategic Income Fund (NYSE:RCS), the PCM Fund (NYSE:PCM) and the PIMCO Global StocksPLUS & Income Fund (NYSE:PGP).
This isn't surprising. PIMCO has strong in-house talent and is more dedicated to its CEFs than some companies, which tend to focus on more popular ETFs and mutual funds.
And while there are problems with some of the above PIMCO funds (I warned about one, PGP, on June 1st), they deserve praise for what they've accomplished before, during and after the 2008–09 market implosion.
Part of the reason for their outperformance is that they invest in hard-to-access corporate and secondary bonds, including mortgage-backed securities (MBS; yes, the same things that drove the 2007–09 crisis) and even more obscure assets such as currency derivatives and reverse repurchase agreements.
PIMCO Slaughters the Market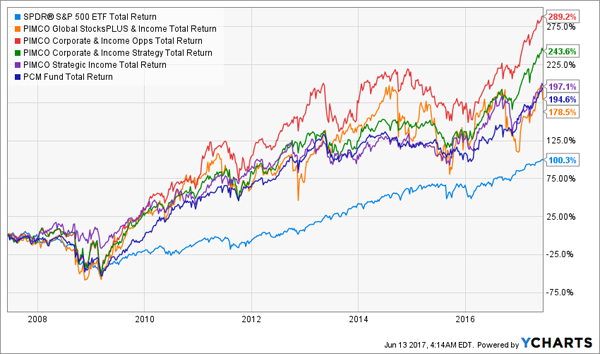 Investors who dismiss financial complexity should be humbled to note that PIMCO has consistently delivered returns dramatically higher than the S&P 500's 100% gain over the last decade.